2019 Review: New Industries Brought Jobs, Investment to Fairfield County
WINNSBORO – A year and a half ago, a Lowcountry newspaper lamented Fairfield County's double digit unemployment. What a difference a couple of years has made.
Today, the county's unemployment rate has shrunk to 3.1 percent and, according to County Administrator Jason Taylor, industrial prospects over the last couple of years have accounted for the creation of more than 700 new jobs and a $70 million impact.
In fact, Fairfield County has completed one of its busiest years on record, with county leaders tackling a flotilla of projects and inking a number of important deals. The new year saw the opening of the Providence ER, complete with additional outpatient services. The transformation saves the county some $600,000 annually over the previous funding of the former Fairfield Memorial Hospital.
Economic development, infrastructure improvements and revitalization highlight a laundry list of accomplishments that followed in 2019, and county officials say they plan to continue growing that list in 2020.
County Council Chairman Neil Robinson said while much was accomplished in 2019, he predicted that 2020 could be a breakout year. He credited Taylor, who was hired a little over two years ago, for guiding the council's directives to fruition.
"His vision and knowledge of where we should be and how we get there surprises me every day," Robinson said. "If Fairfield's 2019 could be summed up in one word, it's jobs."
Taylor agreed.
"Between the various projects, it's been a very good year for us," Taylor said. "One of our responsibilities in local government is to improve the quality of people's lives. A job is critical to someone having a good quality of life."
Taylor, council and county employees have taken that responsibility seriously and the results are popping up in various ways, not the least of which is a new, cooperative relationship between the county and the Town of Winnsboro – a far cry from the rancor that had for years stymied progress for the two governments.
Bringing employment to the county is a trend county leaders hope to continue in 2020 as the result of groundwork laid the past couple of years in revitalization, water and sewer infrastructure and the acquisition of new industry.
To that end, the county is working to expand its newly created Fairfield County Water Authority as well as construct a major wastewater treatment facility to serve the I-77 corridor and megasite, something Robinson says is vital in landing major industry on the order of Boeing, BMW or Mazda.
Here's a summary of the major projects Fairfield County tackled in 2019, as well as the forecast for 2020.
Economic Development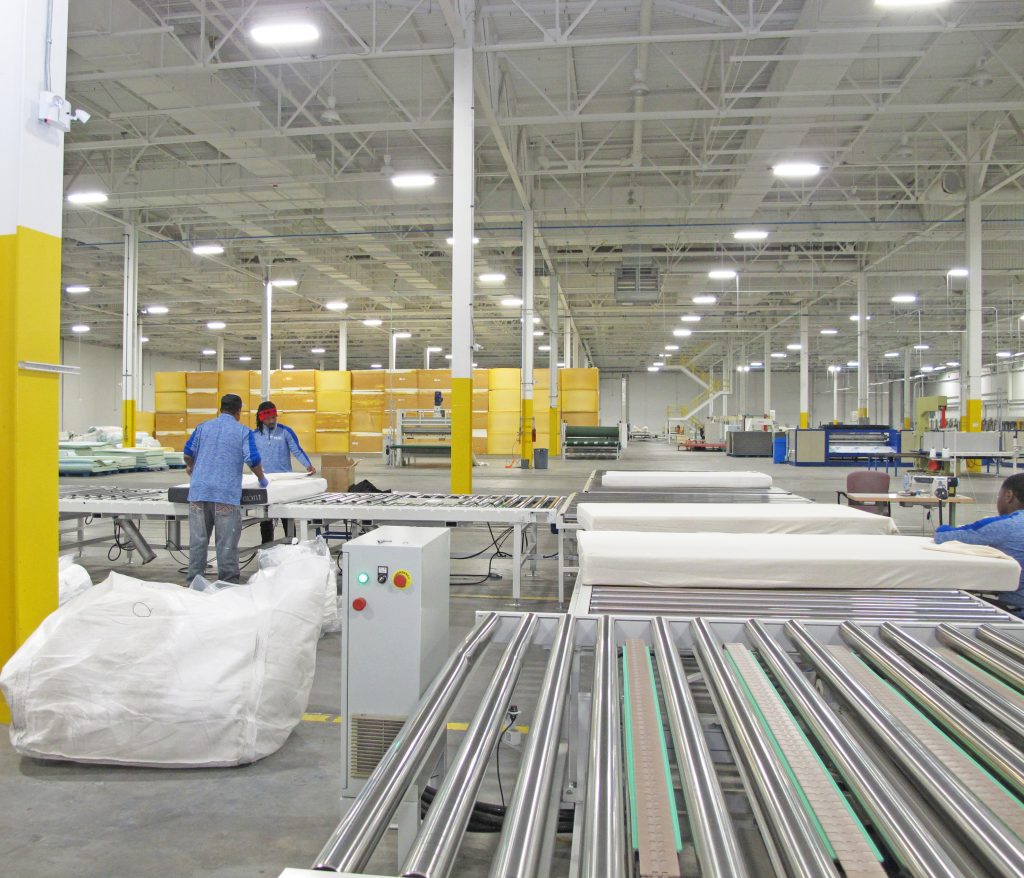 MLILY, Pharmacy Lite Packaging and Sea Pro Boats are the latest industries to have commenced or announced operations in Fairfield County in 2019. More job announcements are anticipated in coming weeks, according to Robinson.
"Landing MLILY was a major accomplishment," Robinson said. "You're talking about a $48 million investment into the county. That's a lot of tax money coming to us."
Ty Davenport, Director of Fairfield County Economic Development, said Pharmacy Lite Packaging, which is launching operations in the former Wal-Mart building, represents a $2.9 million investment, though he thinks that figure will grow to $3.5 million in time.
"It's expected to create 33 new jobs, which we think in coming years will get up closer to around 100," he said.
Just before Christmas, the county authorized an agreement with Victory Boats, LLC, which is expanding to Fairfield County. Located in the former Fazio building on Hwy 34 near the Highway 321 bypass, the company brings with it a $3 million investment and 135 new jobs.
"We also did a lot of work to save and help expand both Element and MEKRA Lang," Taylor said.
"If we continue to target industrial growth opportunities, commercial and residential growth should follow," he said. "We were at 14 percent (unemployment) not too terribly long ago," Taylor said. "The problem is a lot of people are driving outside the county to work. We have to have opportunities for people to work here at home. When people stay at home, they invest and shop here."
Water and Sewer Infrastructure
Heavily linked to economic development is the improvement of the county's infrastructure. Water and sewer are a top priority.
In March, the county formed the Fairfield County Joint Water and Sewer Authority Commission. So far, the membership is made up of the county and the Town of Winnsboro.
The authority is vital to the funding and construction of the wastewater treatment plant, which is seen as needed infrastructure by industry looking to relocate to Fairfield County.
In 2020, the county hopes to place a sales tax referendum on the November ballot to help generate additional funds for the plant.
"We've been working hard in conjunction with the Town of Winnsboro and the State of South Carolina to secure funds for the plant," Taylor said. "Water and sewer are critical to our future development."
Over the past two years, the state has provided about $3.8 million to Fairfield County to cover costs associated with engineering and studies for the new plant.
Robinson said council looked all across the county before securing a site off Syrup Mill Road for the plant. Piping would funnel wastewater from the megasite to the plant. It would then be discharged into Big Cedar Creek.
Once we complete the wastewater treatment facility, that's when we're going to land that big deal," Robinson said. "Those (deals) could mean hiring 1,500 to 2,000 employees.
Accommodations, hospitality taxes
The proposed local option sales tax referendum is separate from the county accommodations and hospitality taxes enacted in 2019.
Expected annual revenue of about $250,000 from these taxes will be paid primarily by tourists. The revenue can be spent in a number of ways to benefit the town and county and their businesses. It can also be used to construct public meeting facilities, other enhancements and tourism services as well as entertainment events and capital projects that will attract tourist dollars to the town and county.
The accommodation and hospitality tax revenue can also be used to pay indebtedness issued by the County for public purposes.
In December, the Town of Winnsboro adopted a resolution allowing the two taxes to be collected (by the county) from businesses in the town as well.
"We've overcome the last obstacle to implementing the accommodations and hospitality tax, and that will move forward shortly," Taylor added.
Airport upgrades
An especially valuable commodity in the county's economic development toolbox is the Fairfield County Airport, located off Hinnants Store Road in Winnsboro. But it was not always so before Taylor hired pilot Denise Bryant as director of the airport in 2017. Until then, the airport was deficient in many areas. The previous fuel farm technically didn't comply with regulations set by the S.C. Department of Health and Environmental Control (DHEC).
"We found that our fuel farm and our tanks were not what they should be," Taylor said. "They weren't even licensed by DHEC. We have taken measures to remediate all of that."
During the last two years, Bryant has overseen the construction of a new state-of-the-art fuel farm that was completed in December.
"The fuel farm is very attractive, well-done. It's something to be proud of now," Taylor said.
Two, 12,000-gallon fuel tanks were installed. With the extra capacity, the airport can take in more fuel deliveries, which translates into lower costs.
In addition, the pumps feature a card reader display and a second screen display large enough for pilots to view, even when they're fueling their planes from the opposite side of their craft.
"You can actually go to the other side of your plane to fuel and you can see the dollar amount of what's going into your plane," Bryant said.
Bryant has also overseen other major upgrades including lighting and signage. The facility boasts a 5,000-foot runway and parallel taxiway, a modern terminal building with upgraded furnishings, a laser grade testing center, a pilot's shop, flight instruction and new T-Hangars.
In 2020, the county plans to resurface all of the airport's ramps, taxiways and runways. The work is expected to start sometime in March or April, and take about a month to complete.
Bryant said the federal government is covering 90 percent, or about $320,000 of the project. The county and state are each picking up 5 percent, or about $16,800 for their respective portions.
"Upgrang and modernizing the airport is important because the facility is often the first impression CEOs of prospective industries have when they fly into Fairfield County," Bryant said.
"There's a lot of general aviation traffic that comes into a community first, especially in the corporate world," she said. "The general aviation airport in Fairfield is extremely important in putting down the welcome carpet."
Mt. Zion renovation
Fairfield County spent much of 2018 putting together a plan to revitalize the former Mt. Zion Institute building to serve as a new Fairfield County government center in downtown Winnsboro.
In 2019, the county devoted considerable efforts to working with the developer, 1st and Main, a North Carolina firm, to secure the financing for the renovation.
More than half of the funding of the $11.5 million project would come from state and federal tax credits associated with the property.
Fairfield County plans to buy the building via interest free annual lease payments of approximately $4.9 million over seven years. At the end of those seven years, the county will make a final payment to purchase and take ownership of the property from 1st and Main.
"We got all the financing we were hoping we would get and a little more, actually. And all the design work is done," Taylor said.
The actual construction is slated to start in January 2020 and is expected to last 16 months, with a projected opening sometime in Spring, 2021.
Market Building
The launching of the Fairfield County Market building has helped increase foot traffic in downtown Winnsboro, which county officials hope will spill over to existing shops and restaurants.
Opened in May, the Market is located in a renovated former county building located on East Washington behind the Town Clock. With a kitchen, classroom, restrooms and a large, open market room, the building can be used not only by the farmer's market on Saturdays but for weddings, receptions and other large community or family gatherings.
Zion Hill Revitalization
During 2019, the county and Town of Winnsboro cooperatively undertook the revitalization of the Zion Hill and Fortune Springs Park neighborhoods, with input from the residents of the area. It is a major step forward in bringing this area back to its Glory days, county officials say.
In November, the county landed the first of several planned grants to help pay for the project. The initial $488,000 Community Development Block Grant (CDBG) will be augmented by a 10 percent ($48,900) local government match, giving the county more than $536,000 at its disposal to begin Phase I of the revitalization effort.
That work will include the demolition and clearance of approximately 40 dilapidated and vacant structures, according to the Central Midlands Council of Governments' (CMCOG) planners who are working with the county and town to guide and supervise the revitalization.
The demolition work made possible by the bond will begin this spring and must be finished in two years. Both the town and the county are eligible to apply for two $500,000 bonds each year.
At a community meeting in July, Gregory Sprouse, a planner with the CMCOG, said he hopes the Zion Hill project represents the beginning of more broad revitalization work in Winnsboro neighborhoods.
"We want this [Zion Hill] to be a starting point for how we can move similar types of projects into other areas of the town that need the same type of commitment," Sprouse said. "CDBG funds must be spent to benefit low to moderate income populations based on census data, and Zion Hill and the Fortune Springs Park area fit that criteria."
Broadband
County officials ended the year in new pursuit of broadband expansion in the county – a pursuit that, in the past, has been futile.
"On broadband, I will just say we are exploring potential opportunities that may be available that could assist us in working with our existing local providers to expand the service," Taylor said. "Like other infrastructure that we are working on, we realize that for the county to grow, improving our broadband service is critical. In today's world, people expect service to be widely available and fast."
Barbara Ball contributed to this story.