County: Rezoning Must be Finalized by Late September
BLYTHEWOOD – Richland County made another appeal to Town Council Monday night, the strongest yet, to approve the rezoning of 162 acres west of I-77 for industrial use. That effort was met by strong opposition from a room full of citizens and a couple of council members.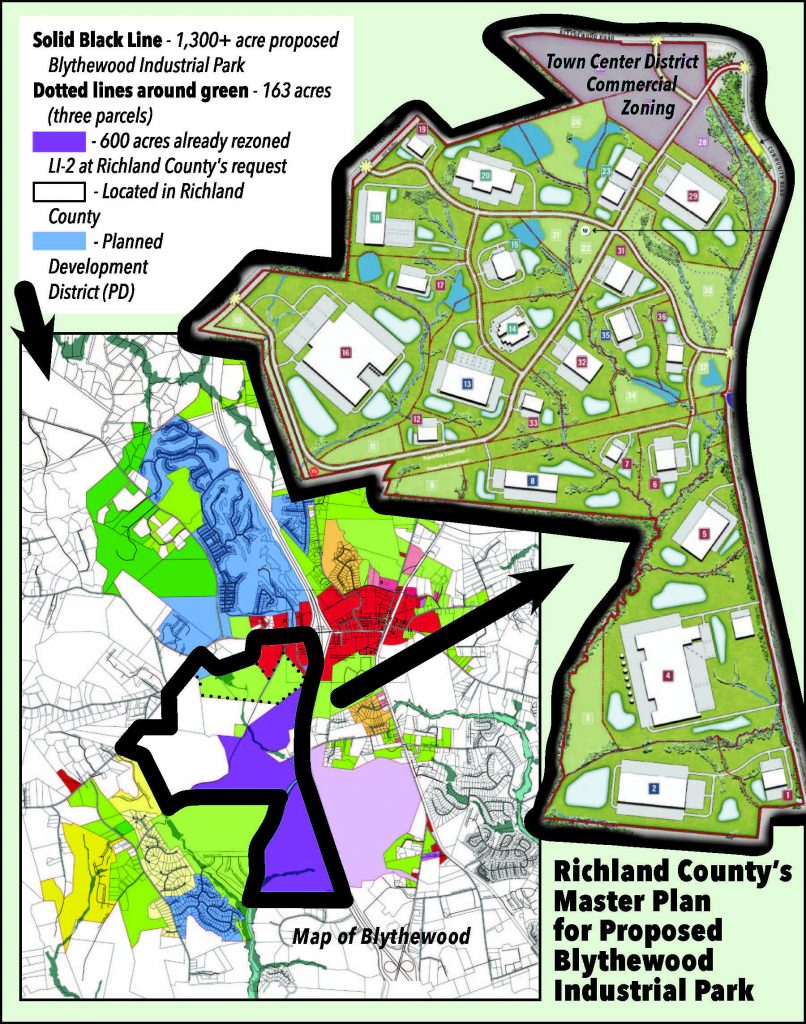 The property is part of 1,349 acres the County hopes to purchase for $26 million for an industrial park. Town Council has already rezoned an adjacent 678 Blythewood acres to LI 2 at the County's request. The remaining 509 adjacent acres are located in Richland County and are currently being rezoned for industrial use by the County. The county hopes to have the zoning of the entire 1,349 acres by late September. To pay for the purchase of the land, the County taking out a bond. Hence the hurry-up to rezone.
"The goal is to close on the bond by Nov. 1," Director of the County's Economic Development office Jeff Rubble told council members Monday night. "As part of the bonding process, the folks that sell the bonds want to see that the property is zoned consistent with its intended use [prior to issuing the bond.] So that's the reason we're coming to you now."
After the better part of a two hour meeting and an hour of contentious speeches by citizens opposed for one reason or another to the rezoning process, Council voted 4 – 1 to approve first reading. While Councilmen Bryan Franklin and Malcolm Gordge addressed stipulations they would like to see in regard to the rezoning, only Franklin voted against it. A second and final reading is set for Sept. 23.
"We would like to have gone through a nice, slow process, with about 100 different community meetings," Ruble said. "But they're saying, 'Guys, you've got to sign or we can't buy.' So that has accelerated our process. That's why we're here tonight," Ruble said. Addressing the concerns of those he said he expected to oppose the rezoning during public comment time at the meeting, Ruble assured the packed audience that the county is not trying to ram something down their throats, giving examples of how the County is trying to be accommodating to the town.
"We will set 100 foot buffers and try to route as much of the heavy traffic as we can to Community Road to the south, away from town," Ruble said. "By the second reading, we want to have covenants and restrictions in place for you to see. We plan to set up an Architectural Review Board (ARB) for new companies coming into the industrial park."
"The Town of Blythewood could have a designee on that review board. So you're not just signing away your life now. You're an active participant in helping us develop it," Ruble said.
Those concessions fell short for audience members who insisted the ARB should predominately be peopled by Blythewood folks since the 840 acres of the industrial park are in the town.
Ruble said the county envisions walking trails, bike paths and other amenities in the park. He also promised clean, high tech manufacturing.
"We're trying to create that nice environment. The kind of companies we're trying to target are the higher rated companies with high wages and technology companies," Ruble said.
Warning: We Walk
"I wish we had more time to have meetings and talk. But this is a critical step that if you turn it down tonight, we walk," Ruble warned.
He also warned that the land could be purchased for homes, many homes that could bring higher levels of traffic.
"We know the [property] owners are hearing every day from residential developers," Ruble said. "There's a lot of folks offering money. What we heard from the town was they don't necessarily want to see more dense residential development. We proposed a solution. Let us come in. We'll buy the property and we'll work together to develop it in conjunction with the town," Ruble promised.
But former Town Councilman Tom Utroska scoffed at what he called the emotional tact.
"I'm taken aback that politics in our country are now run by emotions instead of facts," Utroska said. "One emotional statement was made that it would be a lot better if it was an industrial development rather than some huge, complex of homes. Well, as I recall, in D-1 you have to have 20,000 square foot lots. So you can only get two homes to an acre. I don't like leading people down a road and influencing them by telling them something that it's not," Utroska said. "Also, we need some kind of Memorandum of Understanding, in writing, that says what's going to happen with the traffic that will be generated by this LI2. We also need something in writing to address the need for a fire station."
Utroska said he doesn't want to look back 20 years from now and say 'I'm a party to this. It's a screw up.'
"We shouldn't have just one member on the ARB. The preponderance of the members should be from Blythewood if it's in Blythewood," he said. Utroska also called for a new exit off I-77 to accommodate the industrial park. "We don't need semis on Blythewood Road going to the LI2 area.
"I understand their need to have this done. But we need to have some protection," Utroska said.
Cobblestone resident John Moore called on Council to beware of the County's promises.
"I'm not opposed to the development. But it can change the shape of what we are. I don't have a lot of trust in Richland County," Moore said.
Rural Blythewood resident Bill Shives also warned about the effect the development would have on the town.
"So many people moved here because of the quality of life and what it has to offer," Shives said "Once the tax incentives for companies and factories expire, they're gone. I don't see where that's a great economic value to the community."
The town's planning commission voted 3-3 for the rezoning earlier this month, leaving no recommendation to council from the commission. At that meeting, Stuart Andrews, who lives in the Middlefield Lane area off Persimmon Fork Road, suggested council eliminate the more intense manufacturing uses allowed in the LI2 zoning district.
"Let's not just open the door to everything," Andrews said. "Some of those allowed uses we don't consider good neighbors – textile mills, steel fabrication, wood product manufacturing, copper recovery, sheet metal, small arms and aircraft manufacturing," he said.
"You can't have a first class project unless you have a first class process," Andrews said. Speaking Monday night for a number of rural residents along Syrup Mill and Persimmon Fork Roads, Andrews said the group had not reached a conclusion about whether they support the project or not. It depends in large part on the process itself,
"It's not fair to ask the public to support something with so little understanding of it," Andrews said. He called for a process the community could participate in. "We aren't going to be comfortable with a product presented publicly in 30 days."
Andrews asked for his group and others in the community to be allowed to review the covenants of restricted documents proposed for the project.
"We've reviewed those documents for similar projects and have a feel for what needs to be in them, where the opportunities are for further public protection…With the County as a developer and public body, we think more public participation should be encouraged," Andrews said.
Rural resident Wes Penfield called for a portion of the park to be carved out for playing fields for area youth.
Councilman Bryan Franklin agreed.
"We now have an opportunity here with this property right here to take 40 acres on the north part that sits right on Blythewood Road and build us the park we've so need for years and years," Franklin said. "This is an opportunity for us. The public is buying this property, we're going to rezone it, maybe, and now is an opportunity to develop that upper end, buy it at a fair dollar and put our park there. When the lights go on and stay on until 11 o'clock at night. They won't disturb anybody because it's in an industrial area. It only makes sense."
Councilman Malcolm Gordge, who is running for the mayor's seat in the upcoming election, said Franklin expressed his sentiments perfectly.
"I would like to ask Jeff (Ruble) if he has any difficulty at all in pursuing that vision of a recreation area and football field within that LI2 district," Gordge asked Ruble.
"Yeah, I don't know. I certainly can't commit to something tonight. I think we've had some conversations with staff. So we're working toward it," Ruble said.
Before calling for the vote, Mayor J. Michael Ross defended the project and the County's process, saying "we have known about this for a long time. This is no surprise. I think that when you hear some of the things that they have talked about [in executive session], I can't imagine that you would not want that level of a technology industrial campus. It would be unbelievable for this community and for this downtown."
Ross agreed with Ruble that if the industrial park doesn't come, then more homes might take the space. But he also agreed with those who spoke, that traffic is an issue, that a fire station "is a no brainer," but hedged on the call for more Blythwoodians on the proposed LI2 Architectural Review Board.
"That needs to be a group that would be equally divided between the County and Blythewood," he said. "But the sports complex is the clincher. I think that's something we need to work on hard over the next 30 days to see if it can be done.
The next meeting is set for Sept. 23 at 7 p.m. at The Manor.