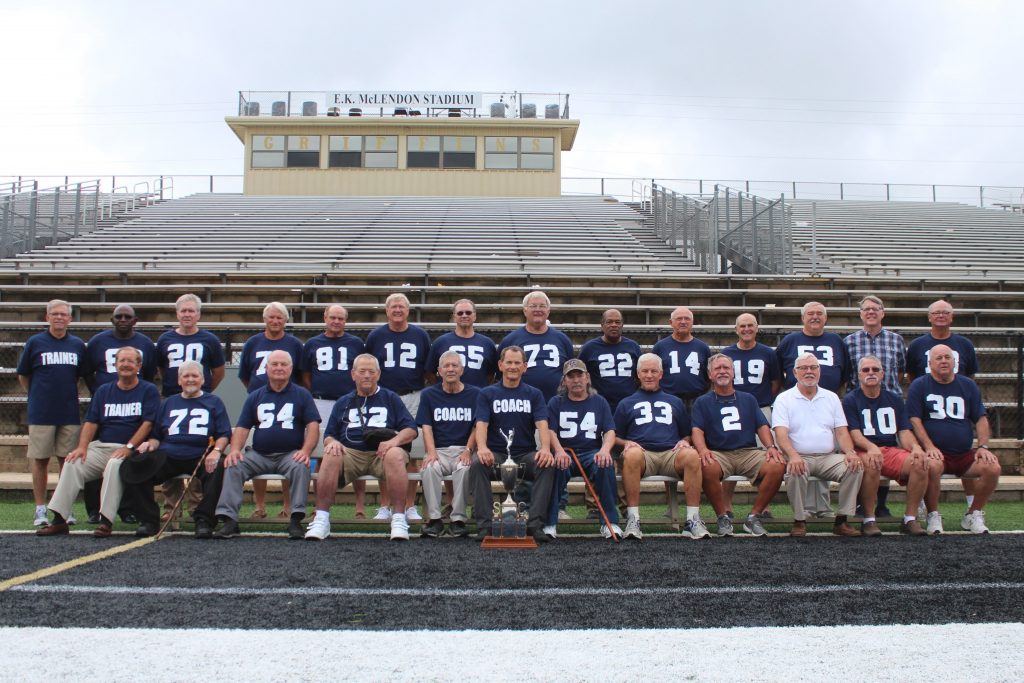 WINNSBORO – Celebrating the big 5-0 anniversary of their 1969 AA football state championship title, a group of former Winnsboro Wildcats gathered this past weekend at the Fairfield County Career and Technology Center and McLendon Stadium to reunion with former teammates, coaches, and cheerleaders, rekindle old friendships, and relive their beloved glory days.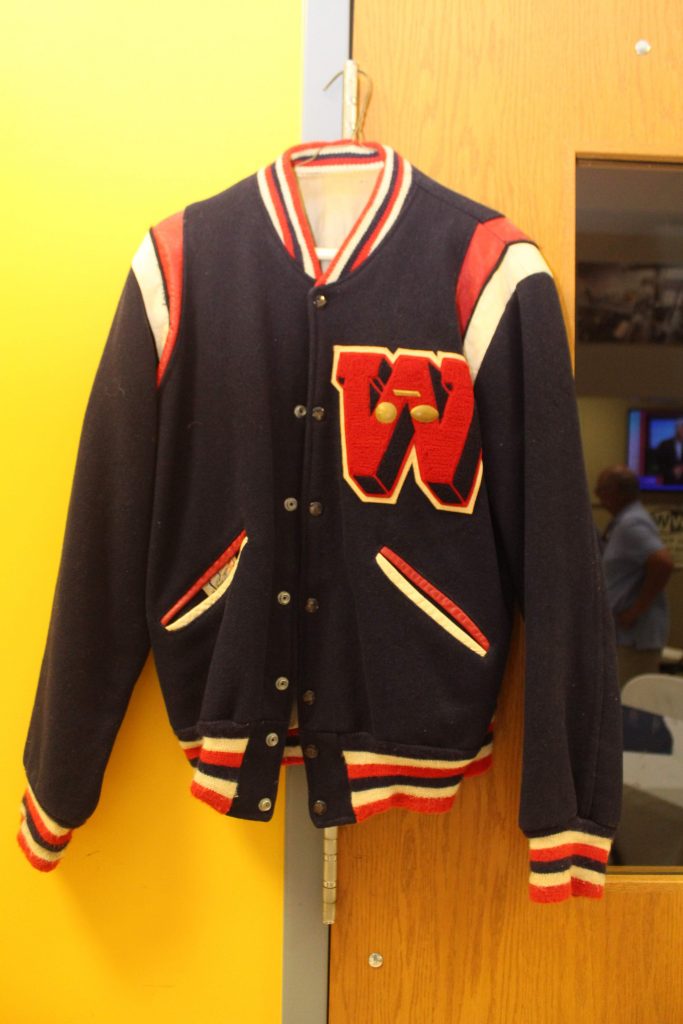 A half century has come and gone since this group of former Winnsboro HS athletes strapped on their football gear to represent Winnsboro in the AA state title matchup against defending State Champion Strom Thurmond HS, but the stories of their road to reach that narrow 15-14 victory to earn the state title still live on in the hearts and minds of these somewhat now "tamed" Wildcats.
An interesting piece of trivia is that the 1969 Wildcat team is the only Winnsboro team to have captured a state title on the home gridiron turf of E.K. McLendon Stadium, now having been recently replaced by astroturf in the newly renovated stadium.
Of the 35 player roster, 23 eagerly returned to the field where it all happened. One former player, Thomas Murphy, made the longest trek back from his home in San Antonio, Texas. In addition to the former players, spouses, and other family members in attendance were former assistant coaches Eddie Raines and Wayne Sibbett, trainers Ben Foster and Charlie Freeman, and cheerleaders Lucy Coleman McCoy and Virginia (Tutta) Stevenson Startsman.
Many of the tales told over the weekend naturally included reference to Principal Ed McLendon and head coach Joe Turbeville. McLendon, affectionately nicknamed Coach Mac, started the football program's rise to greatness before accepting the job as WHS principal and handing over the head coaching job to Turbeville.
Remembered and admired as one of the all-time great high school coaches in South Carolina, Turbeville passed away in January 2016 after finishing his 31 year coaching career with five state titles to his credit. Unfortunately, there are also seven members of the 1969 championship team who are deceased – Chuck Edenfield, Randy Flanders, Johnny Geddings, Ronnie Hornsby, Johnny Nelson, Ricky Rutland, and Henry White.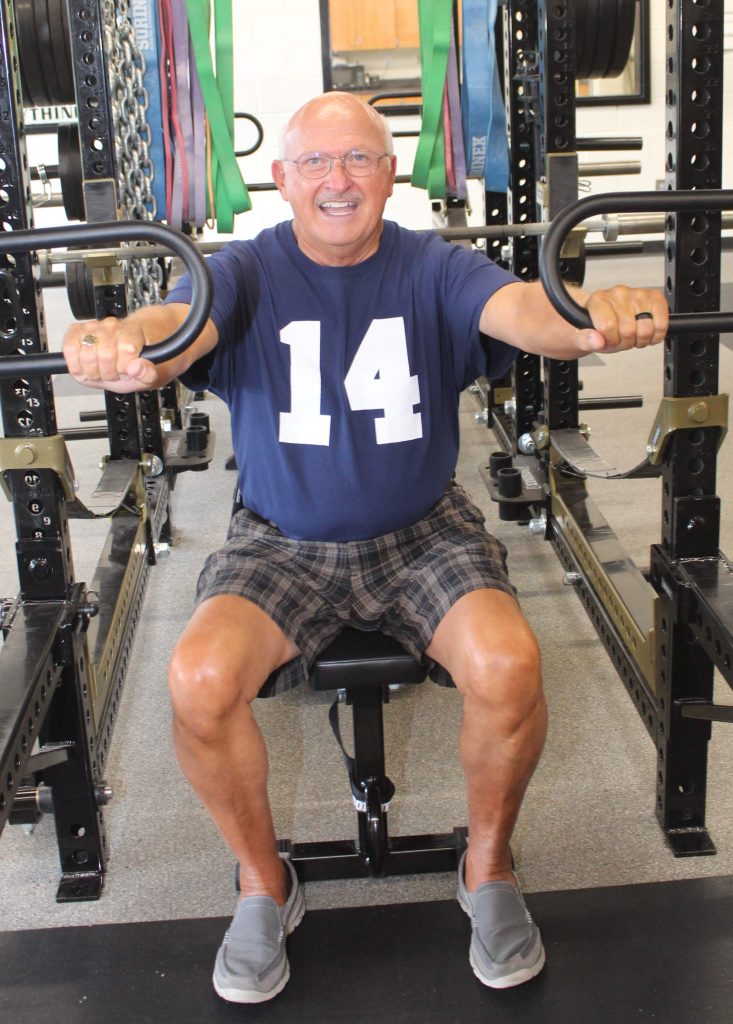 Spear-headed by Robert Sharpe and Ellis Johnson, the group came together to enjoy a BBQ dinner on Friday evening prior to the FCHS Griffins' home opener and swap stories of what each remembered about the momentous football season. However, lengthy weather delays and continued rainy conditions of the 7:30 pm game kickoff discouraged many of the former state champs group from attending the game. However, most returned for Saturday's brunch, a tour of the new Griffin field house given by Superintendent Dr. J.R. Green, and a group photo opportunity at McLendon Stadium.
Building on Coach Turbeville's motto "Work Wins," everyone agreed that Turbeville was an incredible coach who, in three years as head coach there so far, only lost 4 games. Additionally it was noted that the '69 team was fortunate to build on the prior Wildcat teams' success. When asked what made this team so special, Robert Sharpe replied, "We all came together as good friends," and Robert Wood added, "Good leadership from the seniors."
In addition to the great plays and occasional mishaps on the field, there were also memories shared about the locker room and bus rides. Larry Irby seemed surprised that players recalled him singing Chuck Berry's hit song "Nadine" on the bus rides and giving weather reports, and Frank Barwick is remembered for always singing Johnny Cash songs. Lucy Coleman McCoy reminded the group that Coach Turbeville was not happy that the cheerleaders rode on the same bus with the players and enforced a "No Talking" rule.
According to the players, Turbeville was known for putting in new plays each week. One particular week he put in one he named "watermelon." On that play, Will Pope, one of the largest Wildcats on the roster, broke free with the ball, and a tackler half his size rode piggy back down the field until a teammate could assist with bringing Pope down.
Starting quarterback Luncford Bass made apologies 50 years later to his center Robert Sharpe for mixing up his signal calling to Sharpe and for asking him to open an offensive hole and do battle against Whitmire's superstar Donnie Shell (former Pittsburgh Steeler and NFL Hall of Famer).
In the ten game regular season and two playoff games, the Wildcats racked up 419 points to their opponents' 124 with one lone blemish on their record, a 16-8 loss to Andrew Jackson HS early in the season. The eleven wins prior to the championship victory included wins over Lewisville, Pageland, Clover, Union, Chesterfield, Great Falls, Fort Mill, Buford, Irmo, Whitmire – playoff, and Traveler's Rest- playoff.
The '69 Wildcats entered the state title game against the Rebels of Strom Thurmond with identical records of 11-1. WHS, playing with the home field advantage, set out to prove themselves as champions in front of the 5000+ crowd on a cold night with a light drizzle falling during part of the game. U.S. Senator Strom Thurmond was in attendance as well as Fairfield's own Medal of Honor Winner Webster Anderson.
A recap of that big game includes the Wildcats scoring first when Eddie Coleman dashed 60 yards for a TD, and Ellis Johnson took the bobbled PAT snap across the end line to tack on two points, all in the first three minutes of the game. The Rebels answered back with two touchdowns in the second quarter to take and hold a 14-8 lead until late in the final period. Wildcat stellar tailback Randy Flanders scored with just over six minutes left in the game, and Geddings kicked the game winning PAT. Flanders, Johnson, and Coleman combined forces to rack up 199 yards on the ground. Pope is credited with blocking a PAT effort by the Rebel kicker that later proved to be crucial for the Rebels.
Out of the ranks came postseason honors for all conference players Joe Wilkes, Ellis Johnson, Eddie Coleman, Thomas Young, Will Pope, Rhyne Jones and Randy Flanders. Flanders, named Back of the Year, and Pope were also named to the All State team and selected for the Shrine Bowl game. Six of the players went on the continue their football career at the next level – Randy Flanders at Clemson, Robert Wood at USC, Will Pope at Western Carolina, Ellis Johnson and Robert Sharpe at The Citadel, and Ronnie Hornsby at Appalachian State. A number of these former players have held football coaching positions at the high school level, but Johnson's coaching career went to the next level and included stints at Auburn, Alabama, Clemson, USC, Gardner-Webb, The Citadel, Southern Miss, Appalachian State, East Carolina, and Mississippi State.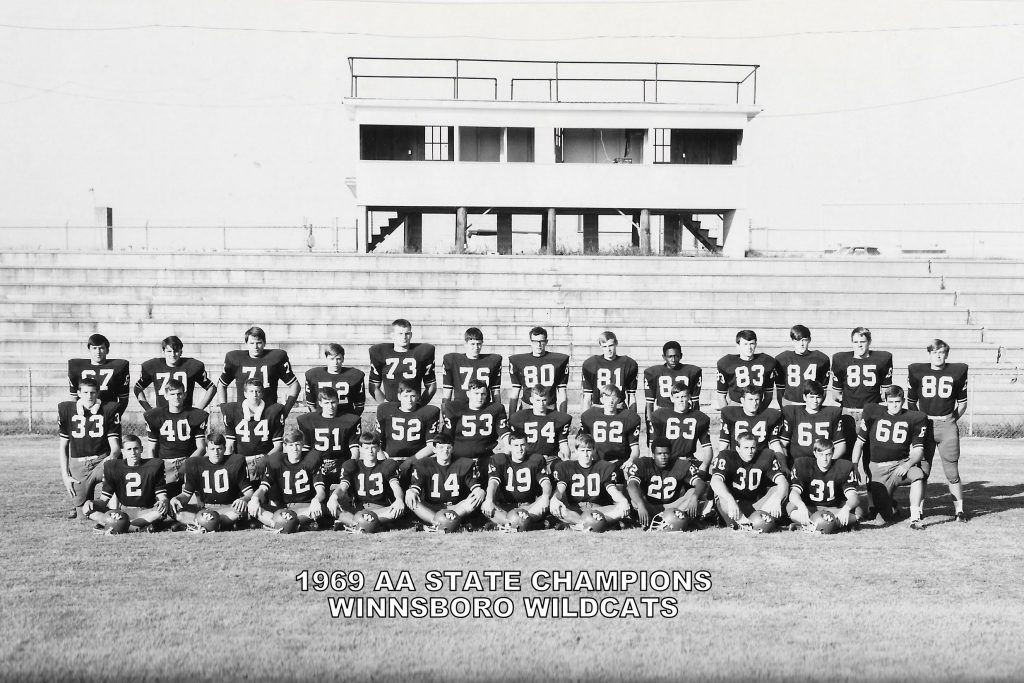 Cheerleaders Tutta Stevenson Startsman and Lucy Coleman McCoy

Joe Wilkes and Rhyne Jones

Ellis Johnson

Larry Irby (wearing red) and his family

Ben Foster, Robert Wood, Luncford Bass, Bill Porter and Robert Sharpe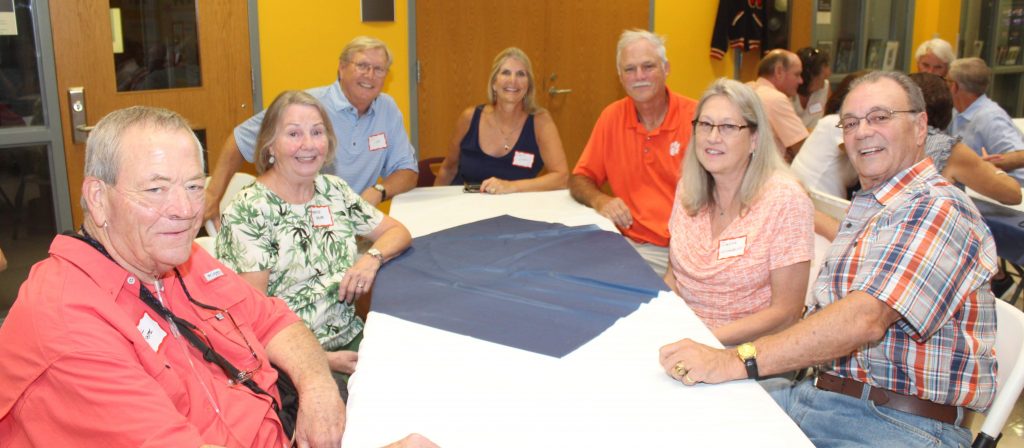 Pam and Johnny Renwick, Amelia and Bobby Ellison

Steve Evans
Roger Fowler, Richard and Patty Enloe

Thomas Murphy and relatives