WINNSBORO – The Richard Winn (RWA) Eagles continued their winning ways on Sept. 20 when they hosted Jefferson Davis Academy (JDA) for the 2019 Homecoming game. The Eagles jumped out to a 38-0 lead before allowing the first JDA touchdown. The final result was a 65-28 Eagles' victory. Richard Winn has now outscored its first four opponents by a 223-42 margin en route to its 4-0 start in 2019.
Jefferson Davis picked up two first downs to gain 28 yards on its opening possession before punting to the Eagles. It only took the Eagles six plays to go 70 yards for their first score of the evening. Brandon Miller rushed five times for 68 of the 70 yards, all of it came on the ground. The two-point conversion was good and RWA led 8-0.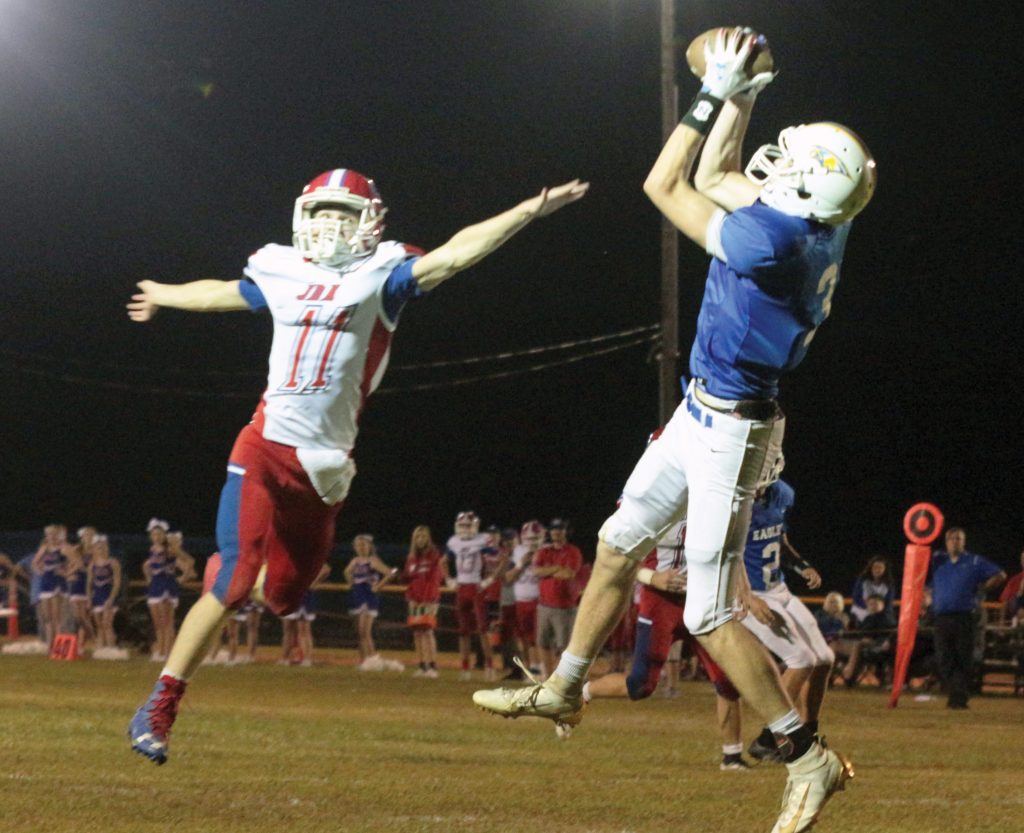 The Eagles were not done as they went for and recovered the onside kick. This time they went seven plays for 40 yards. Zack Taylor went 3-3 passing for 25-yards, including the eight-yard touchdown toss to B Baker. The two-point conversion made it 16-0 with 2:57 to play in the first.
After JDA was forced to punt, the Eagles got the ball back at their own 45. Following an incomplete pass attempt Miller, ran a ten-yard scamper and then 45-yards for the score. The PAT was good, making it 23-0.
Richard Winn tallied three more touchdowns in the second quarter – another rushing score by Miller and two more touchdown passes by Taylor, both to Hudson Wade from 17 and 37 yards out. The score at halftime was 45-6.
The Eagles added three more scores in the second half – a 23-yard run by Taylor, an 11-yard touchdown run by Dru Caldwell and a nine-yard pass from Caldwell to Jacob Chaisson. The final Eagles' score came with 10:21 remaining and made it 65-21. JDA would add one more score making it 65-28 in the final column.
Richard Winn outgained Jefferson Davis by a 517-364 total yard margin with 346 of those yards coming on the ground. Miller surpassed the 200-yard mark for the second week in a row with 233 on 15 carries and three scores. He was also credited with a team high 14 tackles. Taylor finished the game going 10-13 passing for 116 yards and three scores through the air as well as one on the ground. Wade was the leading receiver with five catches for 74 yards and two scores.
The Eagles travel to face Clarendon Hall this week in a match-up of undefeated teams. Clarendon Hall is 3-0 on the season and has outscored its competition by a 124-56 margin.
---
This story was updated at 10:04 a.m. on Sept. 27 to correct Lawton Crooks name to B Baker's.