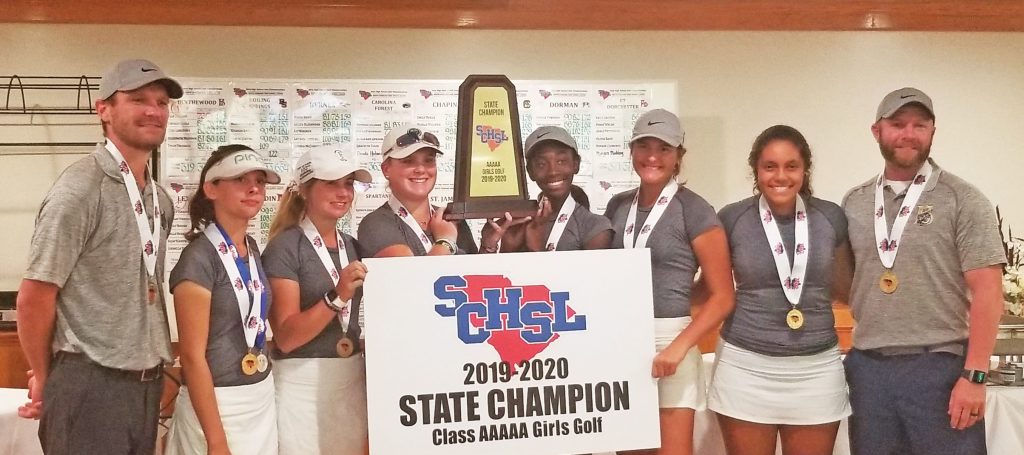 PROSPERITY – After finishing as runners up to Lexington last year, the Blythewood girls golf team finally moved up a notch Tuesday.
The Bengals finished the 5A State championship golf tournament with a 2-day total of 621 at Mid-Carolina Country Club, finishing nine shots ahead of the friendly rival Wildcats to unseat the 2-time defending champion under rainy conditions.
"It's been a fun ride, just the whole season, generally," third-year head coach Jason Minkel said. "We've been in so many tournaments where they all shot in the 70s. From top to bottom, we're the best in the state."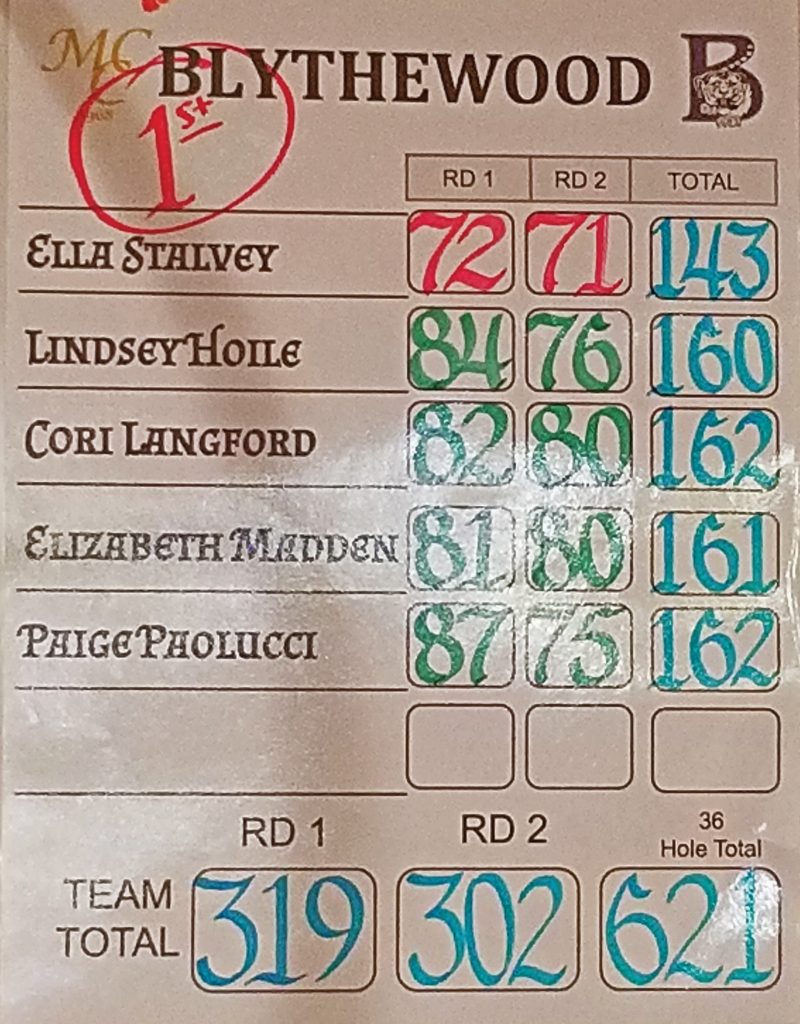 The girls, who placed third in the state tournament in his first year as coach, take home the school's first state championship in any sport since 2010.
The Bengals fired a team 319 Monday to lead the field by three shots going into Tuesday. As rain and fog descended on the course Tuesday, freshman Ella Stalvey birdied three of her final four holes to finish with a 71, good for a tie with Lexington's Karlee Vardas for the top 2-day score of the tournament, a 143.
Lindsay Hoile finished 13th with a 160 and Elizabeth Madden shot a 161 for 14th place. Cori Langford finished with a 162.
"They showed how strong they were today. They kept their composure," Minkel said. "It was beautiful yesterday (Monday), but not so beautiful today. But they grinded it out."
The biggest surprise was sophomore Paige Paolucci. After turning in an 87 score Monday, she hit the links Tuesday and fired a 75 to finish with a 162 total. Paolucci's score counted among the team total for the second round, which enabled the Bengals to put some distance between them and the Wildcats.
Paolucci's day two round—and the team's overall scores whether in rain or shine—was a culmination of years of work and practice.
"They've put in a lot of work to be where they are," Minkel said. "They've come together as a group really well, and they've blended completely differently from three years ago."
Back then, Minkel said he knew they had talent and the ability to turn in low scores, but the task was to make them confident that they could do so. Three years later, the push is to take joy in success.
"When it's happening around your teammates, success is contagious," he said.