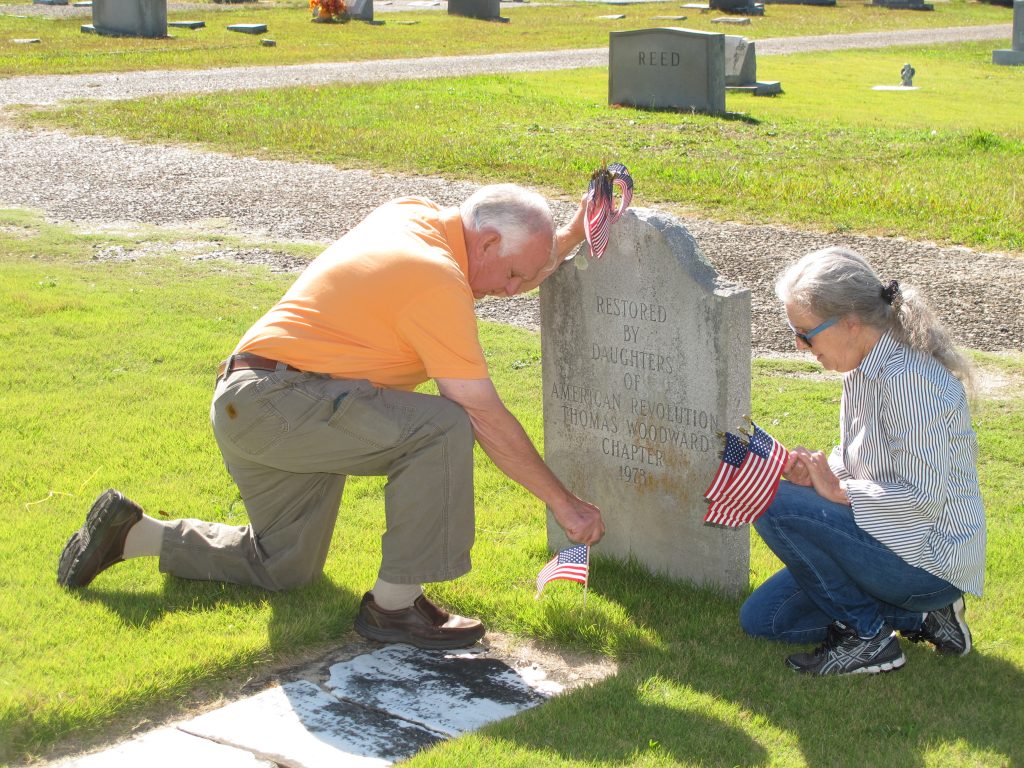 FAIRFIELD COUNTY – This year ahead of Veterans' Day, volunteers are placing nearly 1,500 flags on veterans' graves around Fairfield County, said Suzanne Johnson, a regular volunteer for the county's museum, genealogy society, and historical society.
Johnson, who is coordinating the effort, says it mirrors what is done at national cemeteries in the U.S. (including those in South Carolina) – as well as American cemeteries overseas – to commemorate and honor the men and women who are buried there.
Since beginning the project, she says she's received help from people all over the county. For her, it started on Veterans' Day last year, when she passed local cemeteries and it just seemed like something was missing.
"I rode around last year on Veterans' Day and didn't see a single flag in a single cemetery that I drove by," she said. "It just bothered me enough that I said, 'I will take this on….' And hopefully next year we can get a sponsor who can buy the flags to supplement what we have this year."
Now well underway in its first year, the "Flags for Vets" project has been quite an undertaking, Johnson said. Fairfield County has more than 100 cemeteries – and there aren't centralized records of them all.
According to local historical research, there are graves in Fairfield County of veterans that date back to the Revolutionary War – including some whose locations have long since been lost to history. But on Veteran's Day, Johnson would like to see all of the known graves of those who have served in any of the wars adorned with flags.
"I have worked on this project with Jon Davis. He's the chairperson of the cemetery committee for the Fairfield County Genealogy Society, and he has for years gone around to the cemeteries of Fairfield County photographing the headstones and compiling that information," Johnson said.
The information he had gathered and was able to share, she said, provided a significant list of service members who had served in World War I and World War II – but the list did not include service members who had served in other conflicts or during peacetime.
"Those are the names of the veterans that I don't have, that I'm going to depend on volunteers – when they're at the cemeteries – to write down additional information that they come across, and then we can compile that and make our list better for next year."
This year, she said, more than 50 volunteers plan to cover 67 cemeteries around the county, placing flags on the graves of veterans. About 60 students from local schools will also be involved, placing roughly half of the nearly 1,500 flags.
This is a start, Johnson says; she hopes to grow the list – and the group of volunteers – next year.
"I would just encourage people to take a drive on Veterans' Day and ride by their local cemetery in their community, and if they see the flags pause for a moment, think about the sacrifice that those men [and women] made, and if their community cemetery does not have flags on it, make a note of that and participate next year by volunteering to place flags," she said.
Ultimately, she hopes this will become an annual effort to honor all those in Fairfield who've served under the American flag – whether during the Revolutionary War, Mexican War, Spanish-American War, World War II, World War II, Korea, Vietnam, the more recent wars in Iraq and Afghanistan, or at any other time.
Ideally, she says, everyone who fought under the flag of the United States will have an American flag placed on their grave – even those who fought under a different flag during the Civil War.
"It's important to remember those who've served for us," she said. "I didn't serve, but people served on my behalf as an American – and they continue to do so."