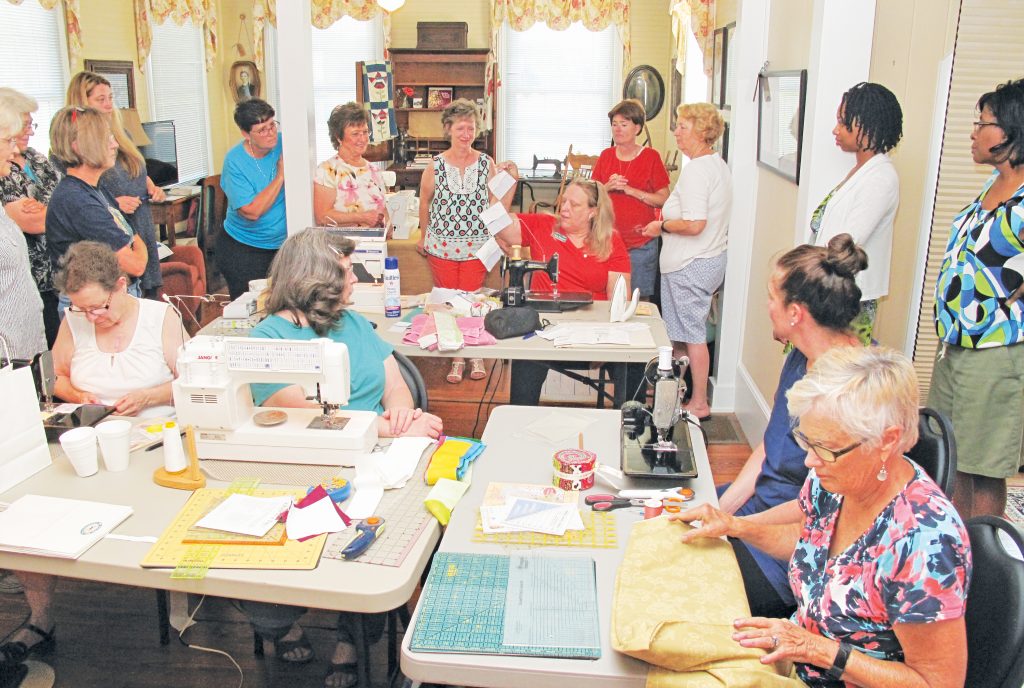 BLYTHEWOOD — The Blythewood Historical Society is hosting a series of events in October and November celebrating the artistic heritage of local quilts and their stories, as well as efforts to carry the tradition of quilting to future generations.
The events will kick off with Quilt Day on Oct, 19, which provides an opportunity for people who have quilts – heirloom and new – to display and share at the Langford-Nord house.
It is "a show and tell, come and look, and talk to people about the histories of their quilts," says Margaret Kelly, administrative manager for the Blythewood Historical Society, which is hosting quilt-themed events for the third year in a row.
The lineup also includes two classes with local expert quilters, Donna Royson and Duane Walker; and field trips to two local museums, the University of South Carolina's McKissick Museum in Columbia and the Lexington County Museum.
The final event will be a trunk show and lecture with Susan Lenz (of the Mouse House gallery in Columbia), whose art quilts incorporate vintage linens and other materials. Her presentation, spun with a thread of remembrance and legacy, will be hands-on with art quilts in a storytelling context.
Royson, who is teaching the first quilting class on Oct. 22, says it will include quilting basics that make the class accessible to anyone who knows their way around a sewing machine, but this Quilt in a Day class on the "Triple Twist" pattern will also be enjoyable for experienced quilters.
She says there's an active community of quilters in the Columbia area, and at least three days a week there are groups that get together and make quilts, including one in Blythewood, one in Northeast Columbia area, and one in downtown Columbia.
And while they may not sit around a quilting frame doing hand work as their foremothers did, the camaraderie and conversation over quilting persist in the modern world. Amidst the busyness of today's world, quilting has become a form of therapy, Royson says – and a quilt remains a lasting, heartfelt gift for family.
"There's been a surge in quilting over the past few years, and we're just trying to keep that up and going," she says. "In the past, people made quilts mostly for utilitarian use, like to keep warm or put on the bed… and we do the same thing, but quilts are all pieces of art to us."
Kelly hopes for a good turnout for the events, which connect with the ongoing relevance of the area's history and heritage.
She says: "We're just trying to stitch it all together and bring people in."
Here's the schedule of events:
Saturday, Oct. 19: Quilt Day (view heirloom quilts), 10 a.m. – 2p.m., $5 donation per family requested
Tuesday, Oct. 22: Quilting class with Donna Royson (triple twist), 10 am. – 3 p.m., $30 fee per person
Tuesday, Oct. 29: Field trip to McKissick Museum ("Piece by Piece" quilt exhibit), meet 9 a.m. at the Langford-Nord House, museum admission free
Tuesday, Nov. 5: Quilt class with Duane Walker (all stacked up), 10 a.m. – 2 p.m., $30 fee per person
Tuesday, Nov. 12: Field trip to Lexington County Museum (quilt exhibit), meet 9 a.m. at the Langford Nord-House, museum admission $5 per person
Tuesday, Nov. 15: Trunk show & lecture with Susan Lenz (art quilts), 2-4 p.m., $5 fee per person
All of these events require registration, which can be done by calling the Blythewood Historical Society at (803) 333-8133.