BLYTHEWOOD – For about seven minutes in the second and third quarters, and for the length of the homecoming festivities at Westwood's District Two Stadium, the Redhawks held a lead over perennial champion South Pointe.
The Stallions, who won state championships in two classifications from 2014-2017, soon used an early score and ball control in the third quarter to rally for a 31-20 victory Friday night.
"We made 'em work," Westwood head coach Matt Quinn said about the Region 3-4A opener for both teams. "We made some costly mistakes here and there, we had a lot of penalties, we had a few opportunities with some interceptions that we dropped, and when you're playing a team of South Pointe's caliber, you've got to play perfect football."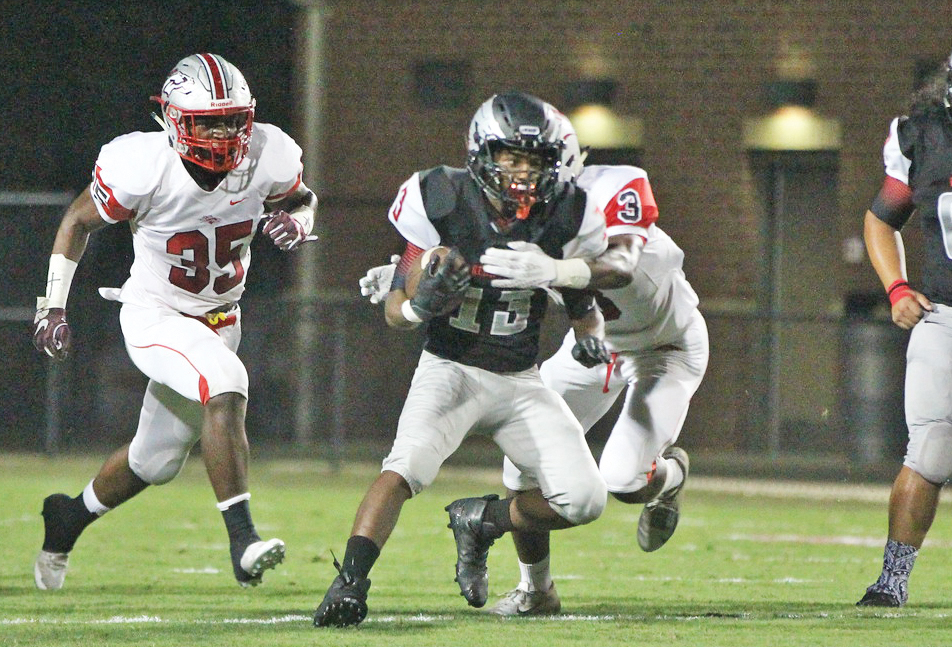 Even though the Stallions (6-0) rallied for the win, the Redhawks (4-2) kept the pressure on.
The Westwood defense had two sacks and contained South Pointe's leading rusher Quay Chambers to 78 yards on 14 carries.
Westwood quarterback Ahmon Green finished the night 14-for-24 for 205 yards. Top receiver Cam Atkins led the way with seven catches for 118 yards.
"Our kids didn't quit, that's the biggest thing," Westwood head coach Matt Quinn said. "The biggest thing we worked on all year was getting out of that old mentality of when you get down, you quit, and I'm very proud of the kids tonight."
South Pointe broke a scoreless tie when Tahleek Steele went long and found O'mega Blake in the end zone for a 44-yard touchdown pass at the 3:20 mark of the first.
The Stallions recovered a muffed punt reception at the Westwood 6-yard line early in the second quarter, and three plays later Chambers ran in from two yards out to make it 13-0 with 9:53 in the half.
From that point it seemed like the Stallions were en route to a blowout, but it was not to be.
The Westwood offense found a spark just as it appeared that South Pointe was lulling the Redhawks into oblivion.
Green hit Xorian Dobey for a 33-yard completion, which boosted a 6-play, 80-yard drive that Green finished up with a 30-yard TD pass to Atkins. Green's 2-point conversion run failed, but the Westwood crowd was energized with the score.
South Pointe looked to go back up by two scores when Travell Walker forced and recovered a Westwood fumble in Redhawks territory, but the Westwood defense held and forced a short punt.
From that possession with about 5 minutes left before the half, the Redhawks struck quickly. Starting at the 20, Green found Atkins twice for gains of 14 and 11 yards. Then the Redhawks sprung Nick Gilliam for a 55-yard touchdown scamper down the right sideline with 3:58 left.
This time, Green's pass to Atkins in the end zone was good for the go-ahead conversion and a 14-13 halftime lead.
"We changed up the game plan a little bit," Quinn said. "I thought we needed to throw the ball a little bit more and on that drive especially."
Westwood's fortune ebbed in the second half, as South Pointe took the opening possession to the end zone.
Steele's 26-yard touchdown strike to Chambers early in the third quarter, followed up with Steele's pass to Raseac Myles for the 2-point conversion, gave South Pointe a 21-14 lead.
From there, the Stallions limited Westwood to two short possessions while eating up the clock on long drives that may not have ended in touchdowns, but gave the Redhawks few options late in the game.
A fourth-quarter field goal from Wyatt Grantham gave South Pointe a 24-14 lead.
On the next possession, Westwood's Ahmon Green closed out a 74-yard scoring drive for the Redhawks with a TD pass to Jayden Harrison that cut the lead to 24-20, but South Pointe got a late score from Nygel Moore to seal the win.
"I'm proud of my team, they fought hard" first-year South Pointe head coach and South Carolina defensive star DeVonte Holloman said. "There were things we could control and things we couldn't. I'm just proud of them not giving in, not getting down on each other."
South Pointe – 7-6-8-10 – 31
Westwood – 0-14-0-6 – 20
First Quarter
SP – O'mega Blake 44 pass from Tahleek Steele (Wyatt Grantham kick) 3:20
Second Quarter
SP – Quay Chambers 2 run (kick failed) 9:53
W – Cam Atkins 30 pass from Ahmon Green (run failed) 7:52
W – Nick Gilliam 55 run (Atkins pass from Green) 3:58
Third Quarter
SP – Chambers 26 pass from Steele (Raseac Myles pass from Steele) 9:17
Fourth Quarter
SP – Grantham 24 field goal. 7:46
W – Jayden Harrison 9 pass from Green (pass failed) 3:33
SP – Nygel Moore 1 run (Grantham kick) :47
TEAM STATS SP WHS
First Downs 16 16
Rushes-Yards 34-158 30-112
Passing Yards 219 209
Att-Com-Int 24-19-0 24-14-1
Fumbles-Lost 2-0 2-2
Penalties-Yards 11-110 8-65
Punts-Avg. 5-33.4 1-24.0
INDIVIDUAL STATISTICS
RUSHING: S – Quay Chambers 14-78, Nygel Moore 9-43, O'mega Blake 3-30, Tahleek Steele 8-(-2). W – Nick Gilliam 5-75, Julian Milligan 4-0, De'Shawn Boyd 2-1, Ahmon Green 19-36.
PASSING: S – Tahleek Steele 15-21-0. O'mega Blake 2-3. W – Ahmon Green 14-24-1
RECEIVING: S – O'mega Blake 8-98, Shy'Quan Ferguson 5-64, Quay Chambers 2-34, Raseac Miles 3-12, Chouncey Massey 1-4. W – Cam Atkins 7-118, Xorian Dobey 2-51, Jayden Harrison 3-28, Chris Herrin 1-4, Nick Gilliam 1-7.