WINNSBORO – The Richard Winn Academy Eagles played host to the Laurens Academy Crusaders on Friday evening, and came away with the 52-20 win. Brandon Miller led the way for the Eagles with 380 yards rushing and six touchdowns while also racking up 12 tackles on the defensive side of the ball.
The Eagles scored the first 15 points of the contest before Laurens was able to get on the board. The Crusaders' first series was a turnover on downs at its own 30-yard line, setting up a quick two-play, 30-yard scoring drive.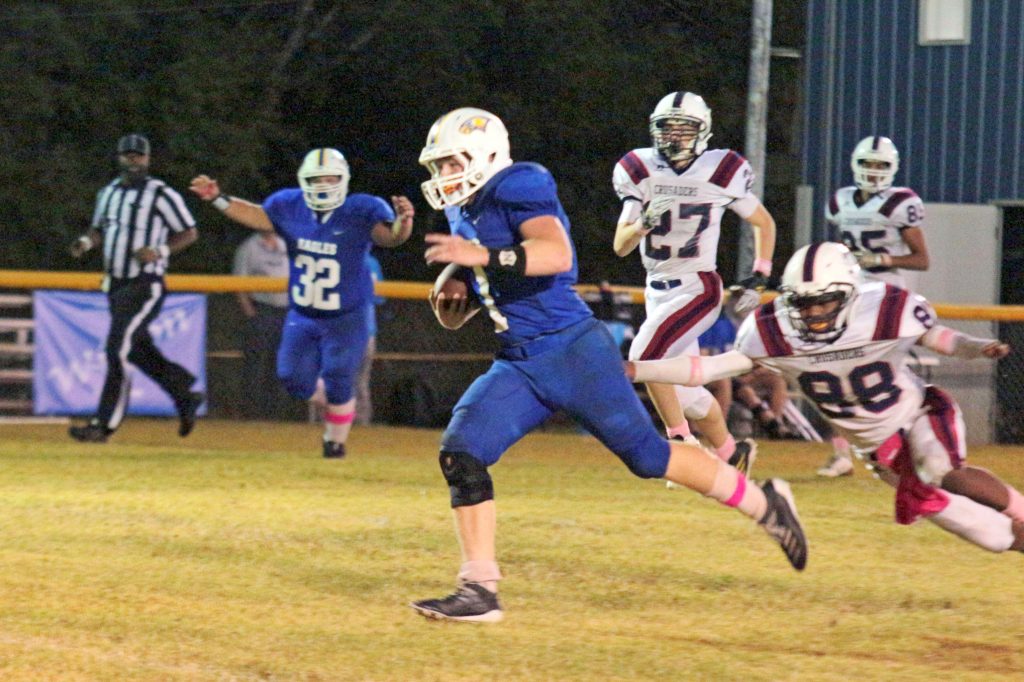 Joey Banister took the first play and ran 27 yards. A one-yard facemask penalty set up a two-yard scoring rush from Miller, the first of his six on the evening.
The Crusaders next series lasted one play and ended with a fumble; the Eagles recovered. Miller rushed for 34-yards and a touchdown on the second play, making it 15-0.
Laurens would crack the scoreboard with just under nine minutes to play in the second quarter. The two-point conversion was no good.
Just five plays later, the Eagles were back in the end zone as Dru Caldwell's pass completed to John Russell for an 11-yard touchdown strike, making it 23-6.
Laurens then made it 23-12 with 3:19 to play in the half, but left the Eagles too much time as they scored again 50 seconds later when Miller rushed for a 12-yard score, his third of the game.
Richard Winn scored touchdowns on its first three drives of the second half, all on runs by Miller. Miller rushed in from 42 yards, 16 yards and 55 yards to put the Eagles up 52-12, which led to a running clock with 1:41 left in the third quarter.
Laurens scored its final points with 3:26 left in the game for the 52-20 final.
The Eagles improved to 6-1 on the season, while Laurens falls to 2-4 in 2019. Richard Winn plays at Calhoun Academy on Oct. 18.