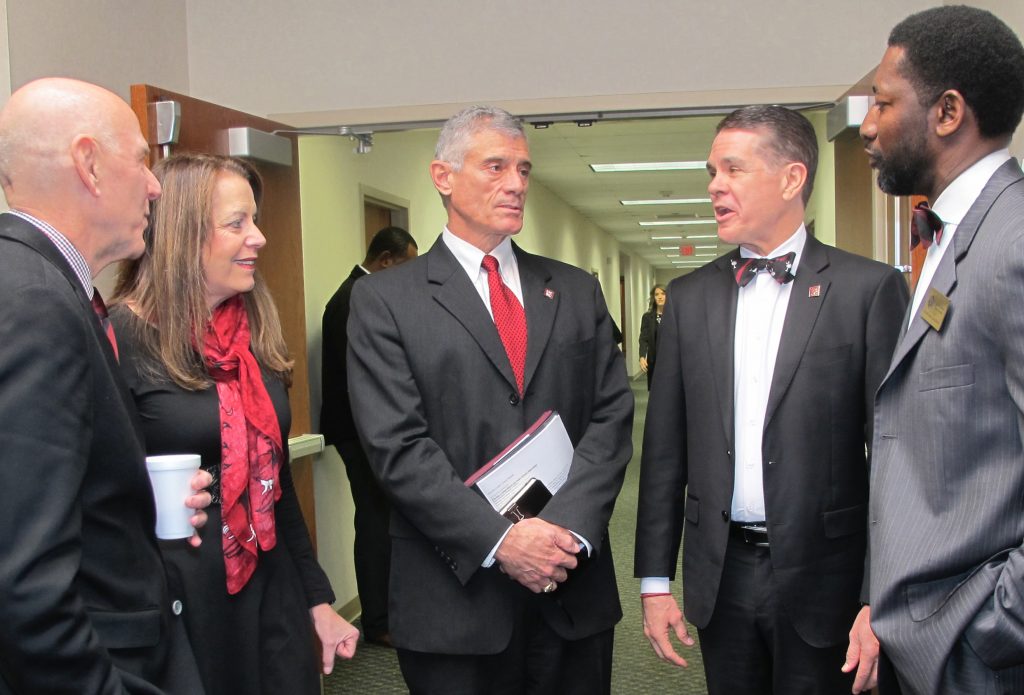 WINNSBORO – University of South Carolina President Bob Caslen stopped in Winnsboro during his 'bus tour' of South Carolina Wednesday morning to announce the launch of a University initiative, the Accelerator for Learning and Leadership for South Carolina (ALL4SC). Caslen also announced that ALL4SC is partnering its first efforts with the Fairfield County School District.
Caslen said ALL4SC is an outreach initiative with the purpose of bringing university researchers together with community and business leaders, teachers, students and lawmakers to create a strategy to close achievement and opportunity gaps for students in the Fairfield Community and eventually in other areas of the state.
A statement issued by the University prior to the meeting noted that a growing number of communities in South Carolina are losing industries and jobs as well as facing a dire teacher shortage. Student performance lags behind the national average. Support services that address the academic, physical and social well-being of children and their families are often underutilized.
ALL4SC is focused on changing this trajectory, Caslen said during remarks before a group of Fairfield County students, media and members of the community gathered at the district office for the announcement. Vernon Kennedy, Sr., the executive director of Fairfield Behavioral Health Services, USC College of Education Dean Jon Pedersen, USC Research Professor Barnett Berry and Superintendent Dr. J. R. Green were also on hand to address the group.
According to Berry, ALL4SC will focus on community-based schooling that integrates the academic, social and health needs of students; creative approaches to preparing and supporting educators; leadership development that spurs entrepreneurship in public education and evidence-based storytelling to inform and engage policymakers, parents and community leaders
Because the meeting was still in progress at press time Wednesday morning, details of the ALL4SC initiative in conjunction with the Fairfield School District will appear in the Nov. 27 issue of The Voice.