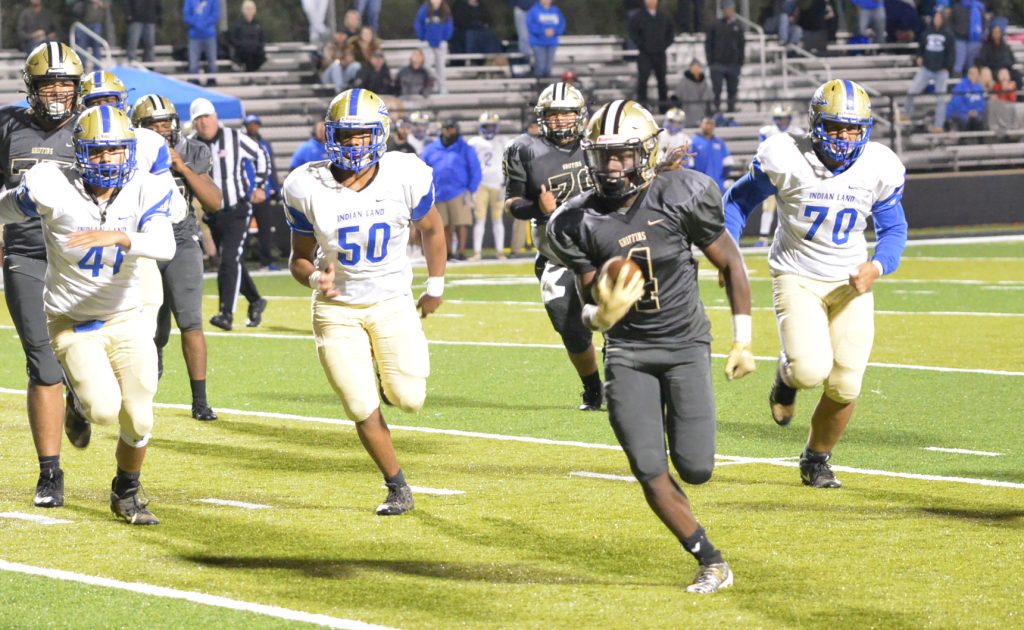 WINNSBORO – The Fairfield Central Griffins fell to the Indian Land Warriors on Friday evening by a score of 28-14. The Griffins move to 4-6 overall this season and 2-2 in the region, seating them as a number four seed in the Class 3A State Playoffs.
Indian Land was forced to punt on its opening series, and the Griffins took over for their first series at the Fairfield Central 10-yard line. They gained 58 yards of offense before turning the ball over on downs at the Indian Land 32-yard line. The Warriors went on a 12-play, 68-yard drive to go up 7-0 with 2:55 to play in the quarter.
The Griffins were forced to punt on their next series, but forced Indian Land to fumble at its own 13-yard line. Will Barber scored on a 13-yard run to the wide side of the field immediately following the turnover, but the PAT was no good. The Griffins trailed 7-6.
Both teams were kept out of the end zone during the second quarter as the defenses were stout. The Griffins had four straight possessions dating to their one-play, 13-yard scoring series that started in Indian Land territory. They only came away with the one touchdown.
Fairfield Central opened the second half of the game with a 70-yard kickoff return for a touchdown by Donovan Watkins. Jacob McManus then ran the two-point conversion to put the Griffins up 14-7.
Indian Land scored on its next three possessions to go up 28-14, taking the score to its final mark.
McManus finished the game going 6-of-17 passing for 66 yards. Barber rushed the ball 16 times for 127 yards and one score for the best all-around performance on offense. Nate Adams (15), Ray Davis (10) and Curtis Brown (10) all finished in double figures in tackles.
The Griffins and Coach Demetrius Davis doubled their win total this season (4) from the 2018 season (2). Fairfield Central looks to make some noise in the playoffs when it travels to Union County for a 7:30 p.m. kickoff on Friday.