BLYTHEWOOD – The Hardee's restaurant in downtown Blythewood is going to soon be sporting a new look with cleaner lines, updated canopies, bolder color and a new star logo.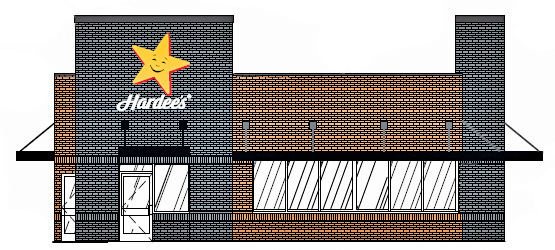 The Board of Architectural Review (BAR) approved a certificate of appropriateness (COA) Monday evening to permit exterior alterations to the restaurant, which is located at 100 Creech Road. The proposed changes were presented to the board by architect David Glover of St. Louis, Missouri, the applicant representing CKE Restaurants Holdings, Inc. LLC of Franklin, Tennessee.
"Hardee's is undertaking a program to reimage their stores," Glover said, "and they chose the Columbia area to do that for the first test. As part of this program, the exterior remodel is removing the red awnings and the old logo signs and replacing them with a new yellow star and adding black aluminum canopies over the windows."
Glover said the entry towers will be painted a darker grey and the rest of the brick will stay the natural brick as it is now.
"And that's pretty much it," Glover said. "They're just trying to give the store a fresh new look."
Glover said the building will be cleaned up, the chalkiness powerwashed off.
"It will look like a brand new building when they're done with it," Glover told the board.
The new contemporary canopies will feature up and down lighting. The down light will illuminate the sidewalks and the up lighting will put a glow on the walls, Glover said.
There is also a handicap upgrade to the parking nearest to the restaurant entrance.
While chairwoman Pam Dukes pointed out that, in general, the BAR doesn't allow uplighting, Town Administrator Brian Cook said that it could be allowed in this particular case because it is used just to highlight the natural brick, and does not shine into the sky.
"But it's certainly a call that you guys make, whatever you think is appropriate," Cook said.
"I do think this look is an improvement," board member Jim McLean said.
Board member Allen George said he was good with it, and McLean made the motion to approve.
The vote to approve the COA was 4-0. Board members Alisha Coleman and Gayle Coston were not in attendance and one seat is vacant.
Car Wash Request Delayed
A request for a COA for a carwash next to Blythewood Family Dentistry on Blythewood Road was also on the agenda but was deferred by the applicant, Patrick Noh, until Jan. 21.
New BAR/BZA Meeting Schedule
Beginning in January, the BAR will meet on the third Monday of the month as it does currently, however the time will be changed to 5:30 p.m. and will be followed by the Board of Zoning Appeals meeting at 6:30 p.m.