BLYTHEWOOD – The lighting of the town Christmas tree is one of Blythewood's most popular traditions, and this year it was one of the biggest.
It happens on the Sunday after Thanksgiving. Folks from the community gather on the grounds of Town Hall around 5 p.m. They visit, sing along with caroling choirs from area churches and enjoy refreshments.
This year the air was crisp and the crowd was larger than usual. Holiday gathering music was performed by Riley Mayfield and Camryn Cox music students at Freeway Music. Vance and Jeannie Sharpe entertained with traditional Christmas carols.
The trinity United Methodist Church's God Squad (children's choir) then climbed onto the Town Hall Steps to perform "Do You Hear What I Hear?" Some were in costumes – a mighty king, a humble shepherd, the gusting night wind, a bright Heavenly star, even a tiny angel wearing upside down wings. By the time one of the youngest member strayed from the group and managed to wiggle her arm through the porch railing to wave to family members, the God Squad clearly stole the show.
The Squad was then joined by members of Blythewood girl and boy scouts in singing additional carols.
Blythewood's new Mayor Bryan Franklin introduced Blythewood's Kristy Coggins who would light the tree. Coggins, former head coach for the women's golf team at the University of South Carolina, was recognized for having recently been named to the school's sports hall of fame.
With that, the countdown began and suddenly the tree lit up dramatically against the night sky. The crowd cheered.
After snapping pictures of family members in front of the tree, with the new mayor and with Santa, those attending the event moved to the hot chocolate and cookie tents.
And, once again, it was Christmas in Blythewood.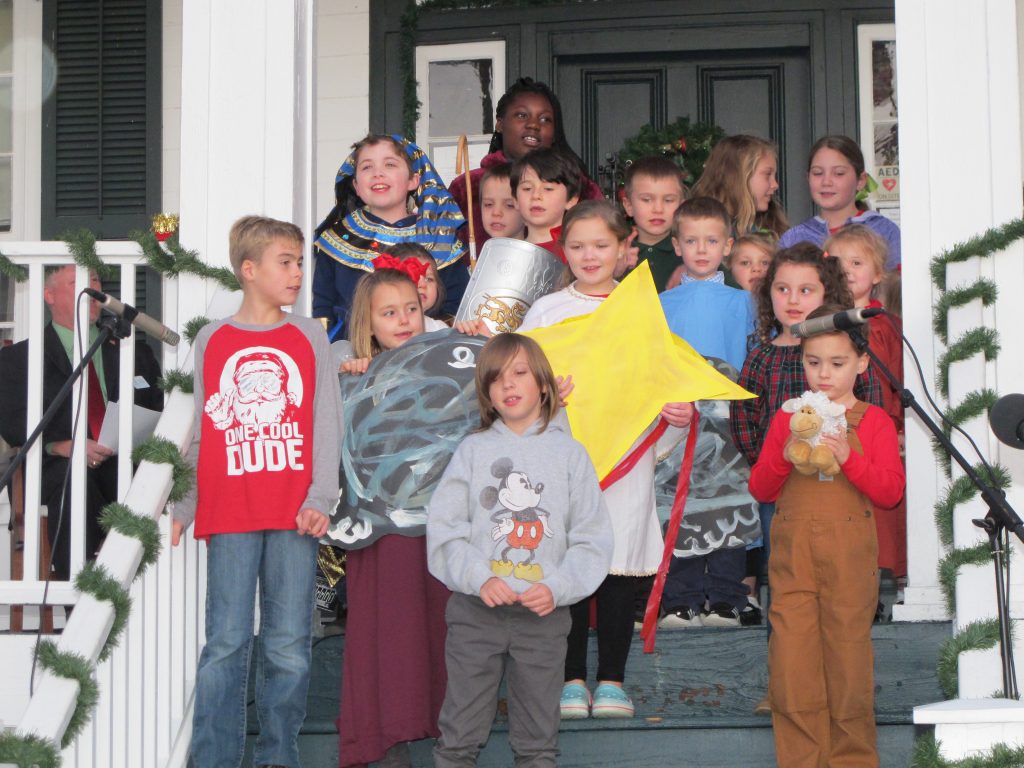 Riley Mayfield playing the ukulele

Mayor Bryan Franklin introduces tree lighter Kristi Coggins

Accompaniment to God Squad