WINNSBORO – The Richard Winn Academy Eagles came away victorious on Monday and Tuesday as they improved to 4-3 overall this season. They defeated Thomas Sumter Academy by a 66-28 score and then Holly Hill Academy on Tuesday by a 58-31 score.
RWA 66, TSA 28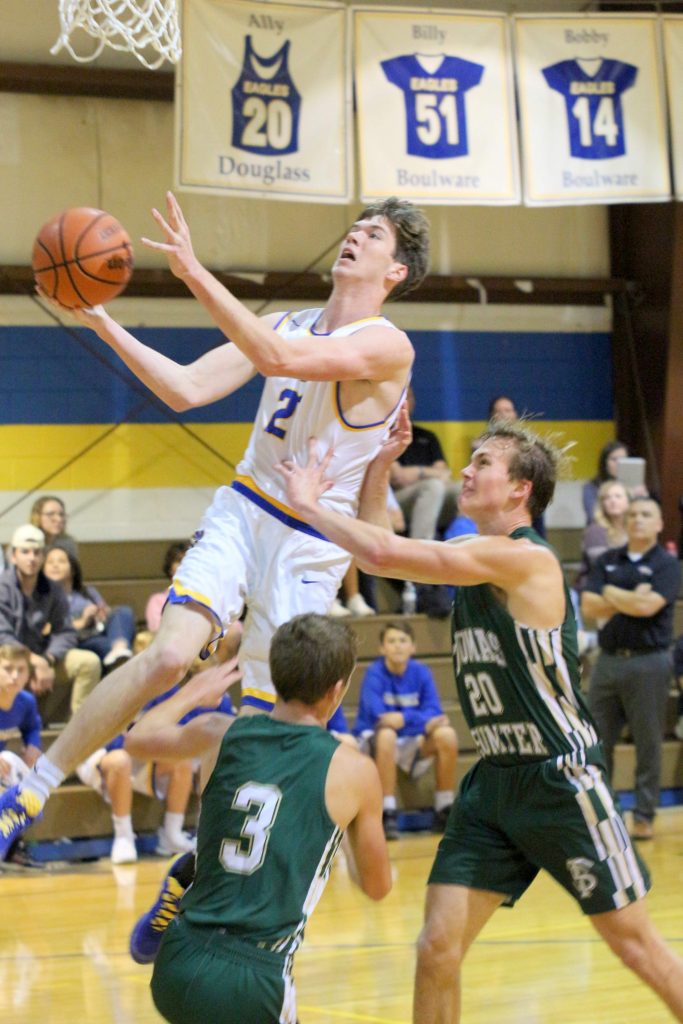 The Eagles jumped out to a 20-8 lead after one quarter and a 37-12 lead at the half before winning 66-28 over the Generals. Darius Boyd led the way for Richard Winn with 19 points including going 4-7 from three-point range and tallying four rebounds, three assists and three steals in the contest. Dru Caldwell (13), Hudson Wade (13) and Derek Branham (12) all poured in double-figure scoring efforts as well in the game.
Marshall Gibbons finished with a team high seven rebounds while Wade grabbed five. Caldwell and Branham each had team highs in assists with four while Boyd, Branham and Wade each had three steals apiece to lead the way. Wade and Gavin Douglas each had three blocks.
RWA 58, HHA 31
Richard Winn led by an 18-6 score after one quarter and 33-11 after at the intermission en route to the 58-31 win over the Raiders of Holly Hill Academy. Wade finished the evening as the team's leading scorer as he piled in 18 points with Boyd following closely with 17. John Russell was the only other player in double figures as he tallied 10.
Lake Murray Tip-Off
The Eagles competed in the Lake Murray Tip-Off against White Knoll High School, Wilson High School and Fox Creek High School last week. Richard Winn suffered three defeats but came away from the competition a much better team for having competed against some top public schools.
In the Fox Creek game, the Eagles had a 42-41 lead entering the fourth quarter before Fox Creek outscored them 12-9 in the period to win 53-51.
Boyd led the way for Richard Winn as he scored 26 against Fox Creek, 11 against Wilson and 16 versus White Knoll to lead the Eagles in all three contests.
Coming Up
Richard Winn hosts Cambridge Academy on Friday before traveling to Thomas Sumter on December 10. The matchup with TSA will be their second in eight days.