COLUMBIA – The Westwood boys basketball team opened up their long rifles on Spring Valley Tuesday night, while Bre'on Lewis knifed inside for some easy baskets against the Vikings.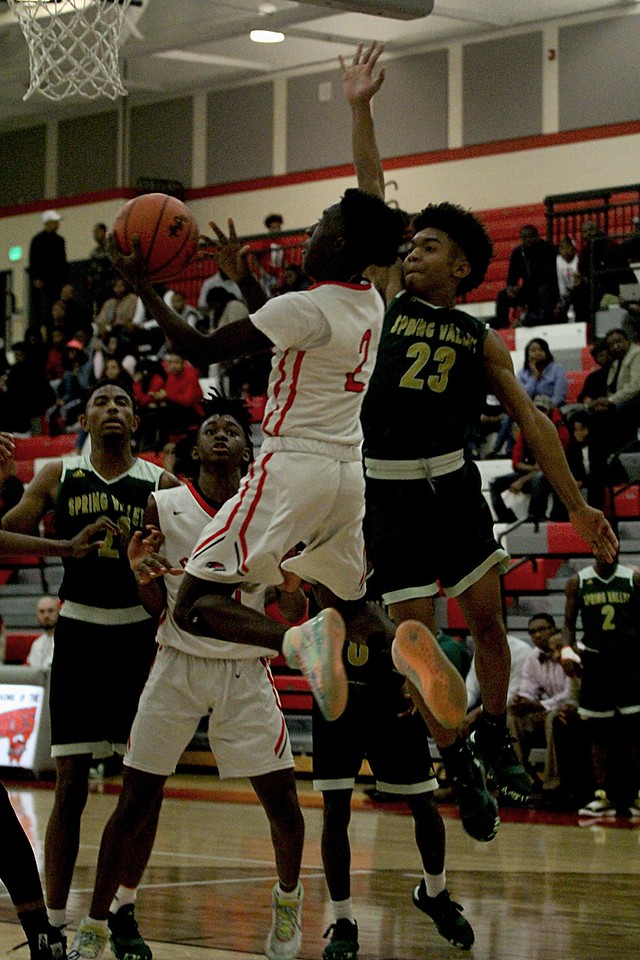 The Redhawks' sharp 3-point shooting, combined with Lewis' 19 points and five rebounds, enabled them to play loose en route to a 71-53 victory at Spring Valley.
"Tonight we shot the ball really well, especially in the first half," first-year Westwood head coach John Combs said. "I think we're a better-than-average 3-point shooting team, but tonight was better than our average."
In its latest win, Westwood made 11 3-pointers and kept the ball moving toward the Spring Valley basket, thanks to Lewis and Mike Peay and Marshall Jefferson, who had 11 points apiece.
"This was easily Bre'on's best game of the year," Combs said. "It's great to see him get going, he works really hard and is very active."
Westwood (9-0) added its second Spring Valley win to its string of victories to start the year. The Redhawks defeated the Vikings 71-48 Dec. 6.
In Tuesday's contest, Westwood opened up shooting and never stumbled.
Treys from Peay, Ty Turner, and Lewis enabled the Redhawks to jump out to a 21-6 lead by the end of the first quarter. Turner drained three 3-pointers in that frame.
The Vikings finally started to hit baskets consistently in the second quarter, but Westwood outpaced them the rest of the way, taking a 41-23 lead at the half and a 65-38 lead going into the final quarter.
"Our team as a whole tonight was really unselfish," Combs said. "Defensively I thought we were really good in the first half, and it led to one of the best starts that we've had this year."
In the girls game, Westwood got off to a slow start against the now-depleted 5A upper state champion Vikings, but rebounded with a lights-out third and fourth quarters to cruise to a 61-30 victory.
"We came out very sluggish," Westwood head coach Gregory Bauldrick said. "I thought we came out and kind of played down to their level thinking this was going to be easy."
Westwood led 28-16 at the half, but dominated the last two quarters, outscoring the Vikings 33-14, with the Redhawks going to the bench for much of the fourth.
"We talked a little bit about our intensity at the half a little bit," Bauldrick said. "We refocused and then we came out in the third quarter and played the way we know how to play."
Jessica Woods scored a team-high 12 points, with Malayziah Etheredge and Ja'Mari Frederick putting up 11 points apiece for the Redhawks (9-1).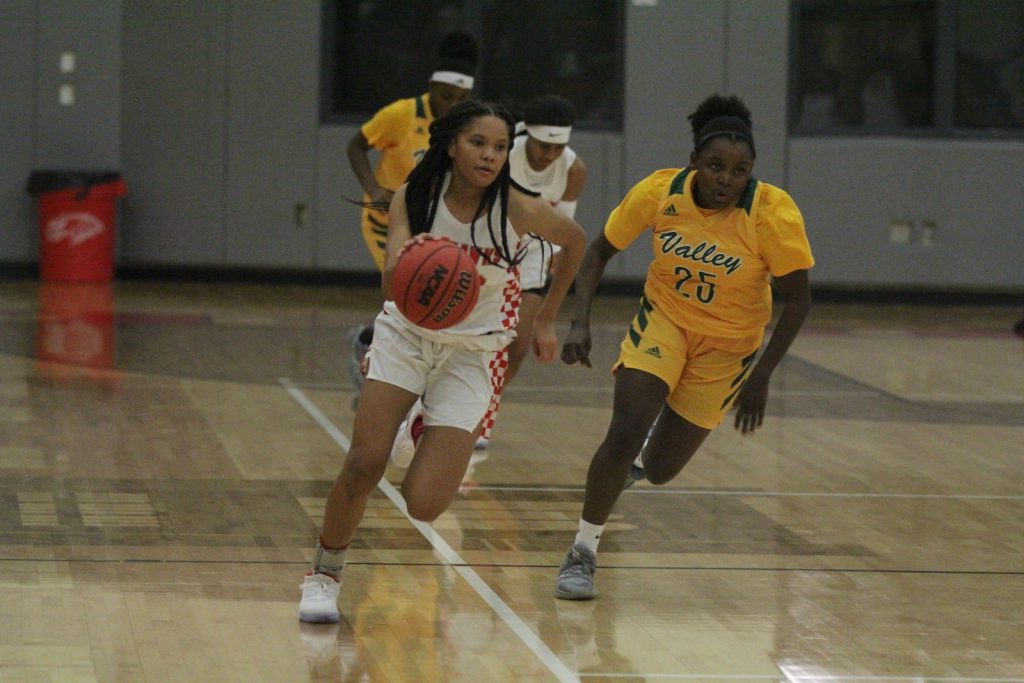 Jaidah Liebert scored 16 points to lead Spring Valley, but the Vikings had just three other scorers, all in single digits.
Spring Valley (1-7) lost nine seniors from its 12-person roster last year in which the Vikings went 26-4 and fell to Goose Creek in the final seconds of the state championship game.
"It's certainly no disrespect to their program, I think its history speaks for itself," Bauldrick said about the Vikings. "We knew the probability of us winning the game was very high, so we were concerned about executing and playing with the kind of intensity that we're going to need on Thursday."
The Westwood girls travel to Myrtle Beach Thursday to play in the Beach Ball Classic / Crescom Bank Holiday Invitational Carolinas College Challenge. There, the Redhawks open the action against Greensboro Day Academy (N.C.) at 11:15 a.m. Thursday.
"They're currently the No.1 team in the state of North Carolina ," Bauldrick said. "That's gonna be a nice little test for us, but we're looking forward to it."
The Westwood boys play in the Roundball Classic basketball tournament at Brookland Cayce's new gymnasium Dec. 26-28. The Redhawks will compete among 16 teams split into two 8-team brackets. Local teams beside Westwood include Dutch Fork, Gilbert, Gray Collegiate, A.C. Flora, Lower Richland, Lugoff-Elgin, Fairfield Central, Hammond, and C.A. Johnson.
The Redhawks open the tournament against Westside (Ga.).
"It's a really good group of teams in the tournament," Combs said. "That new facility, it's beautiful, and I'm looking forward to playing there. It's gonna be a good first-year experience."


Boys
WHS – 21-20-24-6 – 71
SVHS – 6-17-15-15 – 53
WHS – Bre'on Lewis 19, Mike Peay 11, Marshall Jefferson 11, Turner 9, McCray 7, McDaniels 6, Richardson 3, Green 3, Faber 2.
SVHS– Justice Henderson 11, Darian Bouie 10, Osby 8, Perez 6, Moore 6, Shell 4, Hood 4, Wilson 3, Pollar 1.
Girls
WHS – 16-12-19-14 – 61
SVHS – 5-11-6-8 – 30
WHS – Jessica Woods 12, Malayziah Etheredge 11, Ja'Mari Frederick 11, Jones 7, Wade 6, McCants 6, Thompson 4, Mines 2, Simon 2.
SVHS – Jaidah Liebert 16, Lance 6, McNally 4, Entzminger 4.