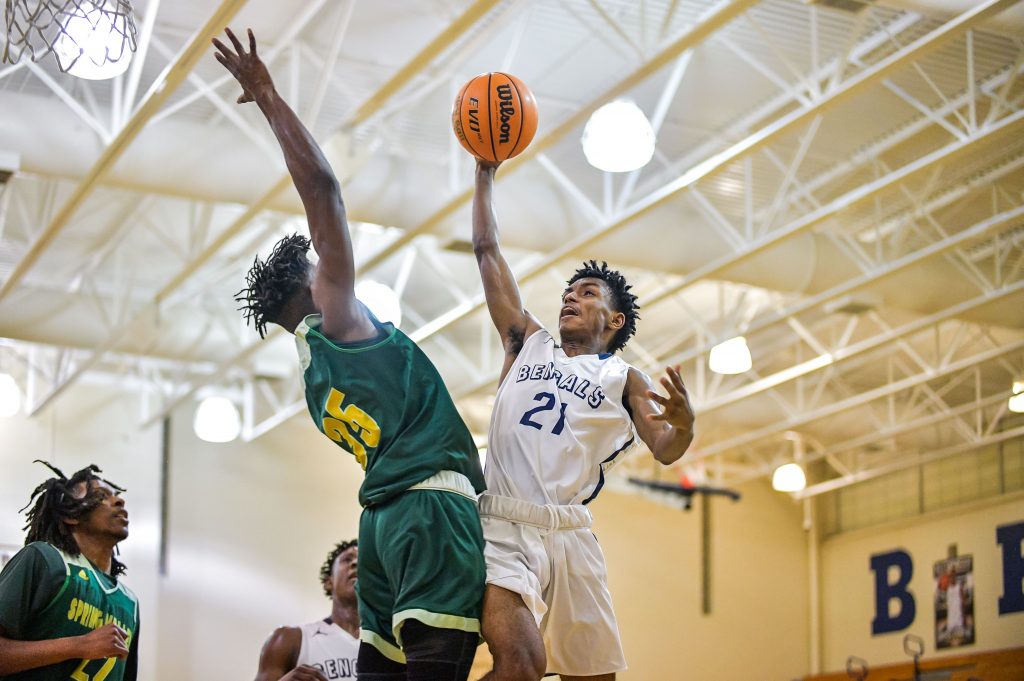 BLYTHEWOOD – After a first half where Spring Valley dominated the boards 25-9, Blythewood head coach Zeke Washington had only one answer as to what the halftime talk was.
"We got together and we prayed," he said. "They did a good job of out-physicaling us, if that is a word. They pushed us around, I tip my hat off to them. We prayed for a better effort."
The Bengals, who had a 16-14 lead going into intermission Friday at the Blythewood gym, put prayer—and the spark of Julian Phillips—to good use.
Phillips scored 10 points and scooped up four rebounds in a pivotal fourth quarter, and the Bengals were able to cushion their lead and finish with a 51-38 Region 4-5A victory over the Vikings.
Phillips led all scorers with 22 points and had 11 rebounds to push the Bengals to their third straight region victory. The agile 6-7 sophomore racked up 35 points in his team's 71-57 win at Lugoff-Elgin Friday, but the Bengals needed his agility under the nets Tuesday night.
"There's a lot of rebounds that he gets that keeps us afloat," Washington said. "A lot of people don't see it but I see it. Some of the rebounds that this child gets, a lot of high school kids just can't do. He's a marvelous player."
Phillips' spark under the boards calmed things down defensively for the Bengals (14-8, 3-1). Blythewood outrebounded the Vikings 19-7 in the third and fourth quarters.
After Randy Kelly hit a foul shot and Brice Cohen sank a basket to make it 19-14 early in the third, Phillips went straight to work. He hit three of his four field goals in the quarter to make it 25-16 by the 5-minute mark.
Blythewood outscored the Vikings 12-6 the rest of the way to take a 37-27 lead going into the fourth.
Emmanuel Richards scored all seven of his points on the night in the first four minutes of the final quarter as Blythewood took a commanding 46-31 lead.
Spring Valley got 3-pointers from Terrence Williamson and Justice Henderson to cut into that lead, but the Bengals went 5-for-6 from the free-throw line in the final two minutes to seal the win.
Blythewood is off Friday, but will begin the backstretch of region play with a home game against Irmo Tuesday.
"These kids are so young, and they've faced so much pressure, I don't exactly know what to do," Washington said about the off date. "I know we have a big game on Tuesday, but we've got a lot of work to do to get ready to play them. They're physical too."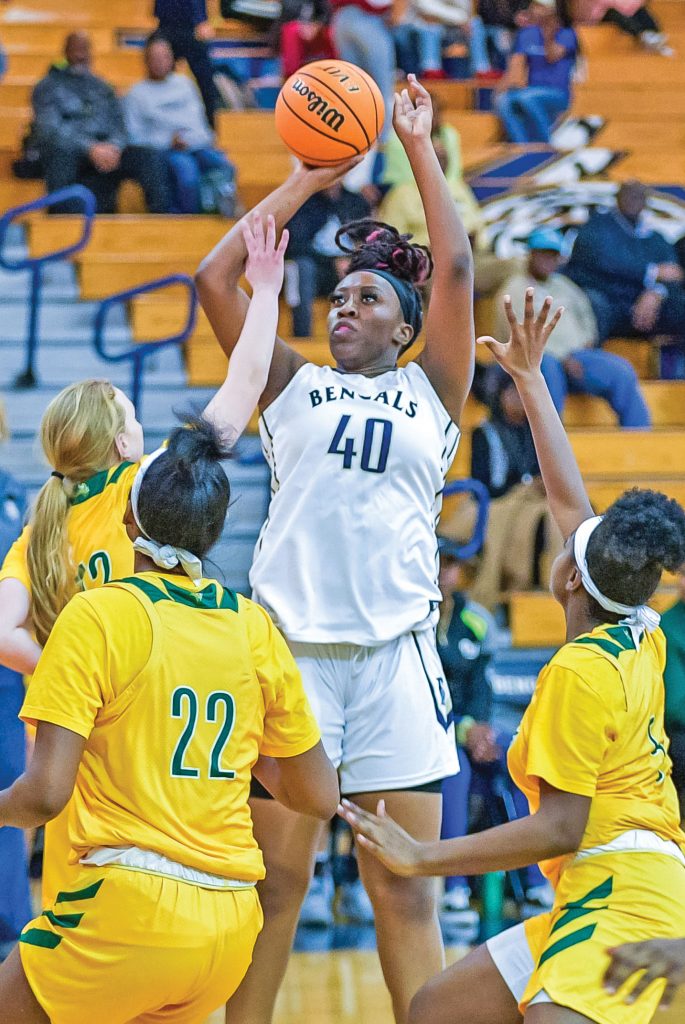 In the girls game, Blythewood (5-14, 1-2) kept close with Spring Valley through three quarters until the Vikings pulled away for a 62-44 win over the Bengals.
Michaela Boseman had 14 points and Makayla Jones added 11 to lead the Bengals.
Blythewood picked up their first region win Friday night, trouncing Lugoff-Elgin 56-23.
Nylah Terry led the way with 16 points. Nymetria Wooten had 11 and Morgan Kelly had 10.
Girls
Friday: Blythewood 56, Lugoff-Elgin 23
Blythewood – 24-16-8-8 – 56
Lugoff-Elgin – 5-5-7-6 – 23
Blythewood: Nylah Terry 16, Nymetria Wooten 11, Morgan Kelly 10, Boseman 8, Gallman 4, Pinckney 4, Jones 3.
Lugoff-Elgin: Grant 12, McCall 4, Anderson 3, Brown 3, Moore 1.
Tuesday: Spring Valley 62, Blythewood 44
Spring Valley – 14-17-16-15 – 62
Blythewood – 8-13-15-8 – 44
Spring Valley: Wilkes 16, Entzminger 9, Taylor 9, Lance 9, Mitchell 6, McNally 4.
Blythewood: Michaela Boseman 14, Makayla Jones 11, Terry 9, Kelly 8, Wooten 2.
Boys
Friday: Blythewood 71, Lugoff-Elgin 57
Blythewood – 16-14-24-16 – 71
Lugoff-Elgin – 8-9-21-19 – 57
Blythewood: Julian Phillips 36, Emmanuel Richards 12, Williams 8, Wright 4, Rogers 4, Cohen 2, Hardy 2, Kelly 2, Brown 2.
Lugoff-Elgin: Johnson 20, Hayman 19, Williams 6, Nelson 6, Anderson 4, Pagan 2.
Tuesday: Blythewood 51, Spring Valley 38
Spring Valley – 6-8-13-11 – 38
Blythewood – 10-6-21-14 – 51
Spring Valley: Justice Henderson 13, Williamson 7, Osby 4, Wilson 4, Cooke 2, Williams 2, Shell 2, Moore 2, Hutto 2.
Blythewood: Julian Phillips 22, Richards 7, Cohen 7, Rogers 5, Williams 2, Hardy 2, Kelly 2, Wright 2, Knox 2.