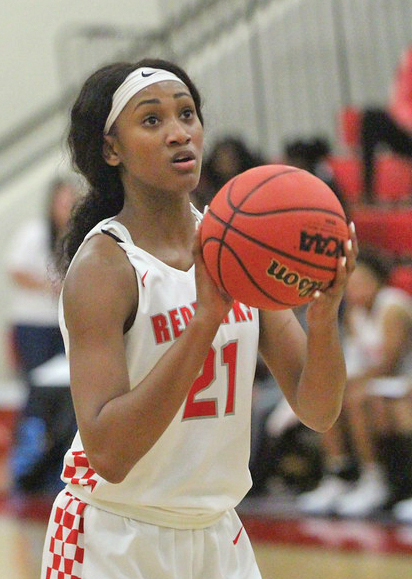 COLUMBIA – Westwood senior Nyah Leveretter cemented her name in the Redhawks Elite 1000 Point Club last Friday against district rival Richland Northeast High School. Leveretter had a season-high 30 points and 15 rebounds in the Redhawks' 70-24 win. (Leveretter topped her season-high 15 rebounds with 16 in the Redhawks' 71-11 win over York on Tuesday).
Leveretter officially inked her collegiate plans to play basketball at the University of Kentucky earlier this season.
"Nyah Leveretter, just one of the most impressive young people we've signed," Kentucky head coach Matthew Mitchell said. "Really, really has a great maturity about her, awesome athleticism, perfect for our style of play, plays really hard, has a high motor, great length, great athleticism, very fast, and willing to work."
In four seasons as a Redhawk, Leveretter has averaged 10.8 points, 10 rebounds, 2.3 blocks, 1.7 steals and 1 assist per game.
Leveretter joins a former teammates Unique Drake, Mya Belton, and Maliyah Lockett. Russel Jones Jr. is also in the Redhawks' 1000 Point Club.