BLYTHEWOOD – The Westwood girls basketball team is in the thick of its region schedule—and thus far the Redhawks are enjoying it.
In three pivotal games last week, Westwood beat the top three 4A teams in the state.
The Redhawks edged top-ranked North Augusta 61-59 at the MLK Bash Jan. 18, knocked No.3 South Pointe off balance in a 52-42 victory Tuesday night, and rounded out its week with a convincing 53-19 win over the No.2 Blazers.
"We've got a lot of work ahead of us, but we feel really good," Bauldrick said. "We're gonna live in the moment, enjoy where we are, and rest up, hydrate, and then we're gonna get back at it."
Westwood (18-3, 5-0) was off Tuesday and plays host to Richland Northeast Friday.
The Redhawks were hot on the Blazers from the tip-off, working up a 13-5 lead. Ridge View's Zaria McClurkin scooped up a loose ball and beelined to the basket for a two points at the first quarter buzzer.
That shot marked the last time the Blazers scored in the first half. Up 22-5 going into the third quarter, Westwood continued its defensive posture with a 16-9 run to go up 38-14 going into the fourth. The Redhawks outscored the Blazers 15-5 in the final quarter.
"I'm very proud of the total team performance. Focused. Dialed in," Westwood head coach Gregory Bauldrick said. "They understood that this is separation Friday. After a long, tough week, we were concerned about their energy level, but they came out and executed pretty much 90 percent of what we were looking for."
Westwood outrebounded Ridge View 39-20, and held the Blazers (16-5, 4-1) to 5-for-37 shooting.
Westwood's height under the net knocked Ridge View off balance. Leveretter, at 6-3, and the 6-4 Jala Wade shut down the Blazers inside, combining for 20 rebounds. The Blazers were just 5-for-37 on the night.
"We knew we needed to match their big girls and offset that," Bauldrick said. "Nyay and Jayla came to play. I don't know what the rebounds were, but we always say more is better."
Ja'mari Frederick hit three 3-pointers and finished the night with 16 points. Malayziah Etheredge sank two 3s and had 14 points. Nyah Leveretter had 11 rebounds.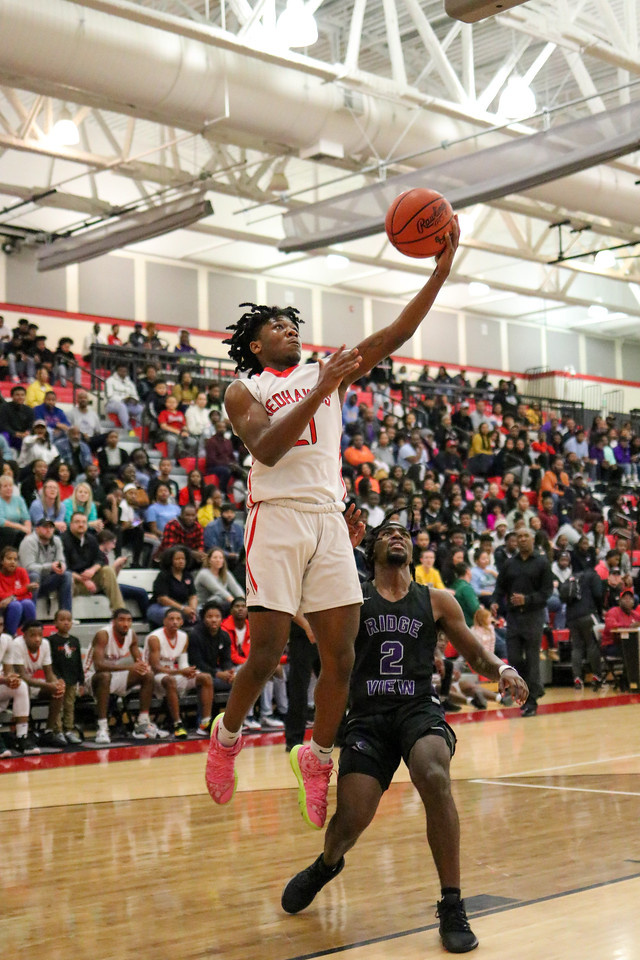 Ridge View, struggling to find any way to stop the Redhawks, tried to rattle Westwood around the perimeter with a man-to-man attack. Not only were the Redhawks sly with its ball control, they went on the attack from the 3-point line. Westwood drained three 3-pointers in each half.
"We're a pretty balanced team inside and out," Bauldrick said. We knew that, but we also knew they made about 60 percent of their shots behind the 3-point line in previous games. We knew we had to take that away, and cut the head off the snake."
In the boys game, Ridge View (13-6, 5-0) overcame a 39-33 deficit in the third quarter to close out a 65-58 victory over the Redhawks (13-6, 2-3).
Girls: Westwood 53, Ridge View 19
RVHS – 5-0-5-9 – 19
WHS – 13-8-6-15 – 53
Ridge View: Keller 5, Wasswa 5, Hauser 4, McClerkin 2, Mitchem 2, Acox 1
Westwood: Ja'mari Frederick 16, Malayziah Etheredge 14, Mines 6, Woods 6, Leveretter 4, Thompson 3, Scott 2, Wade 2.
Boys: Ridge View 65, Westwood 58
RVHS – 8-17-21-19 – 65
WHS – 14-14-16-14 – 58
Ridge View: Cincere Scott 20, Ja'von Benson 20, Tyler Rice 14, Everett 5, Smith 4, Jackson 2.
Westwood: McQuaje McDaniels 13, M. Jefferson 12, Lewis 9, Richardson 9, Turner 8, Green 3, Salvage 2, McCray 2.