WEST COLUMBIA – The Westwood boys basketball team may have dropped their first loss of the season at the 16-team Cayce Roundball Classic Friday night, but the tournament may prove to be a benchmark for this season's Redhawks.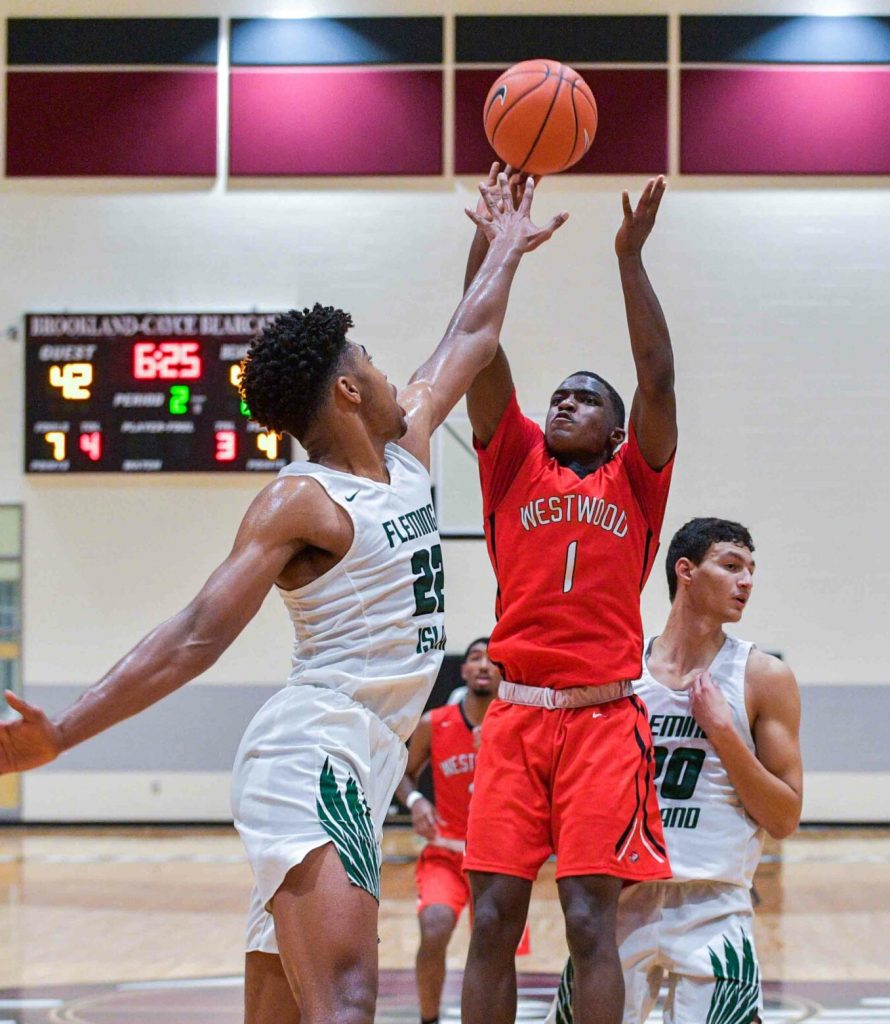 Westwood (11-1) went 2-1 in the tournament that played out at Brookland-Cayce High School Dec. 26-28. The Redhawks won 59-58 over Westside Thursday night, but fell in overtime 61-58 to Fleming Island (Fla.) Friday night.
"It's always interesting over the course of three days how you play," Westwood head coach John Combs said. "Coming off our first loss yesterday (Friday) in a hard-fought battle, you could argue that coming into play Dutch Fork, they might have been a tougher team than who we played yesterday."
The Redhawks put that loss behind them quickly, overcoming a slow start against Dutch Fork Saturday to win 56-46 over the Silver Foxes, ranked second in the state at the 5A level, to claim the third-place spot of the 8-team National division.
"They're good," Combs said about Dutch Fork. "For us to grind out a victory after being down a little bit at the half, I was proud about how they played, how hard they competed. They came ready to play today."
Dutch Fork used a stifling defense to disrupt Westwood's shooting and work up a 22-19 lead at the half.
The Silver Foxes even went on an 10-4 run to open the second half and take a 32-23 lead. Then, almost instantly, Cameron McBride stepped up from behind the 3-point line and started delivering.
McBride sank back-to-back 3s before a Silver Foxes basket and Ty Turner's putback that made it 34-31 Dutch Fork with 10:37 to play. Another McBride three evened the score at 34.
Another Turner basket gave Westwood its first lead of the game a few seconds later, but Dutch Fork's Jarvis Green made both his foul shots to even the score at 36.
Once Mequaje Daniels sank a basket to make it 38-36 with 7:57 left, the Redhawks stayed in the lead for the duration of the game.
McBride's four three pointers in the clutch and 16 points on the afternoon led the way for the Redhawks. Mike Peay had 11 points.
Seeing the Redhawks exercise patience and tenacity against a top team in the state was encouraging for Combs, a veteran basketball coach in his first year with the Redhawks.
"We stress mental toughness and not to get too down on yourself when things are going poorly and don't get too high when things are going well," Combs said. "Ahmon Green got in a little bit of foul trouble early on, but the other guys came of the bench and we gelled pretty well."
Westwood plays a rescheduled game at Blythewood Friday, then will play host to the Bengals when they travel down Wilson Boulevard Tuesday.
"No more cupcakes," Combs said. "It's two high-level games with Blythewood and then on to Region (3-4A) play."
Dec. 26 – Westwood 59, Westside 58
Westwood: Mike Peay 13, Mequaje McDaniels 10, Richardson 7, Green 6, McBride 6, Lewis 6, Turner 5, Jefferson 5, Faber 1.
Westside: Khalon Hudson 25, Booker 8, Collier 8, Mathis 6, Ewing 6, Smith 5.
Dec. 27 – Fleming Island 61, Westwood 58, OT Westwood: Mike Peay 11, Green 9, Turner 8, McDaniels 8, Lewis 8, McBride 8, Richardson 3.
Fleming Island: Steele Perry 11, A. Greenidge 11, Elias Martin 10, Astor 8, Brown 8, Miles 7, Kenny 3, Mas 3.
Dec. 28 – Westwood 56, Dutch Fork 46
Westwood: Cameron McBride 16, Mike Peay 11, McDaniels 9, Turner 8, Lewis 5, McCray 4, Jefferson 3.
Dutch Fork: Jarvis Green 11, Smith 8, Jones 7, McClurkin 6, Renner 5, Knight 3, Snipe-Campbell 3, Dawley 2, Sweetenberg 1.