BLYTHEWOOD – The Westwood boys had their hands full with Region 3-4A Rival Ridge View Friday night.
The region champion—and two-time defending state champion–Blazers got off to an early lead and never seriously looked back in a 71-55 victory.
"They competed very well," Westwood head coach John Combs said. "We didn't go to the foul line at all, so that was very difficult, but our guys competed. We weren't smart enough offensively, didn't get enough stops like we needed, and they're really good. There's a reason why they're the two-time defending champion."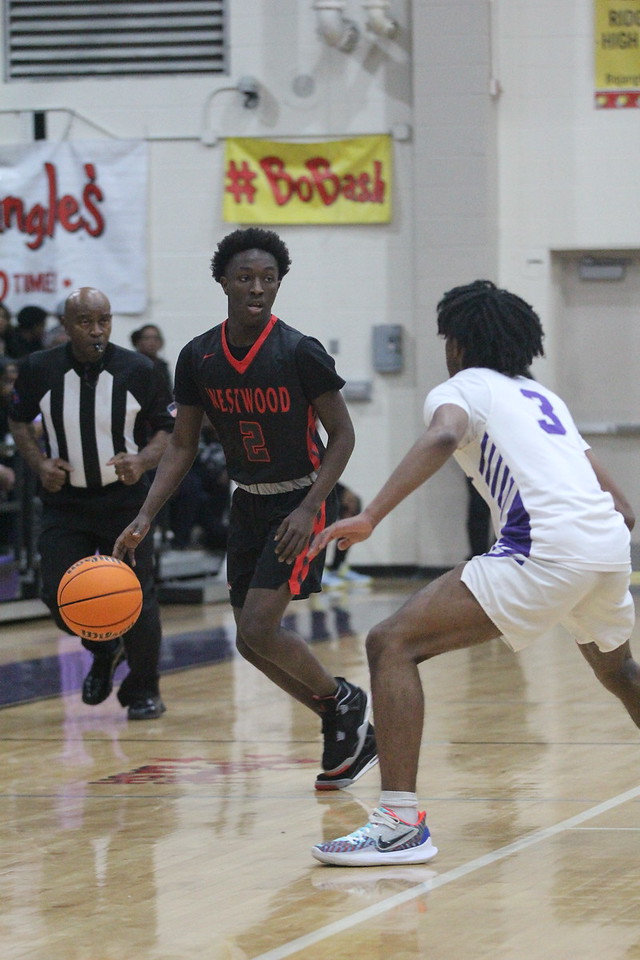 Down 35-27 to start the third quarter, the Redhawks (16-8, 5-5) fell behind 41-27 before managing to knock back a succession of 3-pointers to fight their way back into contention.
Mequaje McDaniels's 3-pointer with 6;15 left in the game got Westwood to within five points of the 2-time defending 4A state champion, but Ridge View (19-7, 9-1) finished the fourth quarter on an 18-7 run and finished the night with four scorers in double figures.
USC signee Ja'Von Benson led Ridge View with 19 points. Cincere Scott had 13, Tyler Rice had 12, and Gregory Jackson had 11.
"Guys like Ja'Von Benson, Cincere Scott, and Tyler Rice are all-region, all-state caliber players," Combs said.
Mike Peay had 16 points, including four second-half three pointers, to lead the Redhawks. McDaniels had 11 points.
The Westwood boys finish third in the region behind the Blazers and second-place Richland Northeast. They travelled to Palmetto Wednesday to open the first round of the 4A playoffs.
The winner of that game travels to the winner of the Belton-Honea Path-Greenville matchup Saturday.
Friday – Ridge View 71, Westwood 55
Westwood 9 12 22 12 — 55
Ridge View 14 18 20 19 — 71
Westwood: Mike Peay 16, Mequase McDaniels 11, Lewis 6, Savage 6, Faber 5, Turner 5, McBride 2, Jefferson 2, McCray 2.
Ridge View: Ja'Von Benson 19, Cincere Scott 13, Tyler Rice 12, Gregory Jackson 11, Everette 5, P. Jenkins 4, Smith 3, D. Jenkins 2, Spaggins 1, Kennedy 1.