BLYTHEWOOD – Tuesday night was not an easy night for the Westwood girls basketball team, as first-round playoff games go.
With key bench players and occasional starters Tamia Thompson and A'layah Scott out, and several other players benched with slight knee injuries and illness, the Redhawks had to fight for a 49-37 victory over Greer that was only iced with Ja'Mari Frederick at the free-throw line in the final minute.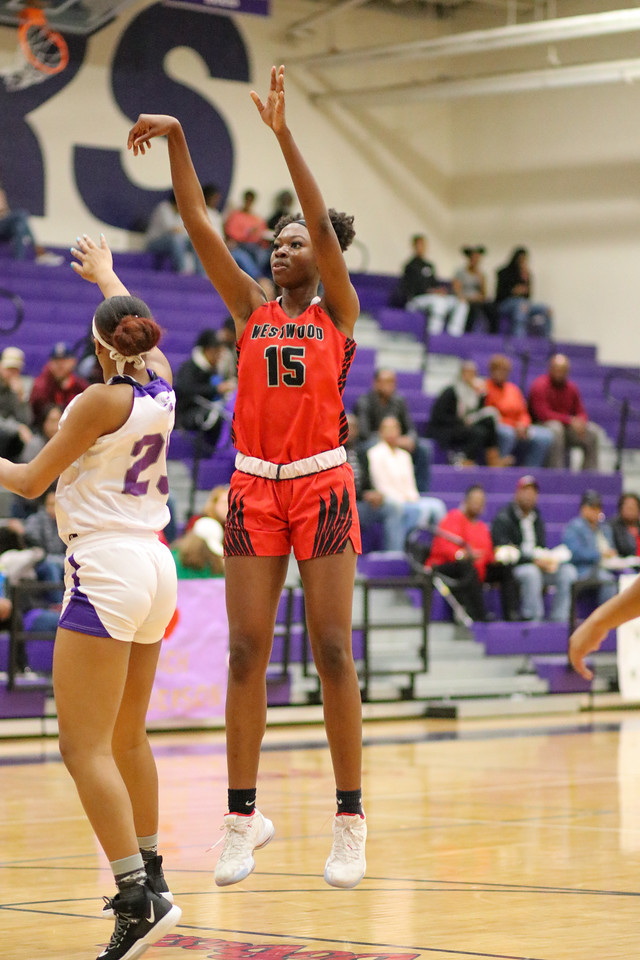 "We came in limping," Westwood head coach Greg Bauldrick said. "Out of 12 players, we had two out with knees, one out with an ACL, one's out with a concussion, and the other's out with the flu."
The Redhawks play host to No.3 Orangeburg-Wilkinson Friday. The Bruins (21-4) destroyed No.2 seed Walhalla 63-23 Tuesday night.
Bauldrick said that most if not all of those who were absent in Tuesday's game will be available to play.
"We think we'll be back at full strength come this Friday," he said.
The Redhawks outscored the Yellow Jackets 14-2 in the second quarter to go into halftime with a 27-8 lead. Greer broke out for 29 second half points, eventually getting within 42-36 when Tabitha Littlefield drained a 3-pointer and then hit two foul shots with a minute to go.
Luckily, Frederick's coolness at the foul line prevented any possibility of an upset.
Bauldrick said that such an absence of veterans on the floor probably contributed to Westwood's struggles. He brought up two players from the JV squad, Tamia Davis and Valencia Victrum, to provide some additional firepower, but throughout the game the Redhawks' shooting was off-base and poor ball-handling resulted in several turnovers down the stretch.
"Some of that was the psychological impact of the fact that we were going into a gunfight with a knife," Bauldrick said, also noting that the aggressive Greer team keyed in on Kentucky signee Nyah Leveretter. "They made it very difficult for her and it was a tough night for her. We needed some players around her step up a bit. Our bench play was pretty solid, but Leveretter had a tough night.
Frederick had 14 points, including a 6-for-6 demonstration at the foul line in that final minute, to lead the Redhawks. Jessica Woods had 13 points and Nyah Leveretter 10 to boost Westwood (23-4).
On Friday night, Westwood didn't let a setback at South Pointe derail the mission to end the regular season strong. The Redhawks got out to a 26-12 lead at Ridge View before the first quarter's end and stayed one step ahead of the Blazers to close out its third straight Region 3-4A championship with a 60-52 victory.
That win helped ease the pain of a grueling 50-45 double overtime loss at South Pointe last Tuesday.
"This was an opportunity we weren't expecting because we were hoping to take care of business at South Pointe Tursday night," Westwood head coach Gregory Bauldrick said about Friday's game. "We had a lot of opportunities in the back end of that game to win it, but we just couldn't make free throws."
At Ridge View, the Redhawks made 17 of 25 foul shots, which enabled them to have more control in the game.
Frederick, who hit four 3-pointers on the night, finished with 15 points to lead the Redhawks. Scott finished with a double-double, scoring 12 points and pulling down 10 rebounds. Leveretter had 10 points.
Ridge View (19-7, 7-3) finished third in the region standings, behind second place South Pointe.
Friday – Westwood 60, Ridge View 52
Westwood 26 9 17 8 — 60
Ridge View 12 15 14 11 — 52
Westwood: Ja'mari Frederick 15, A'laya Scott 12, Nyah Leveretter 10, Woods 8, Etheredge 8, Wade 7.
Ridge View: Laila Acox 20, Hasanti Keller 10, Mitchem 9, Wasswa 4, Daney 2, Murphy 2, Houser 2, Lemon 2, Jackson 1.
Tuesday – Westwood 49, Greer 37
Greer 6 2 13 16 — 37
Westwood 13 14 9 11 — 49
Greer: Jenna Sudduth 16, Tabby Littlefield 11, Hannah 5, Cox 3,
Westwood: Ja'Mari Frederick 14, Jessica Woods 13, Nyah Leveretter 10, Etheredge 7, Wade 3, Victrum 2