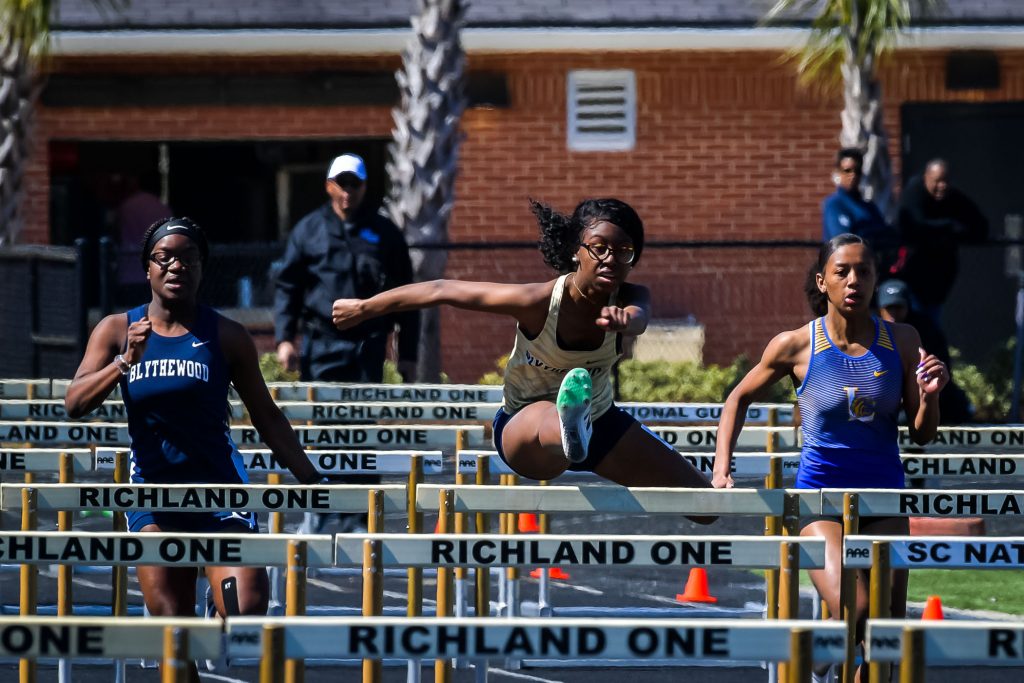 COLUMBIA – Blythewood Track and Field hit the ground running at last Diamond Hornets Invitational, hosted by Lower Richland. Of the 19 girls teams competing, the Bengals came out on top with a total of 120.5 points. Spring Valley finished next with 78.1428.
Blythewood's girls came out on top thanks in part to a stack of first place finishes by Arianna Williams, Makeshira Brown, Teleah Moorer, Janyia Pinckney and Kayla Ulmer.
Williams finished first in the 400 meter dash (58.22) and second place in the 200 meter dash (25.50). Brown snagged first place in the 100 meter hurdles (15.55), followed closely by Zhaire Casteal in second with a time of 16.18. Moorer finished first in the 400 meter hurdles at 1.15.51, and Pinkney placed first in high jump (5-2). Ulmer rounded out the first place finishes in the girls triple jump finals at 38-9. Kenia Harrison placed second in triple jump at 35-10 and Briana Green finished fourth at 33-5.
Other finishes of significance were:
Girls 4×400 meter relay – 2nd place (4:14.02)
Katuria Glover – 3rd in 400 meter hurdles (1:18.08)
LaTavia Bracey-Ransom – 5th in 400 meter dash (1:01.50)
Janyia Pinckney – 5th in girls javelin (72-0)
Girls 4×100 meter relay – 6th place (51.19)
Sharell Cherry – 6th in girls long jump (16-3.25)
Haley Duncan – 7th in 200 meter dash  (27.45)
Sinaii Weeks – 7th in girls high jump (4-8)
Tianna Bennett – 8th in girls javelin (63-10)
India Haygood – 13th In 400 meter dash (1:09.72)
Blythewood's boys team finished eighth of 17 teams competing with a total of 31 points.
Payton Manuel was Blythewood's sole first-place finisher. Manuel placed first in high jump at 6-8. Randy Kelly finished second at 6-6.
Other top finishers for the boys were:
Boys 4×800 meter relay – 3rd place (8:43.93)
Caven Black – 6th in 800 meter (2:10.06)
Boys 4×400 meter relay – 7th place (3:46.46)
Chanceler Robertson – 8th in 400 meter dash (54.21)
Michael Stevens – 8th in 800 meter (2:11.41)
Stacey Shepard – 8th in long jump (18-4.5)
Boys 4×100 meter relay – 9th place (46.07)
The Bengals are back in action on Saturday, across town in the Redhawk Invitational.