GREENVILLE – After two trips to the 4A upper state championship game, the Westwood girls worked this season to make the third trip to the Bons Secours Wellness Center the charm.
Region 3 foe South Pointe took all the charm out of the Redhawks, using a second-quarter 18-1 scoring surge to spark its way to hand them a 65-56 defeat.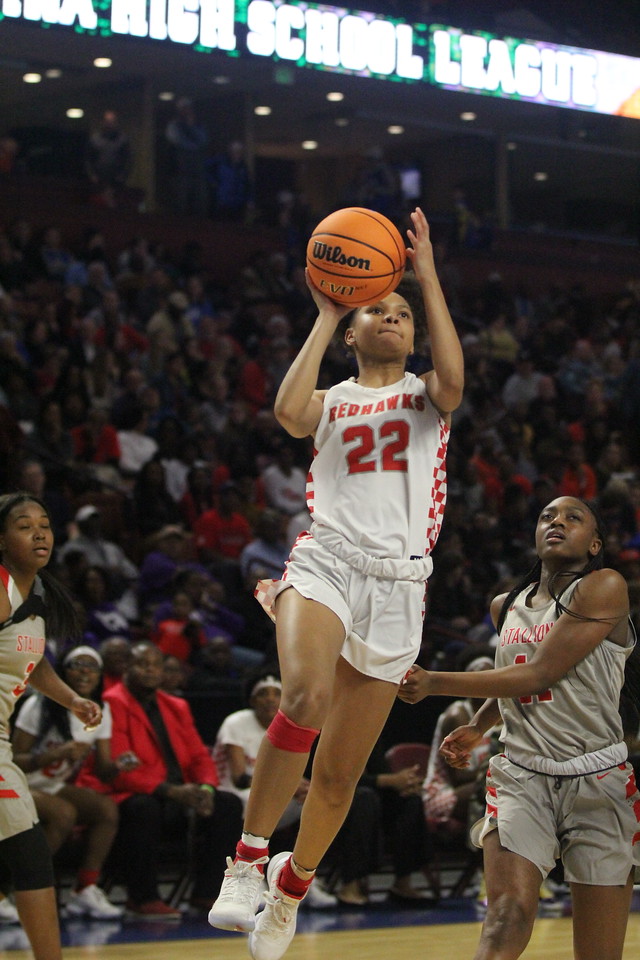 "They had that spurt in the second quarter where they just totally outplayed us," said Westwood head coach Gregory Bauldrick, whose team finishes 25-5. "They just wanted it more, and we weren't able to respond to it."
South Pointe (26-2) won the upper state title for the second straight year. The Stallions move on to the 4A state championship at the Colonial Center in Columbia, where they will play three-time 4A champion North Augusta. The Yellow Jackets defeated Crestwood 58-33 Friday night in the lower state championship game in Florence Friday.
"We've got the bright lights and the big court out of our system, and it's gonna take the will to win," South Pointe head coach Stephanie Butler-Graham said. "We know what North Augusta is, they're gritty and well-coached and they've got some real good players. We'll just see. We don't know."
What her teamed showed as Friday night's game wore on was just that sort of grit and determination it took to move to the state championship.
"I thought we got off to a good start but then we got into a lull, kind of dug ourselves into a hole," Bauldrick said. "Not getting back into transition, not communicating well on defense."
Both teams battled to an 8-8 tie after the first quarter. After Randi Neal's foul shots opened the second quarter, Malayziah Etheredge sank two 3-pointers to give Westwood a 14-10 lead at the 6:50 mark.
The half plummeted for the Redhawks at that point.
Neal made good on a 3, followed by Jamia Blake's 3 that gave the Stallions a 16-14 lead.
Those two 3s kicked off the 18-1 run that got South Pointe a 28-15 lead by the 3:26 mark.
"I thought Randi Neal did a really good job of denying Leveretter," Butler-Graham said. "I thought our guards did a really good job up top with disturbing what they (Westwood) wanted to do offensively."
The Stallions got aggressive on defense, bottling up Leveretter along the perimeter and controlled both lanes on that run. They pulled down seven rebounds and scored on three 3-pointers, a 3-point play, and three baskets in the lane.
"They didn't really do anything more or different from what they've done in the past," Bauldrick said. "We knew that they were going to deny Leveretter and force everybody else to beat us, and we didn't respond that. We settled for too many outside shots when we could've been attacking the zone that they were in. They were just the better team tonight."
The Stallions walked into intermission with a 28-17 lead, and kept in front of the Redhawks the rest of the way. They held Westwood to seven third-quarter points, and when the Redhawks entered the fourth quarter behind 41-24, all they could do was foul the Stallions and hope for a quick basket on the rebound.
That strategy proved reasonably successful, considering Westwood won the fourth 32-24. South Pointe was 20-for-31 from the foul line in the final quarter, and got two transition baskets early on to keep Westwood's strategy from making the Rock Hill crowd nervous.
Westwood by contrast was 5-for-8 in free throws over that span. Etheredge scored 14 of her 22 points on the night in the fourth quarter, and Leveretter scored 10 of her 11 points in that frame.
With Leveretter moving on to her college career at Kentucky and six seniors in all leaving the team, the Bauldrick and the Redhawks will look forward.
"The program's still in good shape," he said. "We've got a really good group coming back that's building on what has been built, we look forward to the challenges ahead."
Over the past three years the Westwood girls have won 75 games, three region titles, and made three appearances in the upper state final.
"It's been phenomenal," Bauldrick said. "We know we're not the winner tonight, but certainly we're very, very proud of our program, our players and our kids, we're proud of them, we love them. They're giving it their all. They certainly deserve more, but tonight just wasn't our night."
South Pointe 65, Westwood 56
South Pointe – 8-20 -13-24 – 65
Westwood – 8-9-7-32 – 56
South Pointe: Trinity Adams 18, Randi Neal 17, Blake 9, Gaiton 9, Lane 8, Jamerson 4.
Westwood: Malayziah Etheredge 22, Nyah Leveretter 11, Ja'Mari Frederick 10, Woods 6, Mines 3, McCant 2, Wade 2