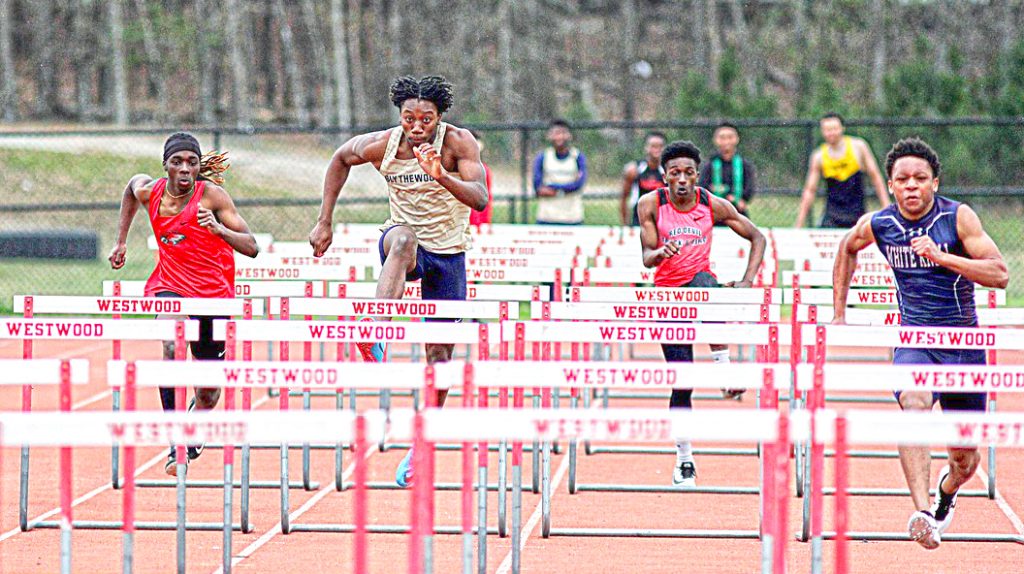 BLYTHEWOOD – Having just opened the door into what could be a highly successful season, the track teams from Blythewood and Westwood high schools were able to compete one last time before the South Carolina High School League's spring sports suspension due to COVID-19 entered effect.
Meeting on Westwood's home turf, Blythewood and Westwood faced off with Irmo, Fairfield Central, Clinton and White Knoll high schools in the Redhawk Invitational on March 14.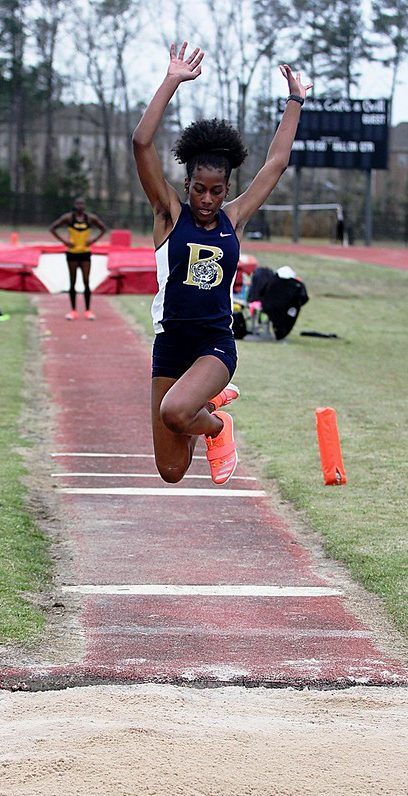 The Blythewood finished in the top of the competition for their second meet in a row of the young season.
To go accompany top finishes by the 4×100 relay (50.37), Spring Medley Relay (4:31.09) and 4×800 relay (12:41.34) teams, Teleah Moorer and Kayla Ulmer also grabbed first place for the Bengals. Moorer finished first in 100m hurdles with a time of 15.20, and Ulmer placed first in triple jump at 38-4.5.
Makeshira Brown finished on the heels of Moorer for second place in the 100m hurdles with a time of 15.38. Brown was one of a handful of second place finishes on the day.
Arianna Williams placed second in the 400m dash at 57.57. Monica Joy finished the 800m with a 2:36.79 time for second place. Janyia Pinckney also finished second with a 5-2 final in high jump. The distance medley relay (15:34.23) and 800 meter spring medley relay (1:59.10) teams also had second place finishes.
LaTavia Bracey-Ranson (400m), Zhaire Casteal (100m hurdles), Sharell Cherry (long jump), Sinaii Weeks (high jump), Kenia Harrison (triple jump) and Rhyan Harp (shot put) all pulled third place finishes for the Bengals.
The Bengal boys finished first in the field of six teams thanks to a handful of top finishes.
Chase Ishmael placed first in the 100m dash (11.13) and long jump (12-1.75). Other first place finishers were Payton Manuel in high jump (6-6), Dajon Drinkard in triple jump (43-1/25), Sam Cathcart in pole vault (9-6) and Connor Knight in discus (116-9). The 4×100 relay team also finished first with a 43.52 time.
Michael Stevens (800m), King Ford (110m hurdles), Randy Kelly (high jump) and Walker Flores (discus) placed second in their fields. Blythewood's sprint medley relay team also finished second with a 3:57.52 time.
The 800m sprint medley relay team placed third at 1:46.10 and the distance medley relay team finished third at 12:05.41. Stacey Shepard pulled third place finishes in long jump (19-10) and triple jump (40-2.75).
With first place finishes in sprint medley relay (3:54.81) and the distance medley relay (11:37.40), the Westwood boys team finished second collectively. The 800m sprint medley relay (1:41.82), 4×400 meter relay (4:06.15) and 4x800m relay teams finished second.
Westwood got third place finishes from Robert Johnson (400m dash), Jordan Alexander-Coleman (1600m), Riggs Dash (110m hurdles), Khalil Donald (high jump) and the 4×100 meter relay team (45.07).
Ronald Coates placed second in shot put (41-11) and Christian Horn placed second in the 400m dash at 48.41.
Westwood's girls finished fourth of the six teams. Highlights for the Redhawks were in relays. The Redhawks' 4×100 relay team finished second with a time of 50.86. The 800m spring medley and sprint medley relay teams both finished third. Cierra Woodruff finished fourth in discus (60-1) and fifth in shot put (23-10). Aniya Woodruff placed fourth in shot put at 23-11.
Other top finishes for the Bengals:
Sharrell Cherry – 4th, 100m hurdles (16.98)
Mikayla Jones – 4th, high jump (4-8)
Ashlynn Scott – 4th, long jump (14-9) and triple jump (31-4)
Anthony Thurman – 4th, 110m hurdles (20.20)
Jordan Clark – 4th, shot put (37-9)
Caleb Gore – 4th, high jump (5-8)
Jordan Burrell – 5th, 100m dash (11.91)
Darrius Staples – 5th, 400m dash (53.74)
King Ford – 5th, shot put (37-2)
Deavhon Smith – 5th, discus (100-0.5)
Additional top finishes for Westwood:
Winston Harrison – 4th, 100m dash (11.69)
David Nelson – 4th, 1600m (5:11.55)
Khalil Donald – 4th, triple jump (39-8)
Jeremiah Jennings – 5th, high jump (5-6)
Shadir Harper-Smith – 5th, long jump (17-1)