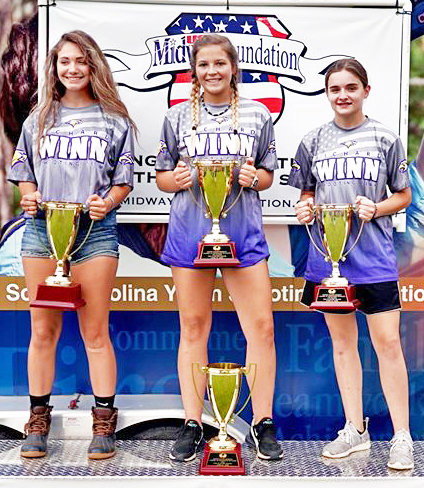 CLINTON – Originally slated as an April tournament, the South Carolina Youth Shooting Foundation (SCYSF) held its 2020 State Championship on June 27 at The Clinton House in Clinton, SC. Richard Winn Academy's target shooting team represented well out of the 406 youth who participated in the event.
The Eagles team of Emma Steed, Mikaela Miller and Ella Grace Harrison placed first in the JV Advanced Ladies' Division with a team score of 209. Miller took top honors on the team, busting 84 out of 100 clays on the course. Steed hit 63 and Harrison followed closely with 62. The team finished eighth overall out of the 14 teams who competed in JV Advanced.
Brice Clowney, Charlie Bonds and Miller Stuck also finished on the podium. Competing in the Intermediate Advanced division, the three-man team placed second out of 23 teams with a total score of 260, just behind first place Rocky Creek Clay Dusters' score of 263. Clowney led the team with 88 of 100, Bonds and Stuck both hit 86.
The Eagles youngest team of Dylan Albert, Thomas Knight and Hoffman Sharpe took first place in the Rookie Division. Knight scored 91, Albert 75 and Sharpe 60 for a team score of 226.
Also taking home honors were juniors Sam Clyburn and Meredith Pope. Clyburn and Pope were both named as 2020 All-State Qualifiers.  Pope busted 56 clays in the Senior Varsity Advanced Lady Division, and Clyburn hit 77 in Senior Varsity Division. Senior Ansley Parker, who shot 61 on the day, took home a $3,000 SCYSF scholarship.
Dylan Albert, Thomas Knight and Hoffman Sharpe

Brice Clowney, Miller Stuck and Charlie Bonds