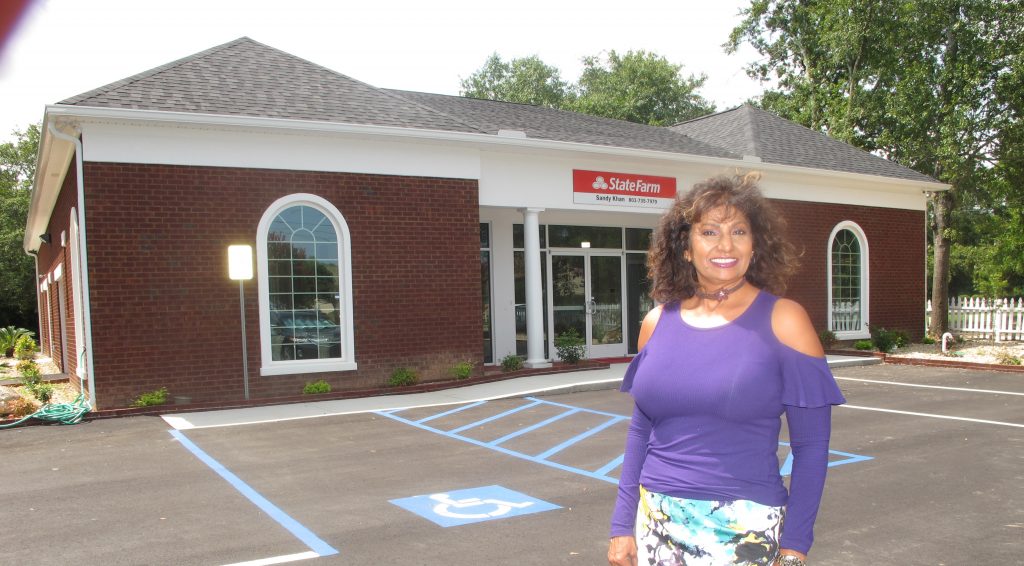 BLYTHEWOOD – After 11 years of serving Blythewood as a State Farm Insurance agent on Blythewood Road, Sandy Khan decided to build a new building on the same location to house her business.
"I knew just what I wanted. I could vision it…a fresh new business look," she said. "So, I just designed it myself," Khan recalls. And with her own design came several unique features like a garage in the side of the building, porcelain tiles in the foyer and lots of light pouring in from several floor to ceiling windows.
She then hired local contractor George Delk to make her vision a reality. When it was all finished, she landscaped it – herself, of course, even setting out the plants and choosing white stones for the mulch.
"I love it," Khan said of the finished product. "It's just what I wanted."
The 4,000 square foot red brick building boasts two sets of office spaces. The front section houses her business with four offices, a small kitchen, and open foyer. The back section offers an equal amount of space that Khan has left unfinished for now.
"I could either expand my own offices into the back if I need to," she said. "Or I could rent it to another business."
Khan sees the latter as the more likely option, but for now it serves as storage space.
"Blythewood is growing right now with many new businesses – a hotel, Zaxby's, a Starbucks, a new pediatric medical office and a new apartment building next to the IGA," Khan said. "This is a golf community a horse community, there are lots of nice neighborhoods and good schools. Plus there are lots of new homes going in and I hope to serve them" she said.
"Without a shadow of a doubt, this building has already started bringing new business to me. People notice it and stop in to talk or to buy insurance. I love it here," she said. "I can see myself being here forever," Khan said.