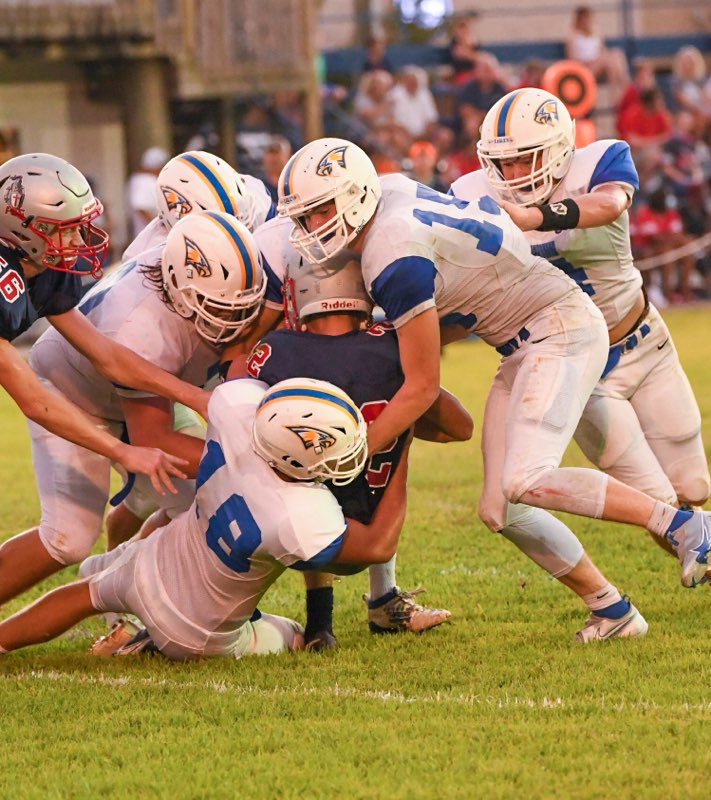 SUMMERVILLE – Richard Winn Academy visited Faith Christian School on Friday, September 4. RWA posted its second shutout in as many games with its 53-0 win.
The Eagles scored their first four touchdowns on a total of six plays ran from scrimmage. Zack Taylor found receiver Gavin Douglas for the 18-yard score on their first offensive play of the game. Following a three-and-out and a 14-yard punt return, the Eagles started with the ball at the 28. B Baker rushed for the 28-yard score.
The next series for Faith ended with a punt as well, but Richard Winn's John Russell was able to get a piece of the punt, giving the Eagle's prime territory. Joey Banister followed up the punt by Faith Christian with a 23-yard rushing score, and, not to be out-done, Taylor found Douglas for a 43-yard passing score to finish off the first quarter with the Eagles up 27-0.
Faith Christian pushed the Eagles to the limit defensively to begin the second quarter. RWA got the ball to start at the FCS 39-yard line and Faith was able to get the Eagles' Taylor on the ground for a 13-yard loss. Richard Winn was faced with a fourth-and-15 on this series, but Taylor was able to find Russell for the 16-yard gain. A couple of plays later and Baker was in the end zone, again.
FCS went backwards on its next series with the ball and ended up giving RWA possession at the FCS 10-yard line. An eight-yard completion from Taylor to Dru Caldwell and then a two-yard run by Taylor brought the score to 40-0 in favor of Richard Winn and the running clock began with 6:15 to play in the first half.
The Eagles began the second half with the ball at the 50-yard line, it only took two runs to get Richard Winn on the board once more. Caldwell rushed for nine yards and then Drew Spires capped off the drive with a 41-yard scamper. The final Richard Winn score would be led by Caldwell from under center as he completed 5 of 6 passes for 54 yards on the drive with a two-yard run for a score to cap off the scoring on the evening. Christopher Koelsch had the big gain on the drive a 25-yard pick up for the Eagles.
RICHARD WINN – 21-21-7-7 – 56
FAITH CHRISTIAN – 0-14-0-7 – 21
First Quarter
RW– Gavin Douglas 18 pass from Zack Taylor (Dru Caldwell kick) 10:11
RW – B Baker, 28 run (Caldwell run) 7:48
RW – Joey Banister, 23 run 5:10
RW — Douglas 43 pass from Taylor :50
Second Quarter
RW – Baker 23 run (Caldwell kick) 8:50
RW – Taylor 2 run 6:15
THIRD QUARTER
RW – Drew Spires 41 run (Caldwell kick)
FOURTH QUARTER
RW – Caldwell 2 run 7:29
RW FCA
First Downs 4 4
Rushing Yards 112 -30
Passing Yards 160 23