BLACKVILLE – Richard Winn jumped out to a 32-6 lead through one quarter of play en route to their 80-20 win over Jefferson Davis Academy this past Friday. The win moved the Eagles to 8-0 overall this season with one game left in regular season play.
B Baker led the Eagles with two rushing scores while three others Eagles each rushed for one score. Zack Taylor threw three touchdowns, and three Eagle QBs combined to throw five touchdowns and only two incompletions in the contest.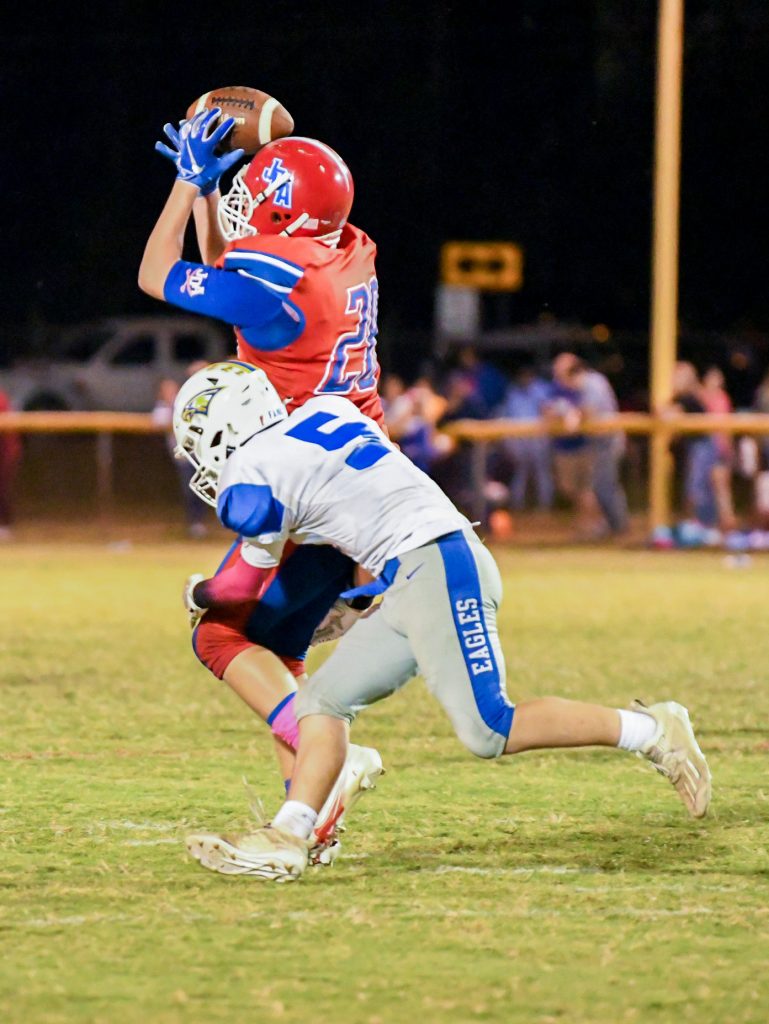 After Richard Winn dominated the first quarter, the Raiders were able to keep the second quarter more competitive. The Eagles won the quarter by a 22-14 score to make it 54-20 at the half.
Baker got the scoring started from 81 yards out on the Eagles opening offensive possession. Joey Banister then had a 36-yard interception return for a score, and the Eagles led 16-0 with less than five minutes gone in the first quarter. Jefferson Davis then made it 16-6 with a four-play, 52-yard drive that came entirely through the air.
Taylor accounted for the Eagles next two scores as he rushed one in from a yard out before connecting with John Russell from 77-yards out to finish first quarter scoring.
Banister, Russell and Drew Spires all scored in the second quarter with a pair of Raider touchdowns sandwiched in between.
Banister's 57-yard rushing score opened the second quarter. Russell caught his second touchdown of the half, this one from 16 yards out. Spires then caught a 15-yard touchdown, Taylor's third passing touchdown of the half. He accounted for four of the Eagles' seven first-half scores.
The Eagles posted a second-half shutout, outscoring the Raiders 26-0. Baker opened the second half scoring with a nine-yard rush, his second score of the evening. Dru Caldwell then scored his first touchdown of the night on an eight-yard rush, and the Eagles led 68-20 after three quarters.
In the fourt,h Caldwell threw his first touchdown of the night as he connected with Koelsch for an 11-yard score. Spires rounded out Richard Winn's scoring as he caught a 70-yard pass play by Landon Caulder to bring the score to 80-20.
The Eagles finished with 11 touchdowns on the night and they went 7-10 on two-point attempts and had one PAT kick attempt blocked.
The Eagles finish the 2020 season with a home contest versus Wardlaw Academy on Friday, October 30 at 7:30 p.m.
Passing– Z Taylor (5-7-126-3-0) D Caldwell (2-2-11-1-0) L Caulder (1-1-70-1-0)
Rushing– Baker (11-130-2) Banister (4-88-1) Taylor (7-70-1) Caldwell (2-29-1) Spires (1-3-0)
Receiving– Russell (2-93-2) Spires (2-85-2) Koelsch (1-11-1) Caldwell (1-11-0) D Branham (1-7-0) Little (1-0-0)