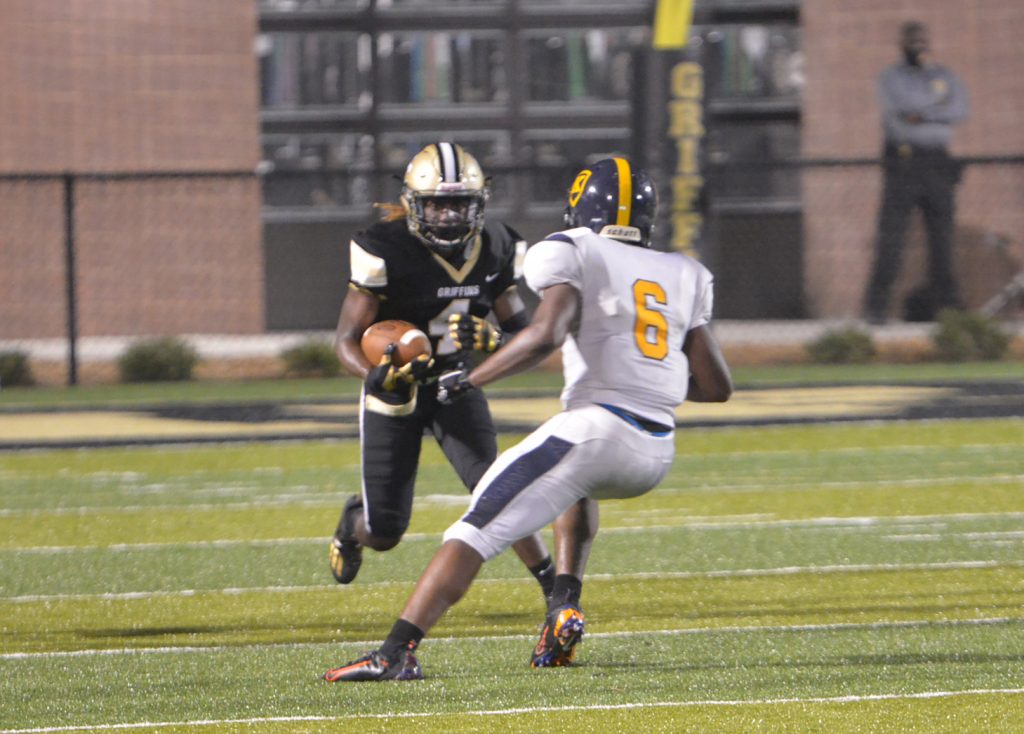 WINNSBORO – The Fairfield Central Griffins finally got to kick off their 2020 football season on Friday evening. The Griffins got the season started with a victory over the Keenan High School Raiders by a score of 33-12 improving to 1-0 this season. The Griffins scored all 33 points in the first half of the contest as Keenan High School fell to 0-1.
"I am excited to play and I am excited that we are 1-0," said Head Coach Demetrius Davis. "It is the first time that we have been 1-0 in three seasons."
After both teams failed to score on their opening possessions the Griffins cracked the scoreboard for the first time in 2020. Senior running back Will Barber scored the first touchdown of the season rushing in from six yards out, and the Griffins led, 7-0.
The Raiders fumbled away their next series of the game and the Griffins took over at the 50-yard line. Stephon Gadsden did not take long to make them pay as he took the first play 50 yards down the visiting sideline for the touchdown. This was the final score of the first quarter and the Griffins led 14-0 after one.
Early in the second quarter the Griffins would block a Raider punt and take over at Keenan's 44-yard line. They capped this drive with a 27-yard touchdown strike from Gadsden to Barber to make it a 20-0 score with 9:18 to play in the first half. The Griffins did not score again until just under three minutes were left in the half when Gadsden was able to get out in the open field for a 67-yard rushing score, bringing the score to 27-0. Fairfield Central added one more score as the clock expired in the first half when Gadsden found Melvin Peay for a 21-yard score.
The Griffins took a 33-0 lead into the intermission on the heels of an excellent first half from Gadsden and Barber.
Davis had this to say about the duo of Gadsden and Barber, "We hope that one of them will be able to do what we need to get done each week. Stephon is a junior this year and in his third year as a starter so we are expecting him to make some plays like he did tonight and Will will also make plays as well."
The second half saw the Griffins allow two touchdown runs by the Raiders' Marquise Williams. Both two-point conversion attempts were failed as the Griffins came away victorious, 33-12.
Passing: S. Gadsden (7-13-84-2-0)
Rushing: S. Gadsden (11-192-2) W. Barber (15-68-1) K. Copeland (5-57-0)
Receiving: W. Barber (2-35-1) M. Peay (2-29-1) K. Trapp (1-9-0) J. Woodard (2-11-0)