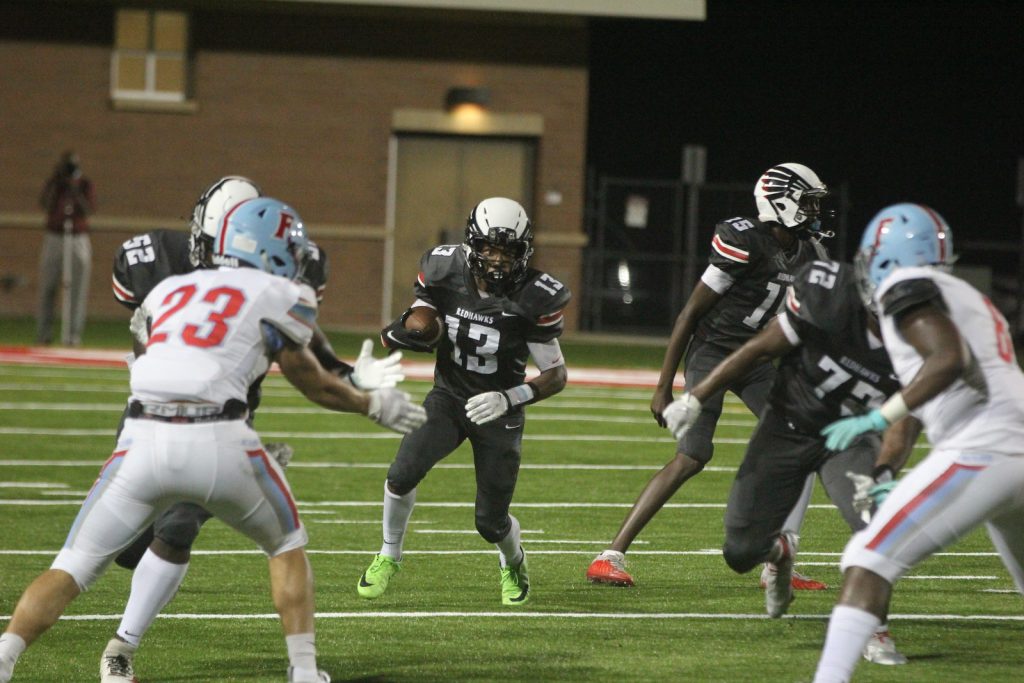 BLYTHEWOOD – The deeply anticipated football opener for Westwood High School turned out to be not very memorable for the Redhawks.
In fact, A.C. Flora's 44-6 drubbing of the Redhawks Friday night at District Stadium will not likely be remembered.
"I told them when I got them into the locker room to go to bed, rest, get up in the morning and get ready for the next one," head coach Matt Quinn said of the Region 4-4A opening defeat. "We're not gonna dwell on this one, we're not gonna worry about this one. We're just gonna move on and focus on the next one."
Both teams showed signs of rustiness, a given after prep teams across the nation had to adjust to cancelled or delayed practices and scrimmages in the spring and summer of this year. While Westwood fell behind two scores in the opening minutes of the game, the Falcons hardly seemed dominant in the first half.
A.C. Flora put the ball on the ground three times, fell short on a 40-yard field goal try, and failed three straight point-after attempts. Both teams struggled in passing over the first two quarters.
What proved dominant throughout the game was the Falcons defense. A.C. Flora crushed plays at the line of scrimmage and held the Redhawks to 106 total yards on the night. The Falcons even got scores on two pick-sixes and had three interceptions on the night.
"We have to do a better job of not being so sloppy like we were in the first half," A.C. Flora head coach and former Westwood head coach Dustin Curtis said. "But I'm really proud of these guys after the second half, the way they responded. They played lights out on defense. Lights out."
Falcons running back Matt Pack led the offense with 134 yards on 17 carries. Ethan Beamish completed six passes on just nine attempts, but two were touchdown passes.
A.C. Flora's defense stopped Westwood cold on the first possession of the game, then got a big play when the Falcons offensive line sprung Pack on the right side for a 68-yard gain on their first play from scrimmage. That scamper set up Markel Townsend's 3-yard touchdown run just two minutes into the game.
Shortly afterward, quarterback Elijah Burgess threw a pass straight to defender Boyce Bankhead in the flat. Bankhead then took it 56 yards to the end zone untouched to put A.C. Flora up 12-0 at the 4:24 mark of the first quarter.
The Redhawks stymied the Falcons for the rest of the first half, until Ethan Beamish completed a 17-yard touchdown pass to Carew Bates with seven seconds left in the second quarter to put the Falcons up 18-0 at halftime.
A.C. Flora put up 20 points early in the second half to build a 38-0 lead going into the final quarter. Beamish threw a 26-yard touchdown strike to Eriq Rice, Terrell Coleman burst into the end zone on a 6-yard touchdown run, and Myles Trull intercepted an Elijah Burgess pass and returned it 40 yards for a score.
Coleman got his second touchdown of the night on a 5-yard run midway through the fourth quarter.
Westwood finally got on the scoreboard in the final three minutes of the game, when Lavelle Ramsey scored on a 3-yard TD run.
That score closed the book on the game, a book the Redhawks will not likely open now that it prepares for the rest of the region season.
"We're just gonna wash this one away," Quinn said. "We're probably not gonna show the kids this film. We're just gonna get prepared for Lugoff."
Westwood travels to Lugoff-Elgin Friday.
A.C. Flora -12-6-20-6 — 44
WHS – 0-0-0-6– 6
First Quarter
A – Markel Townsend 3 run (kick failed) 10:04
A – Boyce Bankhead 56 interception return (pass failed) 4:24
Second Quarter
A – Carew Bates 17 pass from Ethan Beamish (kick failed) :070
Third Quarter
A – Eriq Rice 26 pass from Beamish (kick failed) 9:16
A – Terrell Coleman 6 run (Rice pass from Beamish) 1:14
A – Myles Trull 40 interception return (pass failed) :27
Fourth Quarter
A – Coleman 5 run (run failed) 7:02
W – Lavell Ramsey 3 run (run failed) 2:41
A.C. Flora Westwood
First Downs 18 7
Rushes-Yards 35-252 26-53
Passing Yards 146 53
Att-Com-Int 9-6-0 23-9-3
Fumbles-Lost 4-1 1-1
Penalties-Yards 6-65 5-50
Punts-Avg. 2-36.0 5-37.0
INDIVIDUAL STATISTICS
RUSHING: ACF – Matt Pack 17-134, Markel Townsend 6-35, Terrell Coleman 6-28, Maliki Terry 2-26, Tyrell Green 1-7, Carew Bates 1-6, Ethan Beamish 1-1.Westwood – Nick Gilliam 14-27, Lavelle Ramsey 5-31, Cam Brown 1-4, Rashad McCain 5-3, Jayden Harrison 1-(-7).
PASSSING: ACF – Ethan Beamish 9-6-0. Westwood – Elijah Burgess 20-7-3, Rashad McCain 3-2-0.
RECEIVING: ACF – Banks Pope 2-51, Harrison Phillips 1-4, Chris Lofton 1-4, Carew Bates 1-17, Eriq Rice 2-70.Westwood – Xorian Dobey 2-11, Rashad McCain 2-14, Noah Jennings 2-9, Brandon Avery 1-4 Jayden Harrison 1-0, Zavier Paul 1-6.