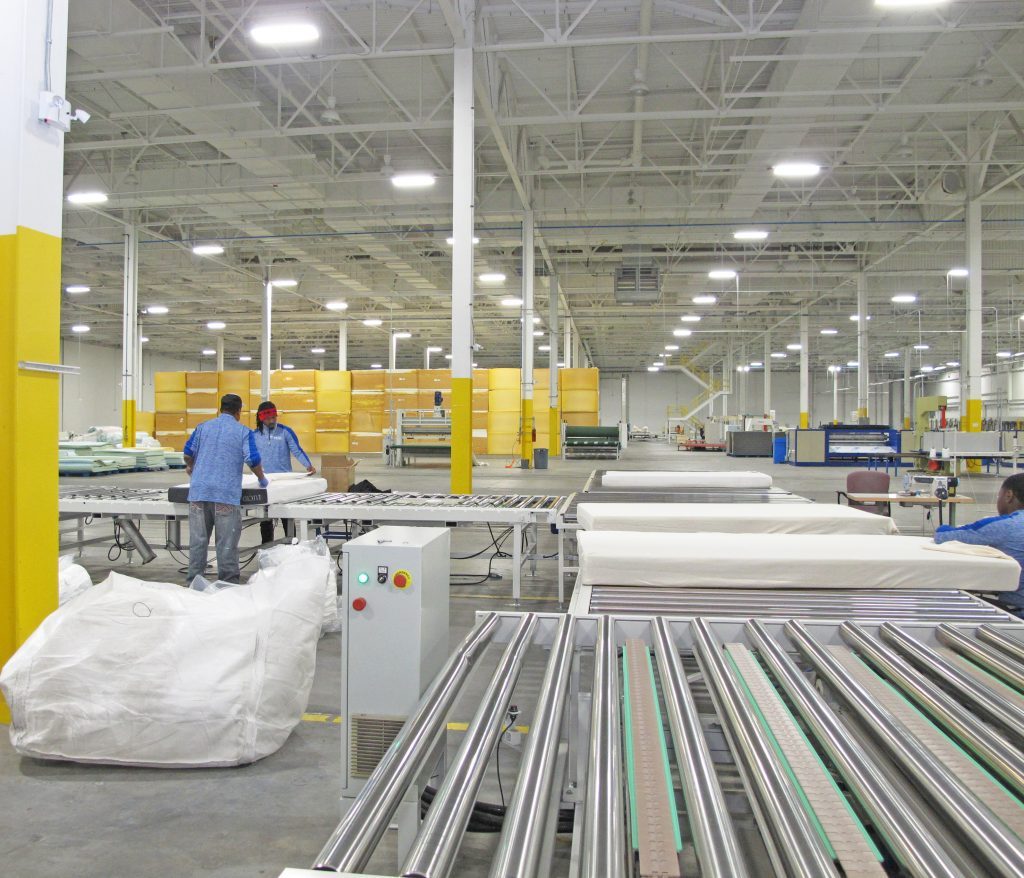 Davenport: We've Accomplished More in the Last 2 Years than in the Last 10 from a Jobs Standpoint.
WINNSBORO – County Council Chairman Neil Robinson said in January of this year that while much was accomplished in 2019, he predicted that 2020 could be a breakout year for Fairfield County. And despite the ensuing pandemic and associated challenges, 2020 was just that – a phenomenal year for economic development, jobs, infrastructure and a laundry list of other accomplishments.
Robinson credited County Administrator Jason Taylor for guiding the council's directives to fruition.
"His vision and knowledge of where we should be and how we get there surprises me every day," Robinson said.
Ty Davenport, the county's Director of Economic Development, cited growth in the county's manufacturing sector that has brought more than 1,000 jobs.
"It's been an extremely successful year despite the pandemic," Davenport said. "We've accomplished more this year and last year than we have in the previous ten – as much or more – from a jobs standpoint."
As COVID 19 challenges bore down in the spring, Davenport said, the county's historically low 3 percent unemployment rate jumped to 11 percent, with the service sector in particular taking a hit. But by September it had dropped back to 6 percent – and he believes it has continued to lower since.
Even as jobs in restaurants and non-COVID-related health care services were negatively impacted by the pandemic, the county's manufacturing businesses have seen steady growth.
"I think having a local economy that's diverse and has a higher percentage in manufacturing really helped us in this situation because those companies kept going," Davenport said. "During 2020, we continued to see positive job growth in the manufacturing sector, and that's been really exciting."
Economic Development Wins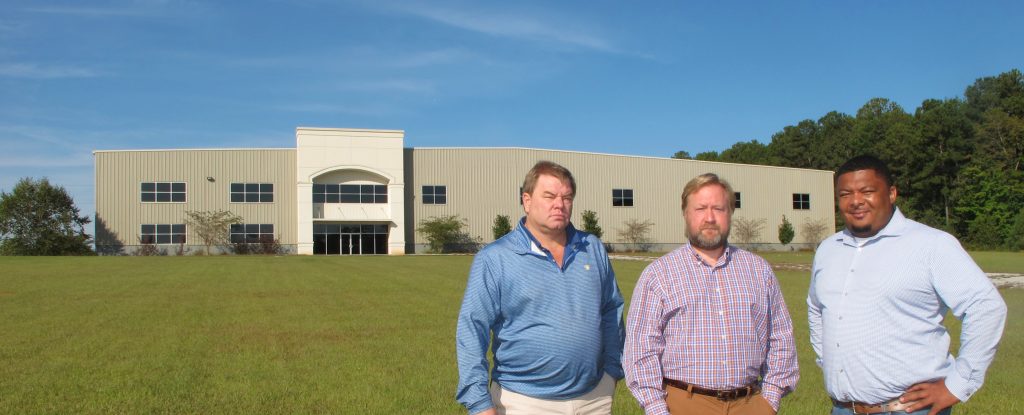 One of Fairfield's big stories in industry this year was mattress manufacturer MLILY, which geared up in 2019 and "just went gangbusters" in 2020, Davenport said.
"They committed to hiring 250 people over the next five years, beginning in 2019. Well, they've already hired 600 folks," he said. "MLILY has just been a real shot in the arm as far as employment."
TV-maker Element Electronics, meanwhile, has also hired more than 500 people, accounting for another big chunk of this year's job growth in the county.
The Sea Pro boat manufacturing facility has stepped up production and begun hiring, and Pharmacy-Lite Packaging is close to hitting their job-creation target with the production of medicine bottles, which they're making in the former Walmart building in Winnsboro and shipping across the country.
Another highlight in the county's 2020 economic development news was the announcement in October that Oldcastle APG, a global leading provider of outdoor living and building materials, would be purchasing the county's 75,000 square-foot spec building for $2.2 million and bringing a $25 million investment and 100 high paying jobs to the county.
Davenport said the county has been so successful in attracting new industry that all of its major available sites and buildings have been sold, which means developing more of them will be a major priority in 2021.
In the new year, he said, the county's efforts in economic development will move into product development mode in the creation of more industrial sites and a new spec building.
WWTP Moves Forward
That goal is aided by another important accomplishment this year: progress on the wastewater treatment plant (wwtp) project, which is now moving forward in conjunction with hopes for development of recreation and ultimately commercial and residential opportunities near I-77's Exit 32.
In addition to substantial engineering work that's been completed in preparation for construction of the plant, the project took a big leap forward in 2020 with the completion of the long-awaited purchase of land for the project.
"It's an absolutely critical piece of infrastructure," Taylor said of the proposed plant, which will create the wastewater capacity needed to serve both industries that locate in the county and residential growth as well as other forms of development.
Good Working Relationships
Taylor said other important accomplishments this year include the positive working relationship that has been developed between the county, the Town of Winnsboro, and the school district. There's also a project in the works with the Town of Blythewood, which has proposed building a sports complex near the county's proposed wastewater treatment plant.
"I think this inter-governmental cooperation right now presents a lot of opportunity for us to get positive things done in the future," Taylor said.
Taylor discussed other improvements he said have been made in Fairfield county this year.
Fire Station Approved
Last month, the county approved the construction of a new fire station on River Road near Lake Wateree, which is to be completed in 2021. The station will have four bays for a fire truck, tanker, sheriff's boat and EMS vehicle, plus sleeping quarters designed to accommodate full-time firefighters.
The project is touted as a way to improve fire safety for homes near the lake, which currently don't have a fire station nearby, and is also expected to lower residents' homeowners' insurance rates as a result of its proximity.
Turning Eyesore Into Admin Building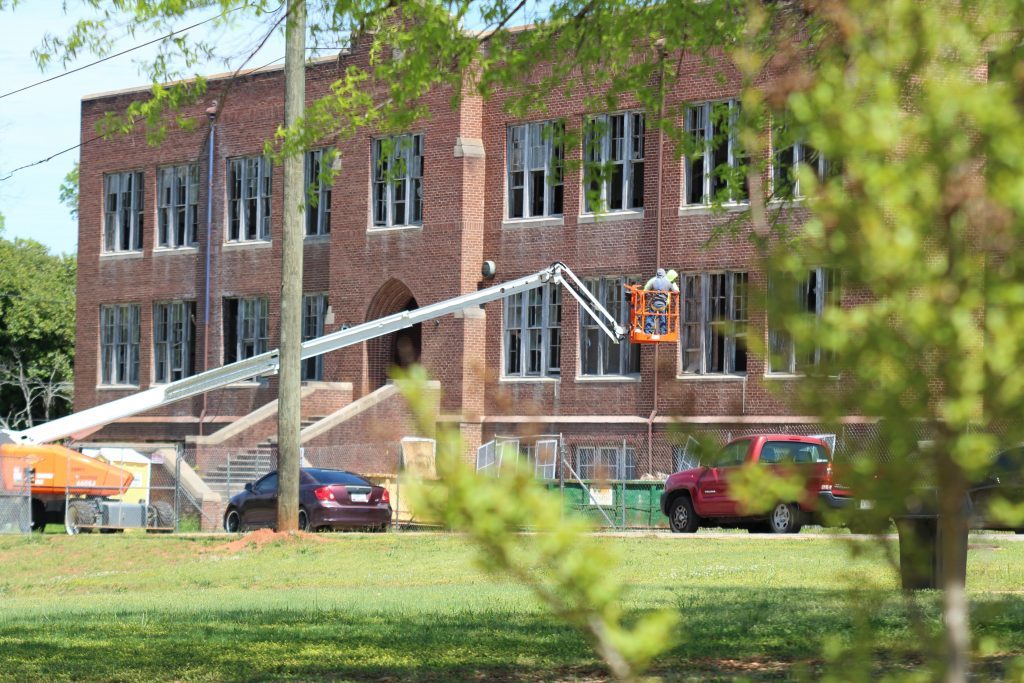 A rehabilitation project that's converting the former Mt. Zion Institute facility into a new office building for county offices has made significant progress this year, with completion expected by mid-2021.
The building, formerly owned by the Town of Winnsboro, is currently held by a private company that's taking advantage of several tax credit opportunities in the renovation: historic tax credits, abandoned building tax credits and new market tax credits. It will then be leased and eventually owned by Fairfield County.
This creative financing plan, Taylor said, enables the county to get its new office building without taking on debt – and, thanks to the ability to apply tax credits available only to private entities – the county will ultimately get the building for about $7 million, half what it might cost otherwise.
"It's a savings of over 50 percent to the county for space, and it also gets rid of what was essentially an eyesore – a decaying building in the middle of Winnsboro, our county seat," Taylor said.
"A new building has been essentially built inside the old shell. It will be modern, it will meet our needs, be safe [and] attractive."
Incinerator Clean-Up
The solid waste site on Old Airport road, where tree debris has historically been brought and chipped by the county, then incinerated, creating poor air quality for nearby residents, was cleaned up this year and a change was made in how the waste would be handed going forward.
Instead of being incinerated, the brush and tree debris is now hauled elsewhere, to a licensed site that handles that kind of waste – with both a cost savings to the county and a positive impact on air quality for nearby residents.
"It saved the county money and addressed the concerns of the neighbors," Taylor said.
Put End to Tethering Dogs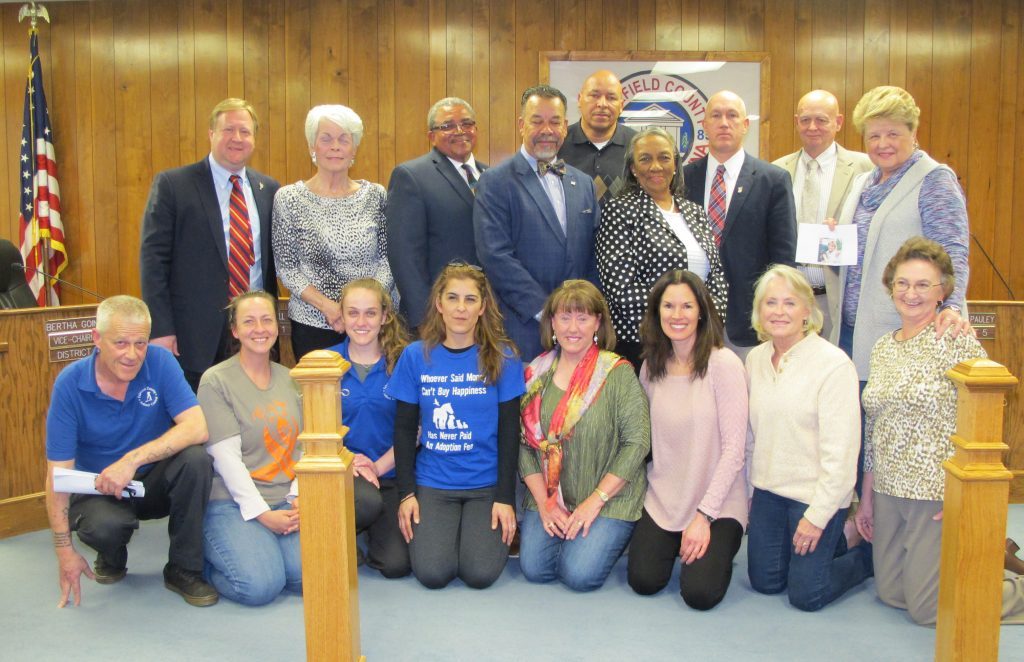 Fairfield County Council voted unanimously in February to ban dog tethering in the county in an effort to help reduce animal injuries and abuse cases. Members of the Hoof and Paw Benevolent Society as well as staff from the county animal shelter were on hand to join council in celebrating the ordinance (see photo above right).
"It's been a longtime coming," Hoof and Paw board member Kathy Faulk, a Fairfield County resident, said. "It's a positive move forward for our county."
A key component of the ordinance is a set of guidelines for replacing tethering with a trolley system, which resembles a zip line. With a trolley, leashes are attached from an overhead cable to a harness that wraps around the dog's chest instead of to a collar. Animal advocates say this gives dogs greater freedom and helps prevent injury.
The ordinance also requires animals to have access to adequate food, water and shelter.
Recreation Improvements
One small silver lining to the cancellation of so many sporting events this year has been that the downtime allowed for renovations and improvements to county recreational facilities, Taylor said.
The improvements made at county facilities during 2020 include general cleanup, new parking lots, lighting, drainage, the re-striping of tennis courts to accommodate pickleball (a sport that's growing fast in popularity, especially among Fairfield seniors), and the addition of a new walking trail at Rufus Belton Park.
Perhaps the crown jewel of this year's recreational improvements in Fairfield County is the still-in-progress conversion of an old, empty, deteriorating building at Drawdy Park into a gym and office space, with the work being done by county staff.
"It was the old lunchroom for the Everett School, and with grant money we turned it into a small gymnasium, workout room, and some offices for some of the staff," Taylor said.
"It was, again, one of those situations where it was a derelict building serving no purpose; it was an eyesore. So it's a double win when you take something that's a negative to the community… and you give them something positive," he said.
Also this year, the county partnered with the Palmetto Trail and other nonprofit groups to make improvements to the Alston Trailhead and access to the Broad River.
The finished project holds the promise of tourist revenue not only for western Fairfield, which is known for it's scenic bridge, but for the entire county, Taylor said.
In the plan, the trail connects to a hard-surface loop that links all of the proposed Trailhead amenities: a kayak launch, fishing pier, picnic areas, both primitive and developed campsites, picnic shelters with fireplaces, an amphitheater that is ADA-viewing compliant and more. An expanded gravel parking area is also planned for the trailhead.
A grant from outdoor outfitter REI will provide two new primitive campsites that are already taking shape. A total of six campsites are planned for the grounds.
In addition to an information kiosk that was recently completed, a bicycle repair station – a bicycle stand with a variety of tools and an air pump – was installed as well as a counter that will track the number of people who use the trail, all thanks to a grant from Fairfield Forward.
Taylor added, "Having the Alston Trailhead is a tremendous asset for Fairfield County. We are delighted to have the opportunity to partner with Palmetto Conservation Foundation and others, like REI and Fairfield Forward, to make this great asset to the community even better for generations to come."
Fairfield County has dedicated the funding to design the improvements and has secured local granite to construct several structures including a new kayak launch that is ADA compliant.
Grant Funding Obtained for Zion Hill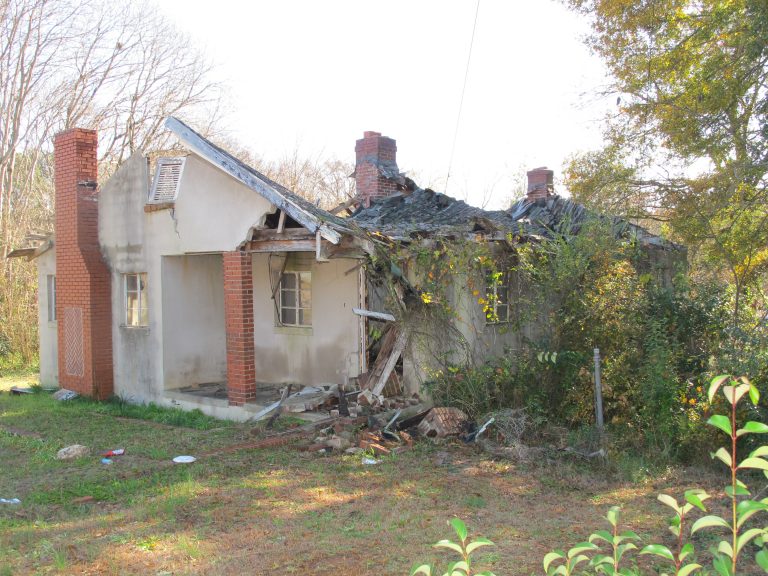 With the help of a half-million-dollar grant and the potential of more to come, the county is preparing for a major cleanup project in Wnnsboro's Zion Hill neighborhood. The project will involve the demolition of more than two dozen derelict houses.
With the money in hand and the permitting process complete, now the project is ready for bid, and Taylor said he hopes the work will take place within the next six months.
"This is really a first step. Hopefully we can follow up with additional grants and have a second phase and a third phase where we do things such as sidewalks and lighting and things such as that – some of the streetscape infrastructure," Taylor said.
"After the dilapidated homes are removed, the lots where they stood will already have all the infrastructure in place to serve new homes at a big saving. So it makes sense to clean them up and re-use them for new construction."
Infrastructure Grants Received
This year, Fairfield County received $3.5 million in infrastructure grants, Taylor said, with about a $1 million of that going to a bridge replacement on Valencia Road, about a quarter million going to road studies, and the bulk of what's left going to permitting, engineering, and legal work associated with the wastewater treatment plant.
In a separate infrastructure project, the county has made significant upgrades to the airport this year, including resurfacing of the runway, improvements to lights and parking, and a new fueling station.
Forfeited Land Commission
In a move that Taylor likens to the physical cleaning up of derelict properties, the county established a Forfeited Land Commission in 2020, which handles the auctioning of long-abandoned properties to get them back into productive use.
This year, the commission auctioned off about 60 of those properties, bringing in more than half a million dollars to county coffers and putting the properties back into private hands.
Prior to establishing the Commission, Taylor said, more than 100 abandoned properties were languishing unused in county ownership; some of them abandoned for years.
"Not only do we have money coming in now from those properties, but we've put the properties back in private ownership, where they're paying taxes and hopefully something will be done with the properties that makes them productive rather than just sitting unused," he said.
"We got some very high bids on the properties," Taylor said. "Some sold higher than they were assessed at,"
Helped Those in Need
During the Covid-19 pandemic, Fairfield County engaged in two efforts to help struggling residents: distribution of hundreds of food boxes to those in need and hosting a job fair to help job-seekers match with local employers, which resulted in a number of individuals getting hired.
"The food distribution is really kind of just short-term assistance," Taylor said. "The job fair is to help people get jobs so they can support themselves long term. There are a lot of pieces to the puzzle that make up the big picture of someone having a good quality of life, and those two are major pieces of the puzzle."
County council is also moving forward with plans to assist businesses in Fairfield County by providing funding for e-commerce websites for those businesses. Under the proposal, the cost of set up and three months of service would be covered by the county. Taylor said this is another way the county can provide sustainable assistance that would help the county's businesses weather challenges currently posed by the pandemic shutdown as well as similar challenges in the future.
Looking Ahead to 2021
Both Taylor and Davenport say economic development will be a continued focus in 2021, particularly from the "product development" standpoint – or the creation of new industrial sites and assets that can be marketed to industries that could potentially locate in Fairfield County.
The hope is to continue the positive momentum the county has developed these last four or five years despite the challenges that have been unique to 2020.
"It was a challenging year having to work within the confines of COVID, and we found ways to work around that safely to have a productive year," Taylor said.
His plan for next year is to continue to build on the county's previous successes.
"We have to continue to concentrate on economic development, and that means creating new industrial sites, new buildings and new infrastructure to support development," Taylor said. "We look forward to doing everything we can to help move the county beyond COVID."