WINNSBORO – Stephanie Elkins said she's been playing around with baking and decorating cookies for a long time.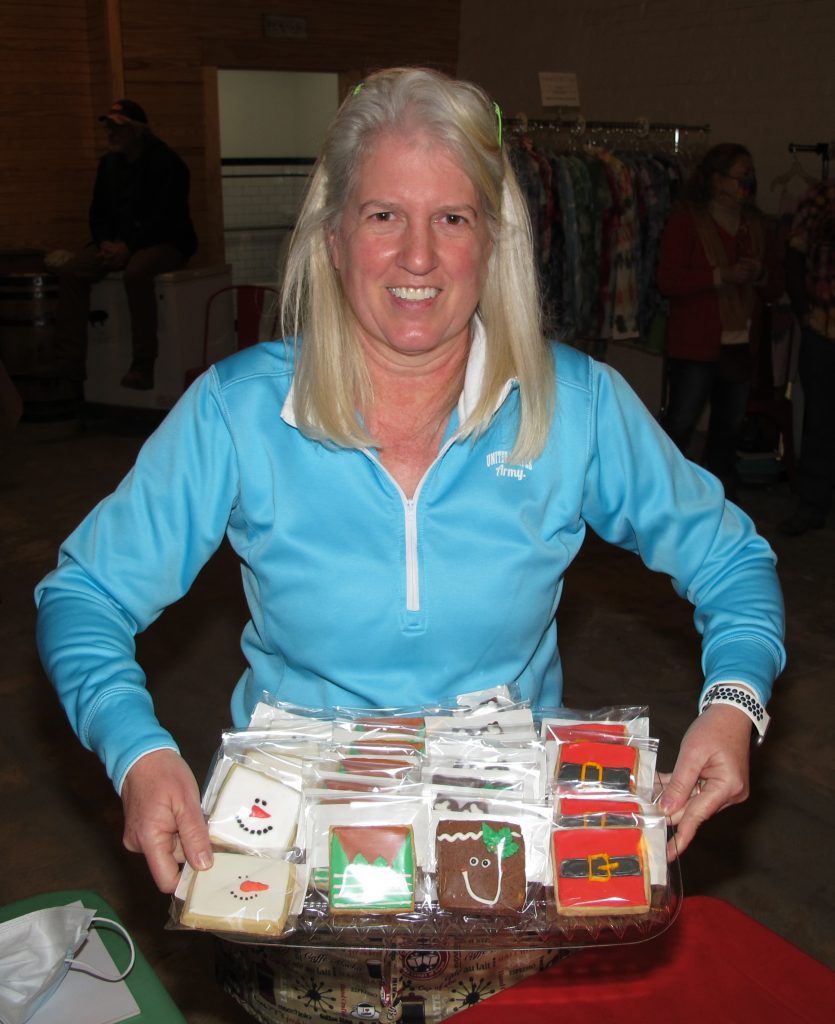 "But this is the first year it's actually worked out well," she said with a smile and a humble shrug, still a little surprised that her Christmas cookies turned out to be a hot seller at the Holiday Market in Winnsboro on Saturday.
Elkins and her husband, Steve, relocated from Kansas City to Winnsboro last summer when Steve assumed the duties of pastor at First United Methodist Church. Once they got settled, the couple decided to turn their free time and longtime passion for brewing coffee into a cottage business – Palmetto Bean Company, LLC.
To that end, they decided to purchase a vendor space at Saturday's Holiday Market in the new downtown Market Building to sell their coffee.
Elkins thought it might also be a good idea to pair her homemade Christmas cookies to support the couple's coffee sales. It was, indeed, a good idea. Market customers couldn't resist the uniquely decorated and delicious cookies to go with their fresh brewed coffee.
The ample 3-inch sugar cookies are miniature works of art, iced with Santas, snowmen, Christmas trees, snowflakes and other holiday designs, each packaged neatly in little square cellophane envelopes with the ingredients label on the back.
Elkins' cookies would look right at home in a high end bakery showcase. She said she picks up ideas from Etsy and other places.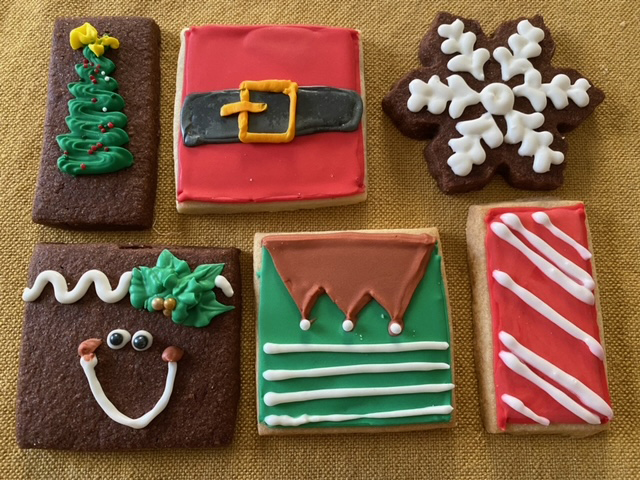 "I've been working on cookies for a while,"
The Elkins' booth also featured her mocha flavored chocolate candies and dipped pretzel sticks, perfect for stuffing stockings and gifting teachers.
The couple donates a percentage of their coffee sales to the Rainbow Network, a mission that builds houses for and otherwise supports the villagers in Nicaragua who harvest coffee beans in the area from where the Elkins get their beans for roasting.
With the Fairfield Farmer's and Artisan's Market closed now until March, Elkins said she's thinking about what to do next.
"A lot of preparation goes in to what you sell at the farmers' market – there's proper packaging and I have guidelines to be sure the cookies are uniform in thickness and shape," she said. "But the market is a great place to sell them. I have a lot of energy that I need to do something with, so I make cookies. I love making cookies."
And that love shines through. Elkins' frosted creations are not only artsy in appearance, but are sturdy enough to survive being stuffed into Christmas stockings. And she said the cookies' shelf life is easily two to three weeks.
To purchase cookies or coffee from the Palmetto Bean Company, contact Elkins at [email protected]