WINNSBORO – The Fairfield County Sheriff's Office is seeking assistance in locating Jacob Trimayne Anderson, 27, of Winnsboro. Anderson is currently wanted on a warrant for Attempted Murder in connection with a shooting incident that occurred in the early hours of Saturday, Dec. 19.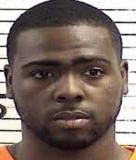 On that morning just before 2 a.m., deputies from the sheriff's office were dispatched for a shooting incident to Old Chester Road near Highway 200. Once on the scene, deputies learned there had been a physical altercation outside a club, and a 30 year-old black male was transported to the Providence ER with multiple gunshot wounds, officials said.
Anderson is wanted in connection with this shooting. To provide information on Anderson's location, contact the Fairfield County Sheriff's Office or Crime Stoppers at 1-888-CRIMESC (888-274-6372) or visit midlandscrimestoppers.com to email a tip. Your identity will be kept anonymous.