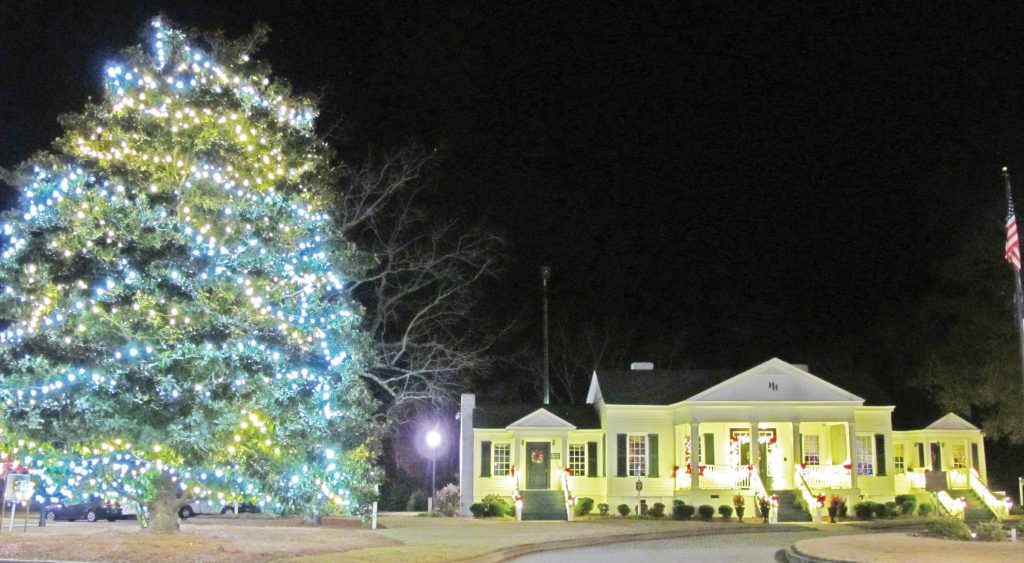 BLYTHEWOOD – As Freeway Music maker, Sophia Lynch, strummed her guitar to set the mood for the Town of Blythewood's annual tree lighting, Town Councilman Donald Brock, Jr., welcomed a hundred or so guests socially distanced across the front lawn of the Town Hall.
"For more than 20 years, the town hall tree lighting has heralded Christmas in Blythewood," Brock said. "Each year, usually the Sunday after Thanksgiving, we light the town tree."
This year, the lighting was delayed a week, but it had the same effect as in past years – it heralded Christmas.
Reverend Scott Smoak, Senior Pastor at Trinity United Methodist Church, delivered the invocation, followed by Vance and Jeannie Sharpe entertaining with Christmas carols.
After thanking Butch Richardson for providing the magic tree lighting switch and Fairfield Electric for stringing the lights, Brock recognized the town's civic clubs for their volunteer contributions to the event: Blythewood Rotary Club for the hot chocolate, Blythewood Hope Optimist Club for the cookies and the Greater Blythewood Chamber of Commerce for the hot cider.
And with that, Blythewood's popular singer/songwriter, Camm Wess, 23 – who recently finished as a finalist on the popular national talent show NBC's "The Voice" – pulled the switch and lit the tree.
He then led the audience in singing, "We Wish You a Merry Christmas."
And it was, once again, Christmas in Blythewood.
Blythewood singer CammWess, center, a finalist on NBC's The Voice, lit the tree; Scott Smoak, left, Sr. Pastor at Trinity UMC and emcee Town Councilman Donald Brock

Freeway Music singer/guitar player Sophia Lynch provided pre-ceremony entertainment.

The Johnson family

Jeannie Sharpe

Cammwess

Vance Sharpe