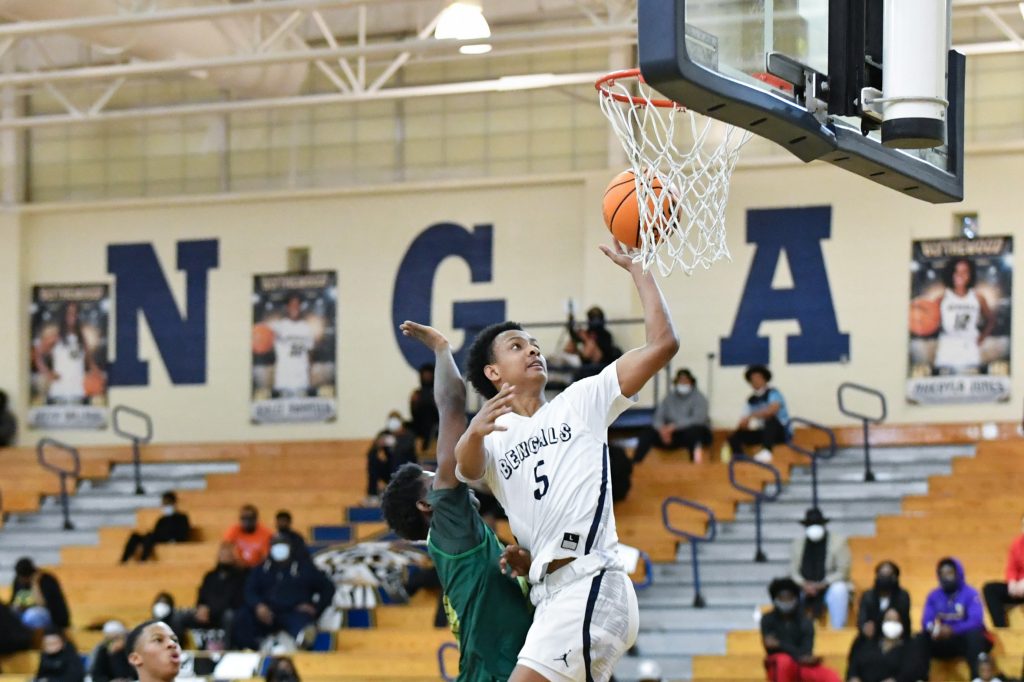 BLYTHEWOOD – Friday night's boys basketball game against Ridge View may have gone in the Blythewood loss column just as the Bengals game at the Blazers' house Feb. 2 did.
While Blythewood fell 55-53 this time around, the Bengals defense made Ridge View work, and the Blazers' 3-pointers and easy jumpers were hard to come by.
"They made a decision to play together, instead of trying to play by themselves," Blythewood acting head coach Kristin Claiborne said. "I told them, the lights are big, but anything we do is done together, and it's bigger."
Julian Phillips led the way for the Bengals (7-5, 4-3) with 25 points and 11 rebounds for the Bengals, but everyone on the floor played an active role in getting the ball past Ridge View defenders.
"Winning is the ultimate goal, and if you're disciplined, you're focused, and you're unselfish, then you win," Claiborne said. "They did a little bit more of that and I'm proud of that. We don't accept losing, but I saw more of the Blythewood basketball tradition that Coach (Zeke) Washington has built in them today."
The Blazers made 11 3-pointers in their 83-56 dismissal of the Bengals Feb. 2. They made just one 3 Friday night. And while four of Ridge View's top ball-handlers had double figures in that game, only one, Daveon Thomas had a double-figure night.
Thomas led with 20 points, while center G.G. Jackson had 17 points, eight rebounds, and took the game MVP award from WACH Fox.
"They really stepped up and changed some things. They ran a couple of sets different, but I thought our guys understand how to defend certain things even if they hadn't seen it. I'm super proud of them," Ridge View head coach Yerrick Stoneman said. "I knew they were gonna come out and play a lot harder. We came out flat. It took us around the four-minute mark to finally get our guys ready to go."
Blythewood resolved to playing team basketball from the tip-off, and with more passing and ball-handling among all teammates, the result was a 9-2 start on the 3-time 4A state champion Blazers. Blythewood closed out the first quarter with a 15- 10 lead, and stayed one or two shots ahead of Ridge View through the second quarter.
A Davion Everett basket tied the game at 21 at the 1:19 mark of the second, and after Emmanuel Richards missed a pair of foul shots, Jaylon Jeter's basket in the final seconds gave Ridge View a 23-21 lead going into the half.
Both teams battled for the lead in the third, but midway through the quarter Tyler Rice drained Ridge View's only 3 of the game to put the Blazers up 31-29. That 3 sparked a 9-0 run that gave the Blazers a 37-29 lead in the final minute of the third.
"They extended their zone, so what we did was get in the gaps," Stoneman said. "At times they were looking like a 1-3-1 or a 1-2-2, but when the ball reverses anyhow, it's a 2-3 if they rotate correctly, but there were a couple of times when they didn't rotate correctly and G.G. was wide open a couple of times."
Blythewood was down 45-35 going into the fourth quarter, but got a 3 and a pair of foul shots from Phillips along with a Samaad Wright basket to cut the lead to 45-42 with five minutes to go.
Thomas made one of two foul shots and Jackson hit a layup to give Ridge View a 48-42 lead with 3:58 to go, but Blythewood stayed in the game with a technical foul charged to the Blazers.
That technical brought Phillips to the line and he hit three of four shots to make it 48-45. Phillips got in a basket a minute later to get the Bengals within one point again.
After Jeter made one of two foul shots, Richards evened the score at 49 with a putback at the 2:15 mark.
Jackson, the go-to man in the center for Ridge View, got in another putback with less than two minutes remaining. That shot and Thomas' two foul shots made it 53-49 at the 1:17 mark.
Phillips got in a basket, and after Tyler Rice hit two free throws, sank a pair of his own to make it 55-53 with 12 seconds left.
Stacey Shepard snagged Ridge View's inbound pass and Coach Claiborne immediately called a timeout. When action resumed, Phillips tried to inbound at midcourt, then inbounded deep on the Blythewood side with nine seconds left.
Through a flurry of Bengals players, Phillips took a pass under the Ridge View net and put the ball up, only for it to be short of the goal. Richards scooped the rebound and put it up, but the shot also missed and the buzzer sounded.
"We've got to put it behind us and move forward," Claiborne said. "We still haven't played our best basketball. I know that a lot of people are looking far ahead, but we're looking at one game at a time. We've got to keep capitalizing and locking into the culture that Coach Washington has built. If we do that, nobody can beat us."
Blythewood beat Spring Valley 84-48 Monday night, and will close out the regular season with the Vikings Friday.
Ridge View, which won the region with the first win over Blythewood, has completed its regular season and now has two weeks off before the playoffs.
"We've just got to continue to get better," Stoneman said. "Tonight was definitely a state-championship-type game. I've told my coaches that I think this game right here is the same matchup that's gonna be in the upper state."
To do that, the three-time 4A state champions will have to get past four-time defending 5A champion Dorman in the second round.
"I have confidence in my team that we can get by Dorman in the second round if it happens to be them, or whoever."
Boys
Ridge View – 10-13-22-10 – 55
Blythewood – 15-6-14-18 – 53
Ridge View
Daveon Thomas 20, Gregory Jackson 17, Jeter 7, Rice 7, Smith 2, Everett 2.
Blythewood
Julian Phillips 25, Richards 9, Williams 6, Wright 4, Shepard 3, Hardy 3, Kelly 2, Cohen 1.