WINNSBORO – Sarah Trezevant Symmes Boulware, beloved wife of Louis, adored mother of Meg, Barbara and Betsy, and a cherished friend to many died at her home on February 19th, 2021. She was 102 years young.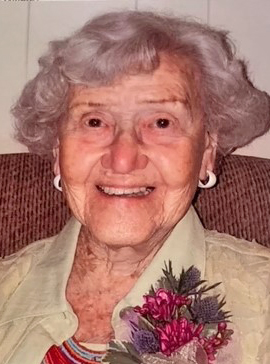 Sarah was born on July 31st, 1918 to Dr. Thomas Henry and Margaret Wienges Symmes. She grew up in St. Matthews, SC. Upon graduation from high school, she attended Winthrop College for 2 years and graduated from the University of Georgia in Athens in 1939. She moved to Winnsboro, SC where she taught Biology and Physical Education at Mt. Zion High School. She also coached the ladies basketball team and one of her great joys was taking the team to the State Championship. It was in Winnsboro where she met Louis Melvin Boulware, whom she married on June 20th, 1942 and shared a loving marriage with for 67 years. They raised three daughters, Margaret Anne, Barbara Jean, and Elizabeth Seymour.
During the course of their marriage, she lived in many places including Penny Farms, FL, New Bedford, MA and Wyckoff, NJ. In 1964 they were transferred back to Winnsboro where she lived until her death. Sarah was a very active person and had a wide range of interests including being a Girl Scout leader for her daughters, an enthusiastic member of her Church Circle at First United Methodist Church, an avid bridge player, and a patron of the Fairfield County Museum where she was presented The Distinguished Service Award for Museum Patronage in 2016. But her real pleasure was being around people. No one was ever too old or too young to be her friend. Sports were always a part of her life. She was a life guard during her teen years. Sarah learned to play golf at the age of seven with her father. She scored a coveted hole-in-one and proudly witnessed her son-in-law's ace, and then rushed up to the cup to retrieve his ball. An avid Clemson fan, Sarah and her husband attended many Tiger football, baseball and basketball games. Sarah attended her last Clemson football game at the age of 99. She was known for her extensive purple and orange wardrobe.
Sarah is survived by three daughters, Meg (Hartley Hampton); Barbara (Denis Nolan); and Betsy (Frank Wethersbee), five grandchildren, and three great grandchildren.
Sarah's daughters want to thank Desiray Bibbs, Evelyn Taylor and Connie Trapp, her caregivers, who treated her with compassion, respect and love and made her last years happy and comfortable. We also want to thank the many kind efforts of the membership and ministry of the First United Methodist Church, especially the caravan for 102nd birthday celebration.
In lieu of flowers, the family requests that donations can be made to the First United Methodist Church, 109 West College Street Winnsboro 29180, or the Fairfield County Museum, 231 South Congress Street, Winnsboro SC 29180.
Pope Funeral Home is assisting the Boulware family.