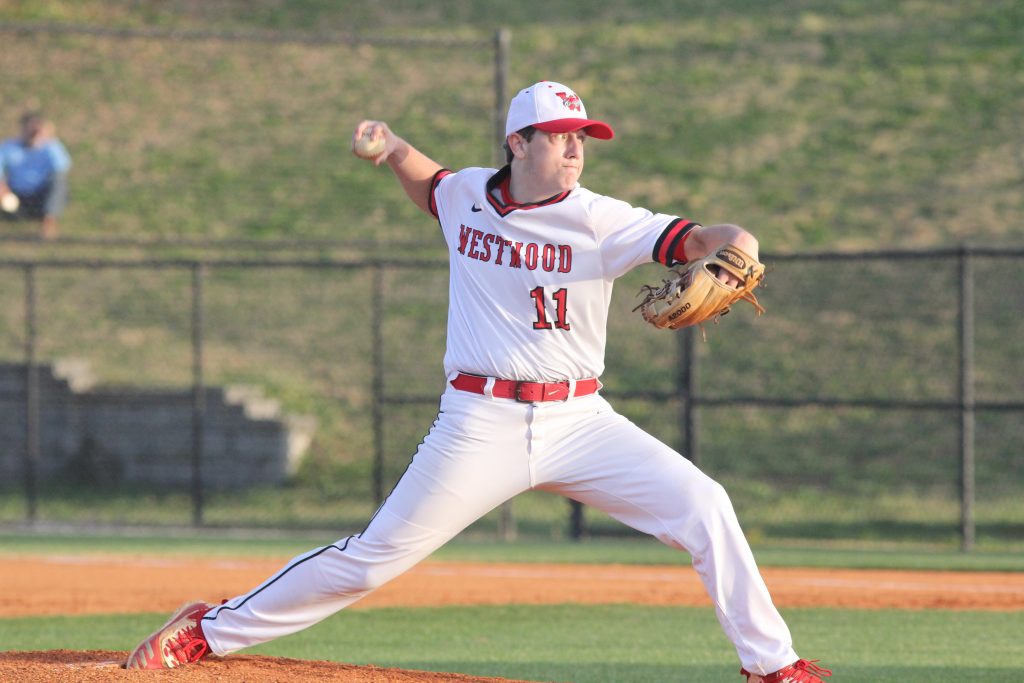 BLYTHEWOOD – A.C. Flora didn't bring out the big bats at Westwood Monday night.
Instead, the Falcons quietly built a 10-run lead on the Redhawks that drew the game to a close after six innings.
Westwood starting pitcher John Janco threw three innings of one-hit ball, but over the next three frames Flora scored two, three, and five runs to close out a 10-0 victory.
"John again pitched a wonderful game for us, but truly it came down again for us to mental mistakes," Westwood head coach Michael McDermott said. "As soon as they started playing small ball, the kids got a little scrambled."
Flora starting pitcher Grant Loggins had little trouble with Westwood batters. He gave up a strong hit to Zach Ward in the first, and then struck out nine of the next 10 Redhawks. Loggins 2-hit Westwood and struck out 12 in six innings of work.
Janco, who struck out two going into the fourth, got into trouble in that inning when he issued a one-out walk to Max Childress. Phillip Daniels grounded into a potential double-play ball that would have ended the inning, but a fielding error kept both baserunners safe.
Zander Buchan moved Childress and Daniels to second and third on a ground-ball sacrifice, and both came home on Blakely Bates' two-out single.
Carew Bates ended Flora's fourth inning on a ground out, but in the fifth the Falcons came up with three runs on four hits and two walks. All four hits, three of them infield singles, opened the inning and presented the Redhawks with double-play opportunities.
"I think we kind of got complacent once we felt that we could hang with them," McDermott said. "They went into that mental cruise control and that's the mental approach we're trying to change. Two double plays that we had that get by, and that was enough to swing the momentum."
Janco left the mound after facing eight batters. Linn came on and got the ninth batter of the inning, Carew Bates, to ground out.
A.C. Flora's 5-run fifth played out much the same way as its fourth. The Falcons sent 10 men to the plate and got four hits while Linn walked one and hit two batters, which kept the bases full of Falcons. Kendell Gandy came on with the bases loaded and two out. He gave up three runs on two hits before getting Jake Sears to pop out.
Once again, the game tilted away from the Redhawks, but McDermott says the focus for the team remains to keep everything positive and learn from these mistakes.
"I keep a card in my pocket to write down the negatives so we know what to work on," McDermott said. "But we truly try and find the positive out of every game. We had four solid innings of baseball against the best team in 4A. If we can make that seven innings, stay in the game and play aggressively, then I think we'll be OK."
Westwood travels to Flora Thursday.
A.C. Flora – 0-0-0-2-3-5 – 10-10-0
Westwood – 0-0-0-0-0-0 – 0-2-1
WP: Grant Loggins. LP: John Janco
Hitters: ACF – Blakely Bates 2-3. Jack Reynolds 2-4. Max Childress 2B.