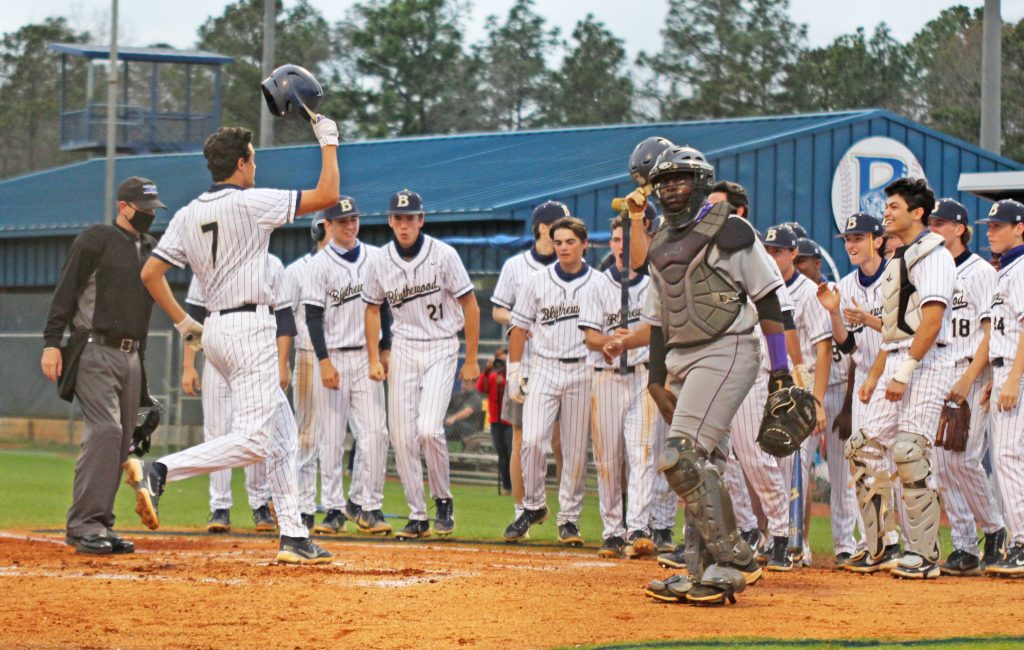 BLYTHEWOOD – On Friday night the Blythewood baseball team got its short game working with precision. Then the Bengals switched hard into the long game.
No matter how Blythewood played its action at the plate, West Florence felt the hurt.
Ty Dooley went 3-for-3, Caleb McCants slammed a grand slam home run, and Camden Watts and Alix Nevils also homered as Blythewood closed out a 15-1 rout in five innings over the Knights at Blythewood.
Getting started with bunts and infield singles was part of the game plan, head coach Banks Faulkner said.
"We really have not done a good job with the short game like we have in the past, and I wanted us to come out and sort of force the issue," he said.
Blythewood opened the bottom of the first softly. Zac Cowan legged out an infield single and Dooley got on board safely with a bunt. McCants sacrifice bunted them into scoring position, and Watts drove in Cowan on yet another bunt. As Nevils batted, Watts got picked off trying for second, but Dooley came home to put Blythewood up 2-0.
Kevin Steelman struck out looking to retire the side, but as Blythewood's starting pitcher, he gave West Florence few opportunities. About his only mistake on the mound was serving up a home run to Josh Williams in the top of the second that cut the lead to 2-1. Steelman finished the night giving up two hits and striking out five.
Zac Cowan (8) drops a bomb

Kevin Steelman (7) goes deep
McCants broke Blythewood out of its short game in the bottom of the second. With two out and Connor Weathers, Cowan, and Dooley on board from two singles and a walk, McCants connected on a 2-0 pitch and delivered it over the centerfield fence for a home run that gave the Bengals a 6-1 lead.
"The key was Connor Weathers' hit with two outs, and that sort of flipped it back over (into the long game)," Faulkner said. "McCants had a real good swing on it."
Watts struck out to end the Bengals' second, but Blythewood picked up four runs on three hits in the third.
Watts' and Nevils' back-to-back homers opened Blythewood's five-run fourth inning.
On Tuesday, Blythewood shut out Northwestern 6-0 in the Region 4-5A opener. Cowan tripled in the first and homered in the second, and Kevin Steelman also homered.
Starting pitcher Davis Wright got the win, giving up two hits, striking out eight, and walking two in six innings of work. Cowan took the mound in the seventh and induced a game-ending double play.
The Bengals (3-0) head to Northwestern Friday for another game against the Trojans. As always, Blythewood will focus on itself as region play continues.
"We just gotta keep worrying about us and keep getting better," Faulkner said.
West Florence – 0-1-0-0-0 – 0-3-1
Blythewood – 2-4-4-5-X – 15-13-0
WP: Kevin Steelman. LP: George Floyd.
Hitters: WF – Josh Wiliams HR. BHS – Ty Dooley 3-3, Caleb McCants HR, Camden Watts, 2-4, HR. Alex Nevils 2-2, 3B, HR. Ryan Hunter 2B.
Northwestern – 0-0-0-0-0-0-0 – 0-3-1
Blythewood – 2-2-0-2-0-0-0 – 6-10-0
WP: Davis Wright.
Hitters: BHS – Zac Cowan 2-4, 3B, HR. Ty Dooley 2-3. Camden Watts 2-3. Landon Penfield 2-4. Kevin Steelman HR.