WINNSBORO – On Monday, Richard Winn and Fairfield Central faced off on the diamond for the second time this season.
After falling 12-0 in their March 2 meeting, Fairfield Central came out swinging, putting up six runs in the first inning.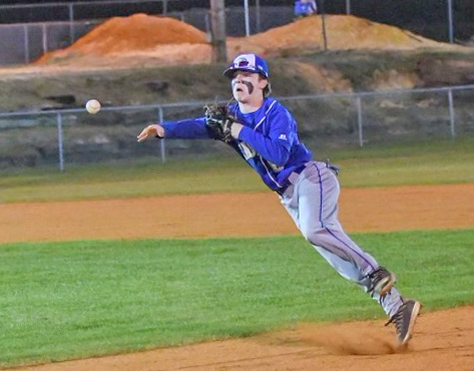 Blake Gambrell led off for the Griffins with a walk, then Curtis Sampson was hit by an Austin Lancaster pitch. Jackson singled to load the bases. All runners advanced on a wild pitch, scoring Gambrell and then Sampson on an Eagle error. Keion Trapp reached base on a fielder's choice. Another walk and an error scored two more Griffin runners to put Fairfield ahead 5-0 with only one out. An RBI single from Ruben Mack drove in the final Griffin run of the inning as Eagle pitcher Austin Lancaster picked up two Ks to end the inning.
Zack Taylor picked up the Eagles' first hit of the night with a leadoff double in the bottom of the second. John Russell reached base on an error which advanced Taylor to third. A walk by B Baker loaded the bases for the Eagles with no outs. Fairfield pitcher Jonathan Warren struck out the next Eagle batter. Taylor scored on a wild pitch that advanced runners to second and third. Jake Chaisson's RBI groundout scored John Russell and put Baker on third and in position to score on another wild pitch before the inning ended at 3-6.
Lancaster reached base with a walk in the bottom of the third. Then Taylor doubled again and a Baker single scored Taylor to close the Griffin lead to one.
The Eagles headed into the bottom of the fifth, still trailing 6-5. A series of Griffin errors put three Eagles on base. A Chaisson single scores two to give the Eagles their first lead of the game. Scoreless sixth and seventh innings left the Griffins trailing with a 7-6 final.
Brian King got the win for the Eagles, throwing four and a third innings and holding the Griffins hitless while striking out four. Landon Caulder picked up a save, going two and a third innings, allowing two hits and striking out two. Warren took the loss on the mound for the Griffins. He struck out eight and allowed four hits and seven runs in five innings of work.
Taylor led the Eagles at the plate with two doubles in three appearances.
FCHS – 6-0-0-0-0-0-0 – 6-4-3
RWA – 0-3-2-0-2-0-X – 7-5-3
WP: Brian King. LP: Jonathan Warren.
Hitters. FCHS – Reuben Mack 1-2, Kelton Mobley 1-3, Curtis Sampson 1-3, Jalen Jackson 1-4. RWA – Zack Taylor 2-3, 2B, B Baker 1-2, Jacob Chaisson 1-3, Rob Wilson 1-4.