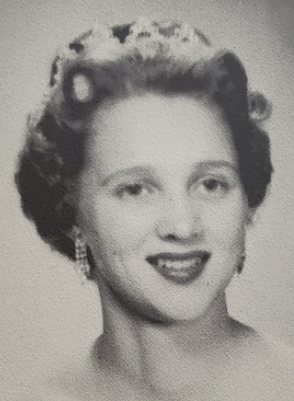 Mrs. Nancy Ann Caldwell Ellison, "Ann" to those who knew and loved her, died peacefully under the compassionate care of Hospice on March 13, 2021. Ann was born April 8, 1938 on her Grandmother Lipscomb's cotton farm, to loving parents John D. and Nancy L. Caldwell. Ann was a 1956 graduate of Gaffney High School, where she served as senior class president and was also "Miss Gaffney" 1956. Ann went on to graduate from Columbia College with a Bachelor's degree in English, and completed her Master's degree in Social Work, with a specialty certification in gerontology, from the University of South Carolina. Ann loved to write and fellowship with people. Ann was a remarkable, thoughtful, generous, and kind friend to many.
Ann was preceded in death by her loving husband of over 40 years, Robert Ellison, and by both of her sons, Ronald S. Petty and Dennis M. Petty. Ann was also preceded in death by her parents J.D. Caldwell and Nancy Caldwell Speer, and by her sisters Judi C. Robbs of Gaffney, SC and Linda C. Guswiler of Green Cove Springs, FL.
Ann is survived by her three loving step-children, Bob Ellison of Blythewood, SC, Gail Prevatt (Gene) of Savannah, GA, and Tina Schaper (Chris) of Charleston, SC. "Mama Ann" is also survived by three wonderful grandchildren whom she adored, Kevin Mullis (Racheal), David Mullis, and Ginna Mullis, and four great-grandchildren. Ann is also survived by two special nieces, Kristi Robbs of Gaffney, SC, and Beth Guswiler Johnson (Ron) of Gaffney, SC. Ann's family would like to thank cousin-friends Dawn and Eddie Bridges for the love and care they gave to Ann. The family would also specifically like to thank Cherokee County Meals on Wheels and Brookview House at Blue Ridge for the care they provided, especially Nurse Scarlett Pennington who always went out of her way to update the family and provide loving care to Ann.
A celebration of Ann's life will be held outside in Trinity Garden at The Episcopal Church of the Incarnation, 308 College Drive, Gaffney, SC on Saturday, March 20, 2021 at 11 a.m. In lieu of flowers, the family requests that donations be made in remembrance of Ann to Cherokee County Meals on Wheels, P.O. Box 1886, Gaffney, SC 29342 or to the Bread from Heaven Ministry at the Church of the Incarnation, 308 College Drive, Gaffney, SC 29340.