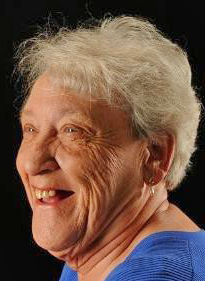 On March 15, 2021 Vera Fay (Nelson Bartell) Hornsby, age 91, went peacefully on to her heavenly home. Vera was born in Winnsboro on June 19, 1929 to Ben Tillman Nelson and Mamie Maude Eubanks Nelson. She attended Everett Elementary and Mount Zion High School in Winnsboro, SC. Vera worked at Morgan Mills in Laurel Hill, NC, retired from Manhattan Shirt Company in Winnsboro, SC, and later worked at Walmart in Winnsboro, SC. Vera was preceded in death by her parents, Ben Tillman Nelson and Mamie Maude Eubanks Nelson, husbands, Joseph Hilton Bartell Sr., and Robert Hornsby, daughter Pamela Bartell Brooks, grandson Tony Reid, sisters Lois Nelson Reynolds, Lillian Nelson Martin, Pansy Nelson Jackson, Maudine Nelson Walls, and brother Ben Dupree Nelson.
Vera attended Pentecostal Holiness Church in Laurel Hill, NC, Rockton Baptist Church and Washington Street Baptist Church of Winnsboro, SC, where she had many wonderful friends.
Vera lived in her home in Winnsboro where her son, grandson, and granddaughter lovingly assisting her until she came to live with her daughter in High Point, NC, 10 years ago. Vera enjoyed many wonderful trips with her daughter, son-in-law, and grandchildren while still in good health. Vera will be remembered for her passion for dancing, fun, loving spirit, sweet smile, and her love for God, her family, and friends.
Vera will be greatly missed by her son Joseph (Joe) Bartell, Jr., daughter Janice (Andy) Reid, and son-in-law Frank (Bette) Brooks, stepson Nathan (Susan) Rish, stepdaughter Melody (Ira) Minor, Grandchildren Bryan (Heather) Brooks, Mandy Bartell, Jody (Venus) Bartell, Robert Reid, and Zachary Minor, Great Grandchildren Carly, Makena, and Jack Brooks, Graedyn Bartell, Mariah Bartell, and Tylan and Sydney Reid.
In lieu of flowers, memorial contributions can be made in Vera's name to Washington Street Baptist Church, 101 S. Vanderhorst St., Winnsboro, SC 29180.
A memorial service to honor Vera will he held Saturday March 20, 2021 at 12:00 noon, at Washington Street Baptist Church, Winnsboro, SC. Immediate family will be at the church at 11:30am for visitation with family and friends.