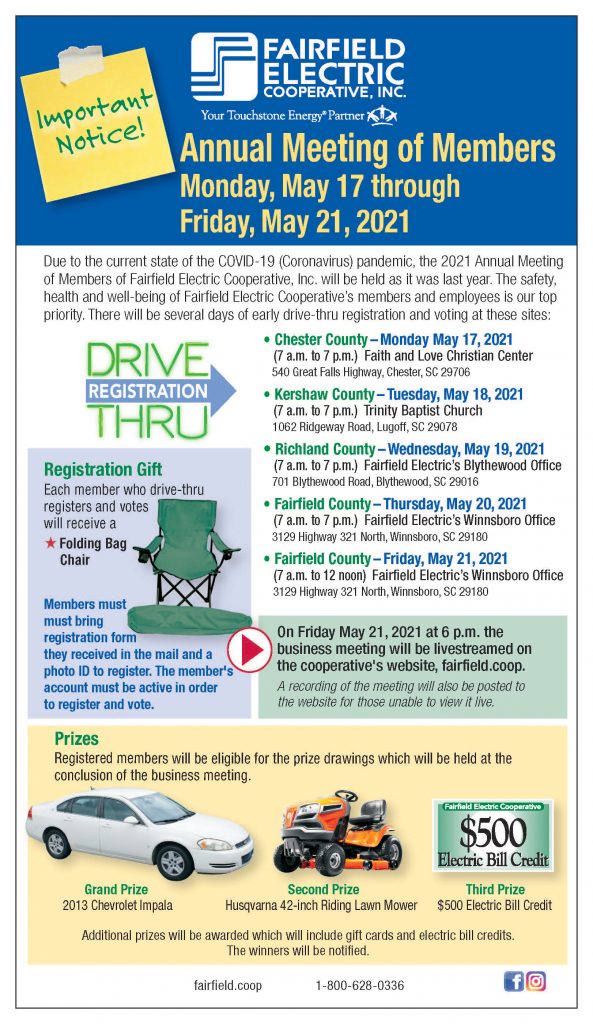 BLYTHEWOOD/WINNSBORO– For the second year in a row, the election of Fairfield Electric Cooperative board members and the annual meeting will be a drive-thru affair. But that's not expected to dampen member voters from showing up.
Until last year, the draw for the annual meeting has been popular giveaways: – a free used car, lawn mowers, free electricity, various $50 – $200 gift cards and a nice door prize for everyone who attends. But this year, like last, it's a peaked interest in who gets elected to the co-op's board that is more likely to bring out the crowds.
After the public became aware three years ago that board members had extended a nearly $1.8 million golden parachute to its former CEO, William Hart, their interest in the elections grew. Two candidates campaigned against the posh pensions and cozy compensation packages provided board members and CEO's in the past. Both candidates prevailed by good margins over the incumbents.
In 2017, Hart's final full year with the co-op, he received $520,353 in total compensation, according to the co-op's federal tax return. The 2018 tax return pegged Hart's total compensation at $2,123,633. According to one board member, the IRS fined the co-op $200,000 for excessive compensation to Hart.
While the board has made a number of reforms since the $1.8 million vote, more are in the works, such as the way candidates run for office.
"Until now, each candidate has to campaign for votes throughout the entire co-op coverage area," Vice-President of Member Services Doug Payne said. "Beginning next year, they will only have to campaign in their own district."
Candidates for District 1 (in the order listed on the ballot) are incumbent Johnny Roberts and challenger Eddie Branham. Calvin Jay Smith, who is listed on the ballot for District 1, has dropped out of the race. Running for District 2 are, incumbent Joe Sharpe and challenger Ronald Friday. District 3 contenders are Gen Palmer and Mike Good.
The race for open seats in three districts will be decided this year by co-op members at four different voting venues on five different days. The drive-thru registration and voting portion of the annual meeting will be held May 17-20, from 7 a.m. to 7 p.m. and on May 21, from 7 a.m. – 12 noon at the following locations: May 17 (Chester), May 18 (Lugoff), May 19 (Blythewood), May 20 & 21 (Winnsboro at the Fairfield Electric Cooperative office, 3129 Highway 321 N.)
The business meeting and raffle on May 21 will be livestreamed on the co-op's website. Only the board, committee representatives and key staff will attend.