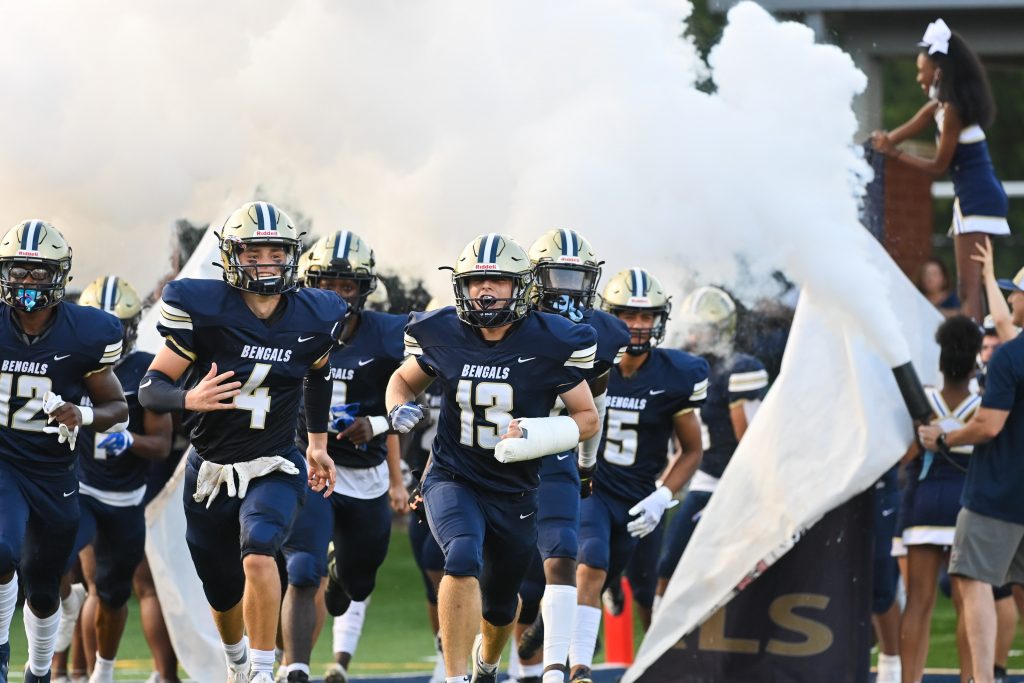 BLYTHEWOOD – Desmond Boatwright blasted through Fairfield Central defenders Monday night. Backup quarterback David Herndon had enough touch on the ball to throw three touchdown passes. Together, they and the rest of the Blythewood football team closed out a 22-6 victory over 3A rival Fairfield Central Monday night.
Boatwright had 169 yards on 22 carries on the night. Herndon started in lieu of sophomore Harrison Collins, who broke his hand before the season opener. The 6-0 junior threw TD passes of 6, 30, and 23 yards, along with a 2-point conversion pass in the first half to give the Bengals a 20-0 halftime lead.
"I've got to give our O-line credit and Desmond did a great job," Blythewood head coach Jason Seidel said. "We left some points off the board though, and you have to give Fairfield credit, we had some drives but we shot ourselves in the foot. It was a typical first game."
Herndon coming in on short notice was a concern going in, but the signal caller relied on receivers Jake Parker, Josh Gray, and Johnathan Harper to take in touchdown passes and give Blythewood a good cushion going into the second half.
"I was proud of him," Seidel said. "It's gonna take some time. He'll miss a couple of plays here and there because he's still learning the signals, but it happens."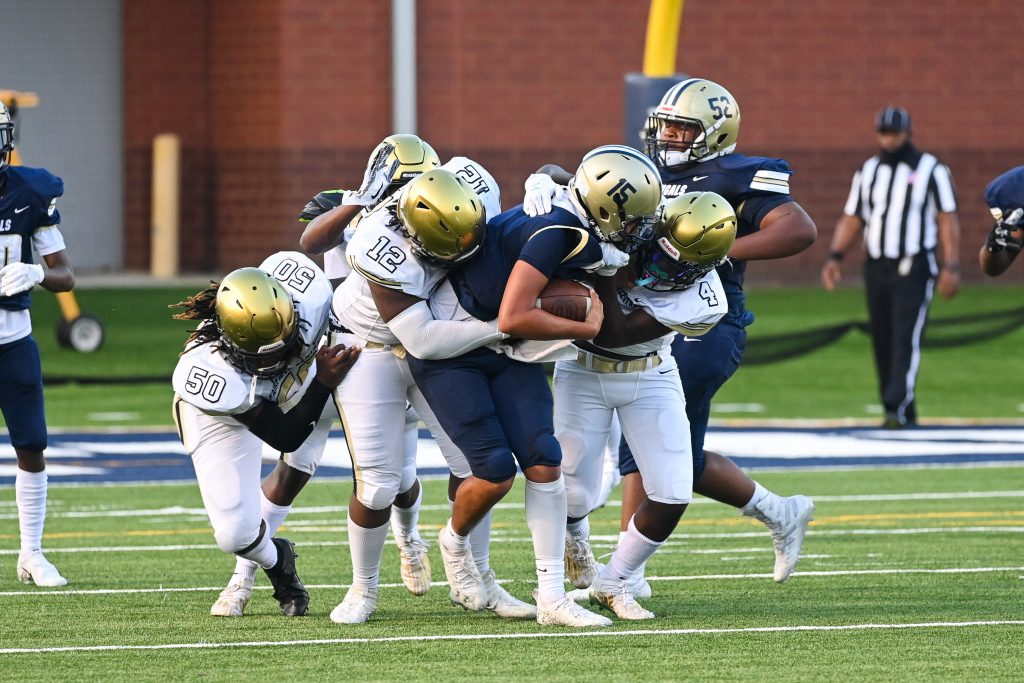 For the Griffins, who had seen their fall practice practically erased by COVID, came in without the pleasure of having scrimmaged opponents in the preseason. That lack of practice showed, head coach Demetrius Davis said.
"The one thing we couldn't afford to do we did," he said. "I was hoping we would be able to come through and even if it was the first time we went live, be able to overcome some of the mistakes. Playing a team of this caliber in your first game you've got to be able to come out and play mistake-free and create some turnovers. And we couldn't get that done."
The Bengals defense limited the Griffins to 160 total yards on the night, 87 rushing and 73 passing.
"Our defense was great, and I love the special teams," Seidel said. "Our punter (Will Rowe, three punts and a 47.0 average on the night) did a great job of changing field position."
Blythewood turned the ball over on downs deep into Fairfield Central territory on its first drive. The Bengals second drive paid off as they ground out the clock with Boatwright runs and scored on Herndon's 6-yard touchdown pass to Parker with 18 seconds left in the first quarter.
Up 6-0, the Bengals defense made a key stop. Fairfield Central went backwards on the next possession, punting from the15-yard line and setting up Blythewood at the Griffins' 30-yard line. Three plays later Herndon struck again with a 30-yard touchdown strike to Gary at the 10:41 mark.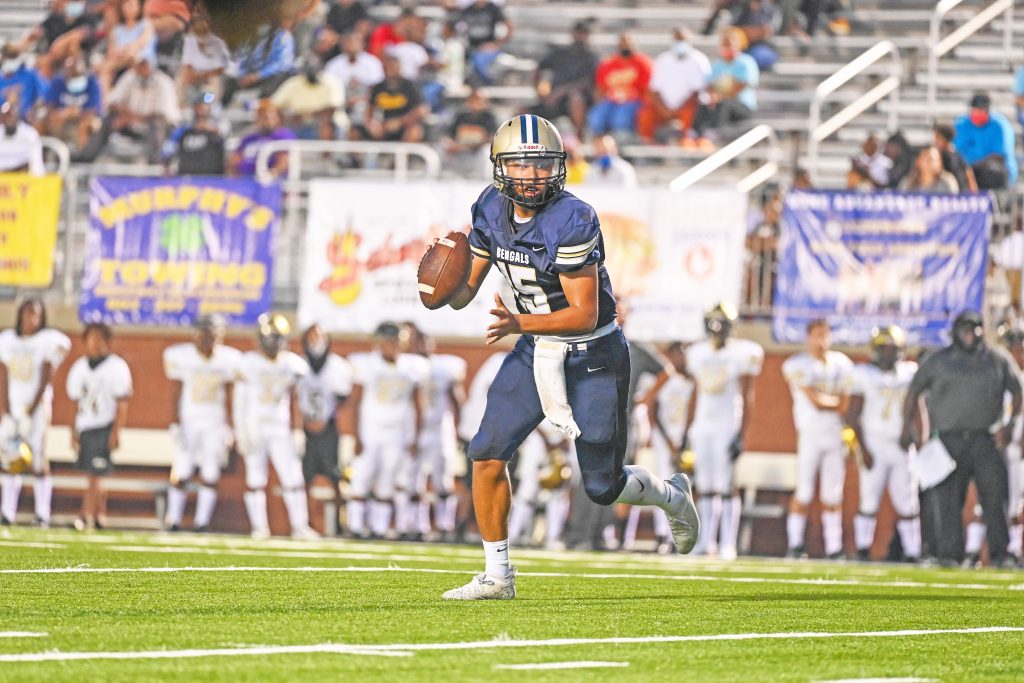 Herndon's third TD pass of the half came with 4:38 left as he found Harper from 23 yards out. After having missed an extra point and failed on a 2-point conversion on its first scores, Herndon made good on the third attempt, a pass to Chris Thomas for two points to give Blythewood a 20-0 lead at halftime.
Blythewood spent the third quarter running the clock out on Boatwright runs, then pinning Fairfield Central back deep in its own territory. Doing so led to a safety when Jordan Clark tackled Tyderian Grier in the end zone at the 9:03 mark of the fourth.
Fairfield Central finally managed a small drive in the final minutes of the game, an 11-play 40-yarder capped with Semaj Young's 2-yard TD run with 20 seconds left.
"I feel like we won the second half," Davis said. We did a better job in the second half than in the first one. Our defense pretty much shut them out. We did some good things on defense, and the only points they got was on that safety, and that was on me, that wasn't a great call."
Blythewood travels to Westwood for the latest Battle of the Woods—and the right to wield the Jeanne Schmidt Memorial Trophy Friday. Covid-19 forced last year's meeting to be cancelled. Westwood beat Blythewood 14-7 in the rivalry in 2019.
"It's a quick turnaround," Seidel said. "We've got to make sure we're ready to go. This happened to us two years ago, we played on a Monday and went to Westwood and lost. A lot of our kids remember that."
Fairfield Central plays host to Lancaster Monday night.
"A team makes the best strides between week one and week two, so hopefully we can get this film," Davis said. "This is the first chance we've been able to go up against some guys. Hopefully we'll do better next week."
Fairfield Central – 0-0-0-6 — 6
Blythewood – 6-14-0-2 — 22
First Quarter
B – Jake Parker 6 pass from David Herndon (kick failed) :18
Second Quarter
B – Josh Gray 30 pass from Herndon (pass failed) 10:41
B – Johnathan Harper 23 pass from Herndon (Chris Thomas pass from Herndon) 4:38
Fourth Quarter
B – Team safety 9:03
F – Semaj Young 2 run (kick failed) :20
FC Blythewood
First Downs 10 12
Rushes-Yards 30-87 37-157
Passing Yards 73 82
Att-Com-Int 20-7-0 8-5-0
Fumbles-Lost 2-1 2-1
Penalties-Yards 6-30 7-45
Punts-Avg. 5-36.6 3-47.0
INDIVIDUAL STATISTICS
RUSHING: FC– Stephon Gadsden 16-70, Semaj Young 5-16, Donovan Watkins 3-20, Kensley Copeland 2-5, TyDerian Grier 1-14, Team 1-(-38). Blythewood – Desmond Boatwright 22-169, David Herndon 9-(-26), James Lyles 2-0, Curtis Hilton Jr.3-14.
PASSING: FC – Stephon Gadsden 7-20-0. Blythewood – David Herndon 5-8-0.
RECEIVING: FC – Trent Boyd 1-0, Kensley Copeland 1-21, Semaj Young 2-5, TyDerian Grier 2-38. Blythewood – Jake Parker 3-29, Josh Gray 1-30, Johnathan Harper 1-23.