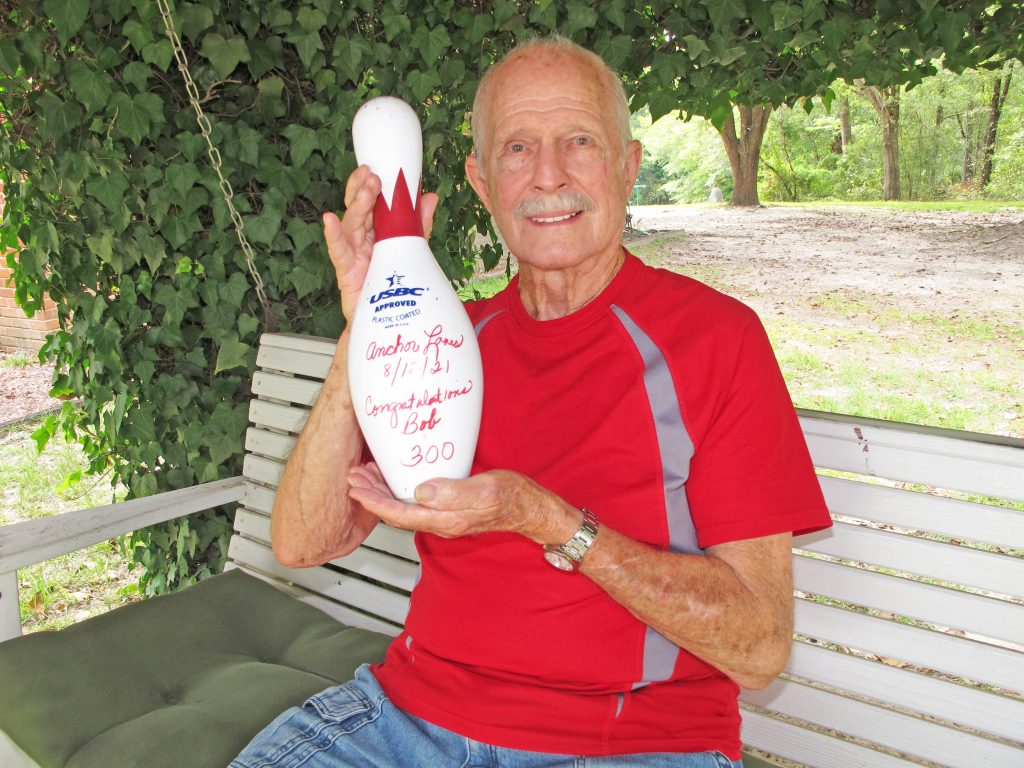 BLYTHEWOOD – Bob Crossland, 87, scratched another one off his bucket list on Aug. 12. He scored a perfect 300 at Anchor Bowling in Lexington.
"I usually bowl at Royal Z in Columbia," the Blythewoodian told The Voice. "But about three weeks ago the group I bowl with decided we would go over to Anchor one day. And that's where it happened. It was great," he said with a big smile and showing off his winning pin.
Anchor Bowling presented him with the red-trimmed white bowling pin with the following inscription:
Anchor Lanes, 8/12/21, Congratulations Bob! 300
Crossland, who has been bowling for 25 years, said this was absolutely the highlight of his bowling career.
"I've bowled some 289's and a 275, but never a 300 before now," he said. "It takes strikes in all 12 games to get 300. And I got it."
What's his secret to bowling success?
"Patience. Just wait till it happens," he said.
Crossland said he's been bowling with the same group of guys for years.
"But I'm the oldest of us. In fact," he said, then paused. "I'm the oldest bowler at Royal Z, quite a bit older," he said with a chuckle.
Crossland said he bowled about three days a week before COVID-19. Now he bowls about once a week,
"I had almost given up bowling, thinking I was really too old to keep doing this, Then this," he said, admiring his bowling pin award. "I guess I'm not."