WINNSBORO – After a quick preseason scrimmage against York Prep last week, Richard Winn volleyball opened their season at home on Tuesday against Great Falls High School. The Great Falls volleyball program is in its first year.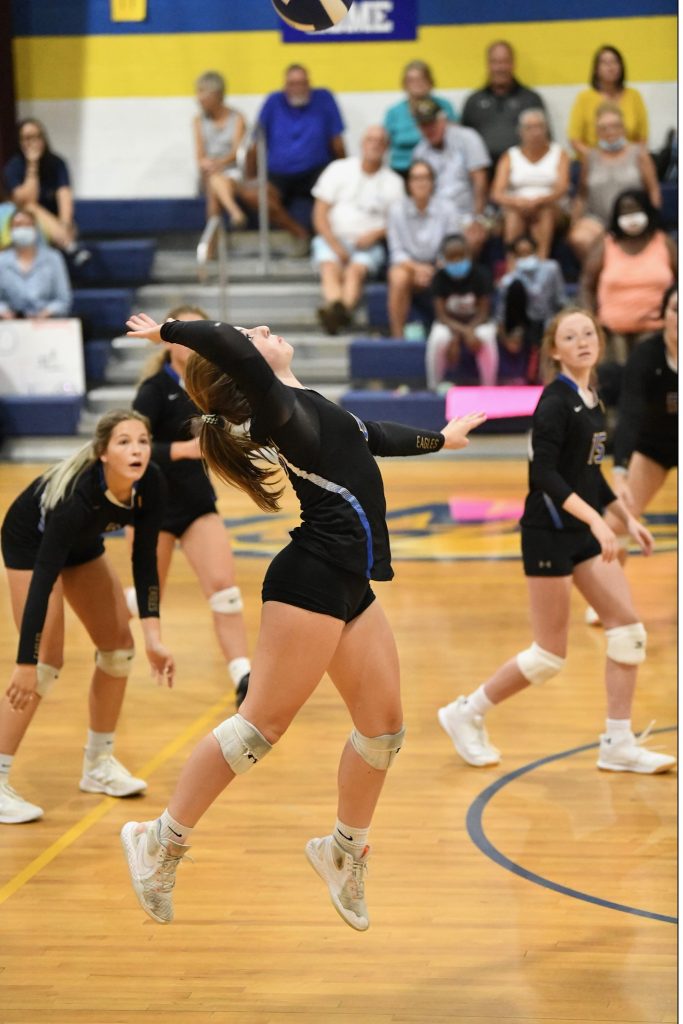 The Eagles effortlessly took the first set against a new Great Falls team. Senior Mikaela Miller served eleven points to clinch the 25-6 win.
Great Falls found some footing in game two. Tied at 8 after four rotations, Eagle junior Maggie Hughes served 11 points in a row to give Richard Winn a 20-8 lead. The Eagles closed out game 2 with a 25-12 final.
With momentum on their side, Richard Winn dominated the third set 25-3 for a 3-0 win over the Red Devils.
Sophomore Lila Smith got the Eagles off to an early 5-1 lead. Brinson Baker served 8 points and Meagan Brigman closed out the game at the service line with the final 10 points.
Miller had 6 aces on the night. Smith, Baker and Hughes had 4 aces each. Brigman tallied 3.
Richard Winn got its first taste of 2021 action last Thursday in Rock Hill against York Prep.
The Eagles fell 25-27 in the first set, but recovered for a 25-16 win in the second and took set three 25-17. York Prep won a decisive fourth set 25-14 to send the match to a fifth, where the Eagles came up short 14-16.
Richard Winn replaces the 7 seniors who graduated from the 2020 team. With only three returning players, the Eagles look to develop as the season progresses.
They're set to face off with one of their toughest opponents on Thursday – defending Region and State champion Newberry Academy.