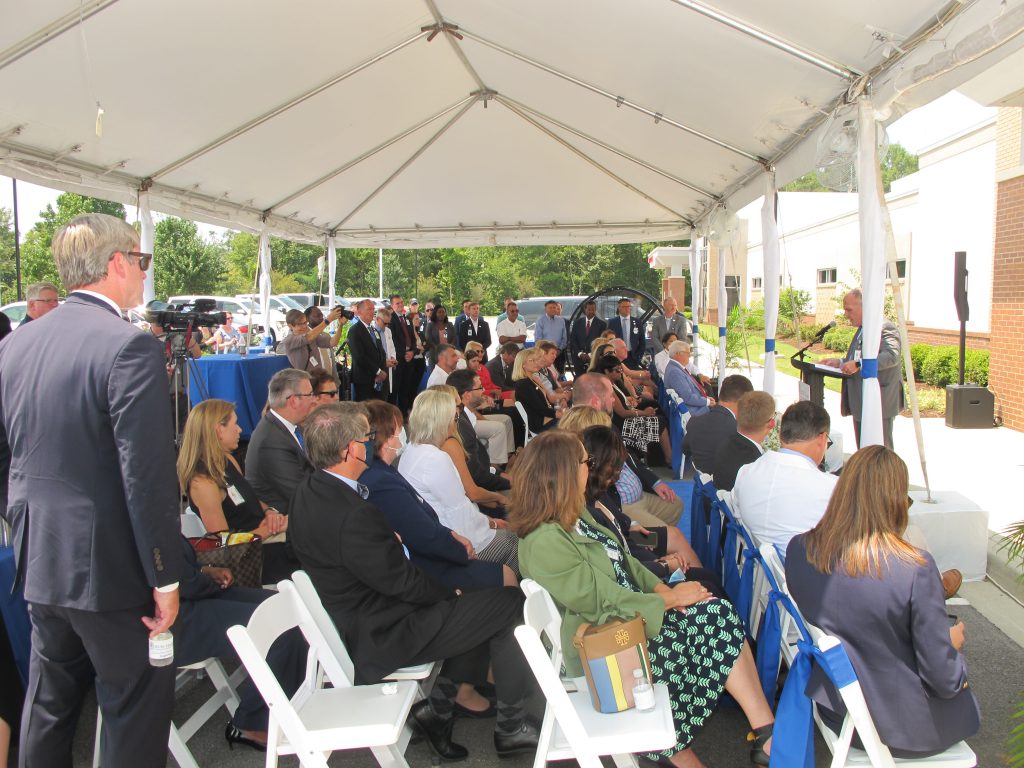 WINNSBORO – The Fairfield Providence Emergency Room awoke to a new name on Monday. It will now be called MUSC Health Fairfield Emergency and Imaging.
The purchase of the Fairfield health care facility in June was part of a $75 million dollar deal in which the Medical University of South Carolina purchased four health care facilities in the midlands.
The Charleston-based MUSC is rebranding each of those facilities with new names.
On Monday, ceremonies were held at each of the hospitals, which will now be known as:
MUSC Health Columbia Medical Center Downtown (formerly Providence Health on Forest Drive in Columbia)
MUSC Health Columbia Medical Center Northeast (formerly Providence Health Northeast on Corporate Boulevard in Columbia)
MUSC Health Fairfield Emergency and Imaging (formerly Providence Health — Fairfield in Winnsboro)
MUSC Health Kershaw Medical Center (formerly KershawHealth in Camden)
The Providence sale includes the hospital's main campus — on Forest Drive – plus its 74-bed full-service hospital near Farrow Road and I-77 and its Winnsboro emergency room that opened in 2018.
The acquisition by MUSC gives the health care system a larger footprint in South Carolina and in the Midlands region, where it will join Prisma Health and Lexington Medical Center.
"Incorporating them into our regional hospital network is another step toward fulfilling MUSC's charge: to provide the right care in the right place at the right time to every patient and family that we encounter," Dr. Patrick J. Cawley, the CEO of MUSC Health and vice president for health affairs for the medical university, said during opening ceremonies at the Fairfield facility on Monday.
Cawley said the 2,000 LifePoint Health employees at the hospitals were offered to stay once MUSC took control, the Post and Courier reported.
The MUSC medical school includes a teaching hospital along with six colleges that, combined, have more than 1,800 faculty members who educate and train around 3,000 students and 800 residents each year.
MUSC, one of the oldest medical schools in the South, was founded in 1824 as a small private college.
MUSC doctors and other dignitaries traveled to each of the four newly purchased facilities for ceremonies to speak to the change and what MUSC will bring to each community where these four facilities are located.
Joining them in Fairfield were Dr. Roger Gaddy, an MUSC alum and primary care physician in Fairfield for the last 40 years, Mayor John McMeekin, and Fairfield County School Superintendent Dr. J. R. Green.
Also speaking were Dr. James Lemon, chairman of the MUSC board, Dr. David Cole, president of MUSC and Dr. Patrick J. Cawley, CEO of MUSC Health and vice president for health affairs.
"We are all seeing a transformation across health care," Cawley told the 50 or sitting under a tent in front of Fairfield's emergency facility. "This transformation is upon us. It is being demanded by patients, by families and by those who pay for health care. They are demaning high quality care in its broadest definition – some of what Dr. Gaddy mentioned to us today.
"We're also looking for health care to be less expensive. We at MUSC fully embrace that," Cawley said. "We know that quality health care is about safety, effectiveness, efficiency, equity and patient consideration. We want to be part of that transformation. But more than that, we want to lead that transformation. That's who we are."
Dr. David Cole, MUSC president, said one of the goals of MUSC is to "improve the lives of those we touch in the communities we serve.
"We do that," he said, "by working with the communities and by putting a plan together to deliver whatever care that community needs – from primary care to specialty care. That's what we do."
Cawley told the audience that, as a not for profit organization, "We will invest our resources back into the community. We are leaders, innovators and educators. We are community focused and that's what MUSC promises."
Mayor John McMeekin said, on behalf of the community, that he is very thankful to have the number one hospital in South Carolina now in Fairfield County.
Also attending from Fairfield County were County Councilman Clarence Gilbert, Midlands Tech President Ron Rhame, former board member for Fairfield Memorial Hospital Randy Bright, Interim County Administrator Brad Caulder, Winnsboro Community Services Director Chris Clausen and Fairfield resident Karen Chapman who is the Public Relations Director at MUSC Lancaster.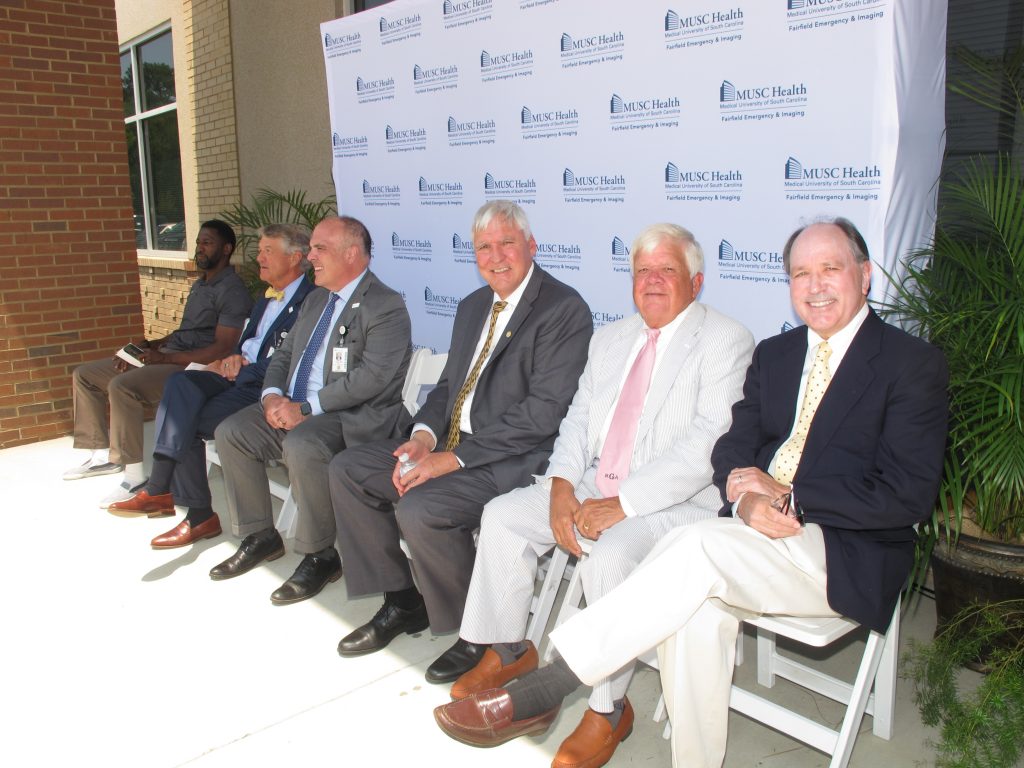 Lebanon resident and PR Director for MUSC at Lancaster Karen Chapman

Winnsboro Mayor John McMeekin

Dr. Roger Gaddy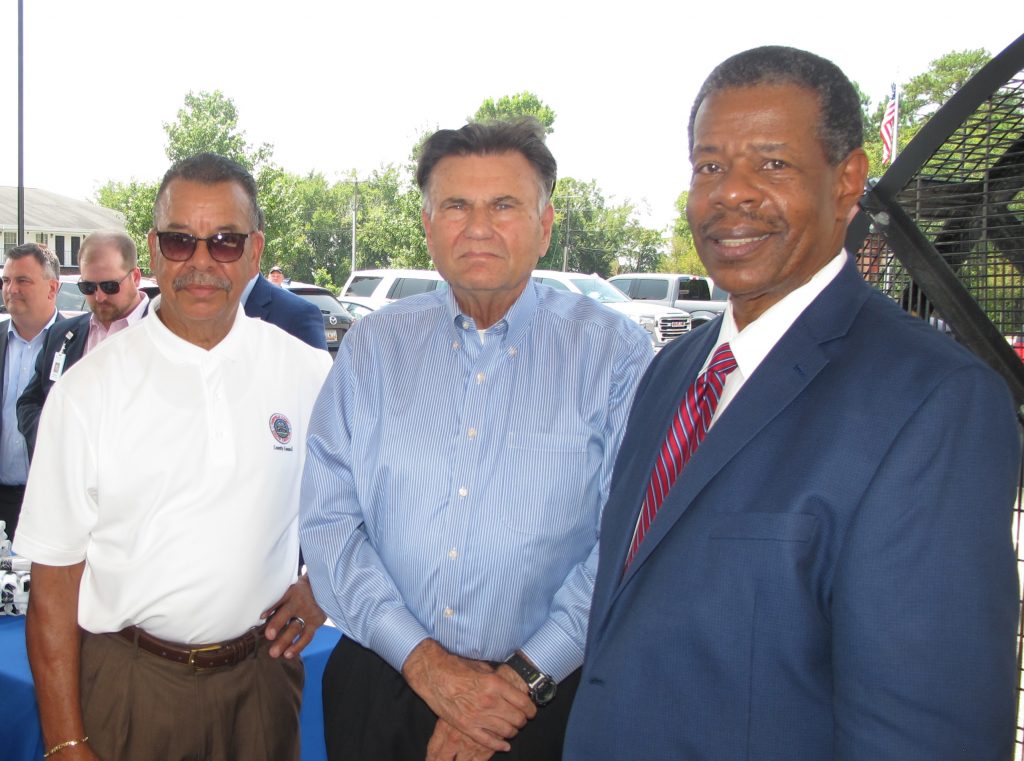 ---
A chance meeting of doctor & patient 11 years later
WINNSBORO – When Fairfield County's Interim County Administrator Brad Caulder received a phone call Tuesday morning to be at a ceremony at the Fairfield Providence Emergency Room where MUSC hospital officials were to celebrate MUSC's purchase of the ER, he got in his car and drove over.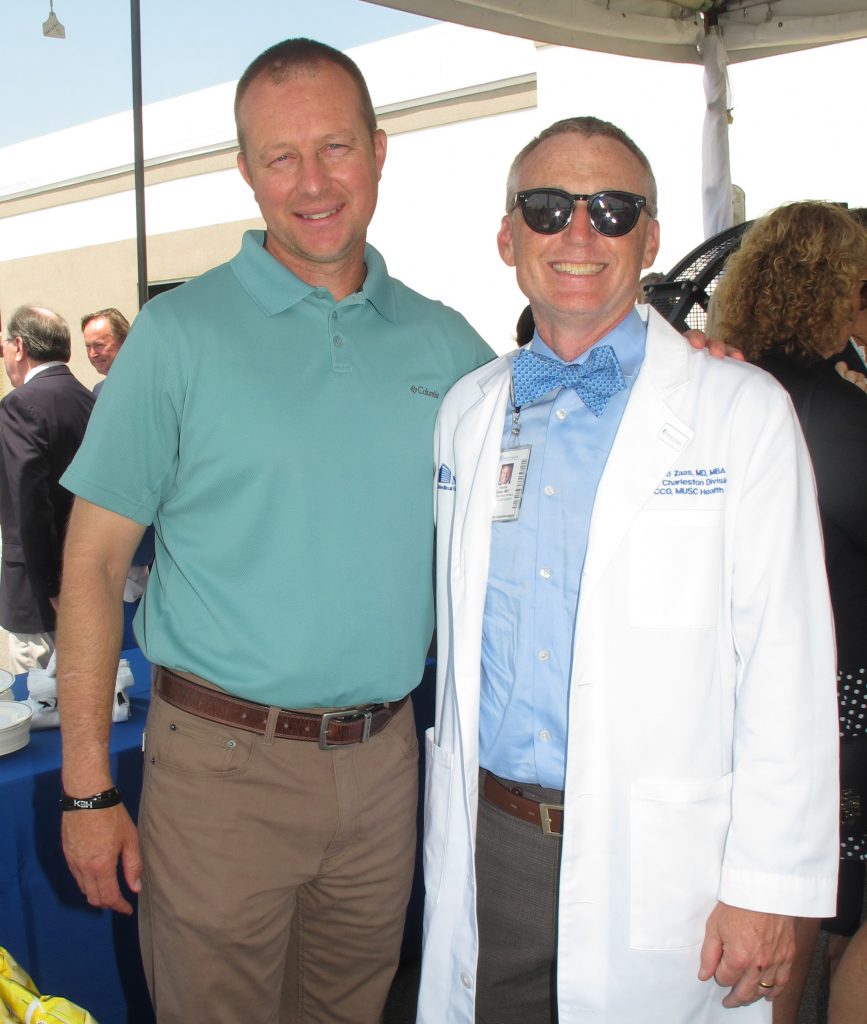 Little did he expect for the event to reunite him with the doctor who had, 11 years ago, helped prepare Caulder for a double lung transplant – a lifesaving procedure – at Duke Medical Center in Raleigh.
Dr. David Zaas, who for 20 years was an integral part of the lung transplant program at Duke, is now CEO for the MUSC Health Charleston Division, Chief Clinical Officer for MUSC Health and an associate professor of medicine at MUSC.
After bumping into each other unexpectedly during the ceremony, both expressed surprise and happiness at seeing each other again after the many years since Caulder's transplant.
"It was a nice surprise," Zaas said. "Especially after 11 years. I had the privilege of being his pulmonologist prior to the transplant to help prepare him for the surgery," Zaas said. "I was part of the team that oversaw his health care over about four years."
Zaas became part of the MUSC system just over a year ago, he told The Voice.
"It brought back a lot of memories," Caulder said. "It was really nice to see him again."