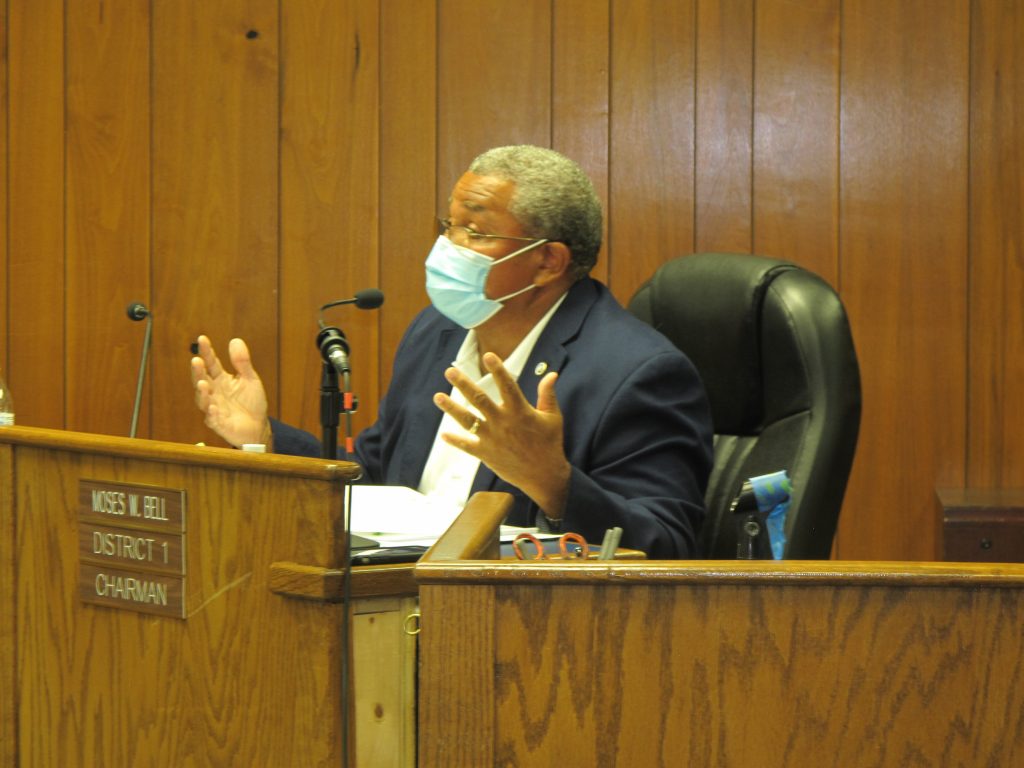 WINNSBORO – During Monday night's county council meeting, Council Chair Moses Bell called on several county officials to voice their concerns about plans to relocate the county's administration operations into the newly renovated Mt. Zion building when it's completed in October, 2021.
Bell and Councilwoman Shirley Greene took the lead in voicing those concerns, stating repeatedly that the cost of the renovations to the county has now reached $10 million, up they said, from the initial $8.7 million.
"That $8.7 million was adjusted to $8.9 million two years ago when council voted to add the teacherage to the project," according to County Councilman Clarence Gilbert.
"And the county's costs are still at $8.9 million, I don't know where they're getting those amounts," Rory Dowling, principal of 1st and Main (the developer), told The Voice on Tuesday, the day after the council meeting. "If they're including the $900,000 state allotment for the 911 call center, or the [Dominion settlement's] monument or museum, those are outside the county's project. The county is only paying $8.9 million for the project."
"I think this project is on an extremely high budget," the county's newly hired consultant Ed Driggers told council Monday night.
"You're going to have cost overruns. Most of those cost overruns have already been approved. That was true with the 911 call center and the changes required to do that. You can't reverse those types of things," Driggers said. "Those decisions were made and you've moved forward. But they will have implications as you move forward," he warned.
Asked following the meeting whether the county's costs were actually at $10 million, Driggers said he didn't know.
"Those are their (council's) numbers, not mine," Driggers said.
Almost a million dollars of those cost overruns, however, were earmarked for the 911 call center's relocation and upgrades that are state-mandated and state-funded and were not paid for out of the county's general fund, according to Councilman Doug Pauley, during an interview following the meeting.
"Those funds are restricted and could only be spent on upgrades for the call center whether the call center relocated to Mt. Zion or stayed in its current location," Pauley said.
Fairfield County Interim Administrator Brad Caulder called on Fairfield County Sheriff Will Montgomery to talk about his office's concerns regarding relocating to the Mt. Zion campus.
"We have some concerns about our offices being at Mt. Zion, mainly safety," Montgomery said.
"The windows are on ground level in the investigator's office and in my office. So anytime the public is in these places somebody would be able to see them talking to us or could do some type of harm to them.
"We also have 75 sex offenders who come to our offices every month to register and we're going to have the rec building right next to our offices," he said.
"Another problem is space," Montgomery said.
He said the space is smaller than where they are now and that they have lots of training equipment they will need storage space for.
Driggers added that another concern for Montgomery is that the space that was designated for the Sheriff's office has since become smaller.
After Montgomery spoke at the podium, Bell prompted him to lay blame on Taylor.
"Did you bring these concerns forward with Mr. Taylor and others about the safety and space?" Bell asked.
"The concerns were brought up day one when we started this project," Montgomery said.
Later in the meeting, Bell again prompted Montgomery.
"I want to be clear," Bell said. "I really need to be clear. You're telling us that you shared all these concerns prior to when they started building?"
"Absolutely," Montgomery responded. "Everything but the windows."
Asked about Montgomery's concerns, former County Councilman Jimmy Ray Douglas, who voted for the Mt. Zion renovation in 2018, said he never heard Montgomery express these concerns previously and that Montgomery never came before council with them that he could remember.
Dowling told The Voice that he is not aware that any space designations for the Sheriff have been modified.
"Their space has never changed. The Sheriff's department approved the plans two years ago and we have never heard anything more from them or anyone else about their space changing," Dowling said. "They have the entire first floor and about a third of the second floor. The 911 call center, which is separate from the Sheriff's offices, is also on the second floor."
Former County Administrator Jason Taylor, too, told The Voice that he has not been made aware that the space for the Sheriff's offices changed after he left the county in June.
"I went over there with the Sheriff and went over everything about a week before I left," Taylor said. "We had numerous meetings with all the departments and everyone was always encouraged to look at the plans and tell us how we could make it better. And we had a number of public meetings."
Asked by Pauley if he would prefer to relocate or stay in his current building, Montgomery said he would leave that up to the county to decide, but he added, "We're comfortable where we are."
Caulder then called on Driggers to express his opinion about the Sheriff's concerns.
"Mr. Driggers has done a great job digging into the construction and contractual obligations of the Mt. Zion renovation," Caulder said.
"Talking with Mr. Caulder, I believe the most cost beneficial path for the county would be to allow the Sheriff to stay in his existing situation, to allow resources to be used for the building we are in now," Driggers said. "For upfit of that, we have some engineering studies that have given us some costs on that." He did not say what those costs are.
Bell said another eleventh hour concern is parking.
"What you (Driggers) told me is that we don't have near enough parking," Bell said.
Asked about the parking, Dowling said that, based on the amount of parking they currently have, there is ample parking at the new facility.
"And there's still plenty of space for overflow parking," Dowling said. "No one from the county has consulted us about this."
Bell continued expressing his dissatisfaction with the building.
"The way you heat it, they got all them open glass windows, so you're going to have heat and air blowing out the windows. I cannot understand," Bell said, raising his voice, "why a Sheriff, elected county wide, would not have his voice listened to by the decision makers. It is beyond me to understand that. We're at a cross roads. This is a bad situation.
"This is beyond where we ought to be," Bell continued, becoming emotional.
He then read from the 2018 council minutes when council approved the Mt. Zion project.
"'He (Bell) feels we made a grave mistake,'" he quoted. "'There are other builders who build new buildings with this type of financing. He said this is a bad mistake.'"
"People talk about my decisions – that was one," Bell said.
"Mr. Bell," Councilman Douglas Pauley addressed the chair. "You do remember that you're about to spend $3.5 million on recreation that could be used for a new Sheriff's building, right?"
After a pause, Bell shot back, "Mr. Pauley, I've not directed any questions to you, and you're not to direct any questions to me. And it ain't $3.5 million. It's $2.5 million. Get your facts straight," Bell said.
"What about the mini park?" Pauley asked. "That's another $1 million, right?"