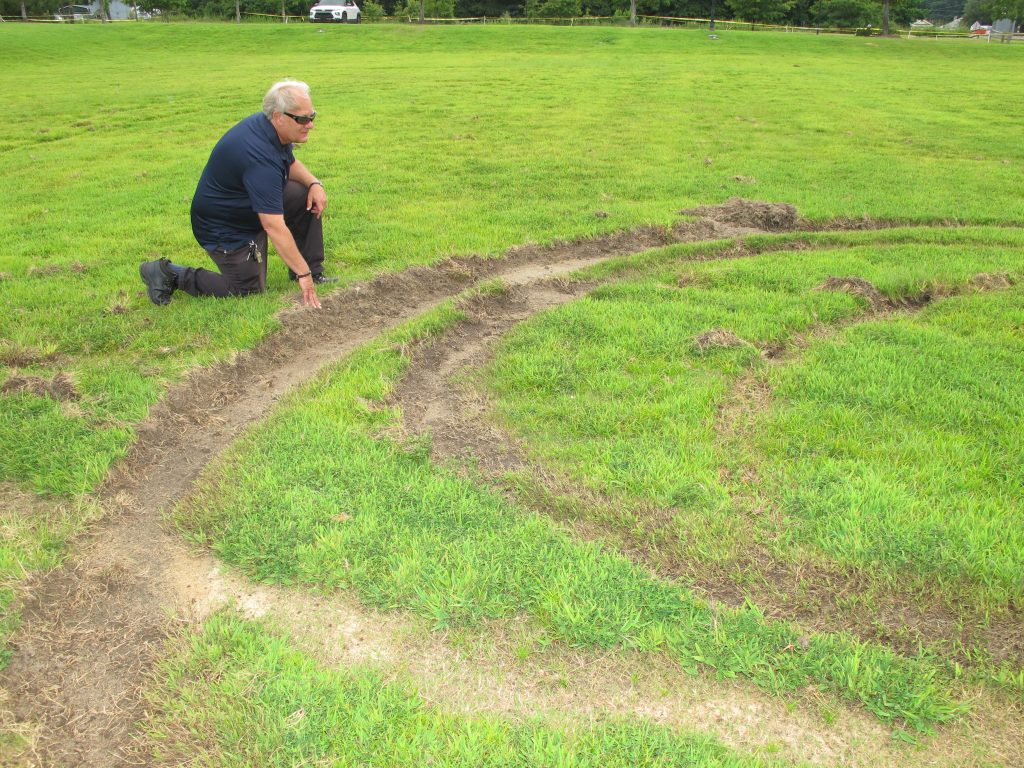 BLYTHEWOOD – After the latest in what has been years of varying degrees of vandalism in the town park, Town officials say they've had enough.
During Monday night's town council meeting Mayor Bryan Franklin announced that the park was struck again over the weekend by vandals who dug deep ruts in the grass, making 20- to 30-foot diameter 'donut' circles into the park's large athletic field on the McLean Road side of the park.
Teen Arrested
It was similar to another vandalism during the winter when a Blythewood teenager was arrested after digging deep tracks and 'donuts' in the grass in the park with his pickup truck, causing approximately $1,500 in damage.
The incident was captured on the town park's surveillance cameras in conjunction with a group of teens who were using the park as a nightly hangout, according to Steve Hasterok, Director of the Conference and Events Center for Doko Manor and Doko Meadows Park.
Hasterok told Richland County Sheriff's deputies that the problem had been ongoing.
While the town did not take that 'donut' case to court, the town's attorney, Shannon Burnett, working with Town Administrator Carroll Williamson and Mayor Bryan Franklin, reached a settlement that Burnett called 'stiff,' with the teen's attorney.
"He was required to pay $1,500 for the damages and must work 40 hours at the park. Except for his required work there, he is banned from the park for two years," Burnett said. "If he completes these requirements, the issue is settled. If not, we have the option to prosecute, and we will.
"We've also had vandals breaking lights along the walking trails and ladies have complained about harassment as they go on morning and evening walks," Franklin said. At least one man has been prosecuted for harassment in the park.
New Security Options
While Williamson said Monday evening that he did not know if the current vandalism has been reported to the Richland County Sheriff's office, he said he has so far been working on gathering information on the incident.
"We've been figuring out who it was and capturing it," Williamson said. He said it would be reported shortly.
Town council has in recent months discussed taking steps to stop the vandals, including upgrading surveillance cameras so they will pick up greater detail, keeping a closer eye on park goings-on after dark, and town hall is currently installing an additional gate just past the town Christmas tree in front of Town Hall. That is the only remaining road open to the park after hours.
Still the vandals persist.
Franklin said Monday night that the Eagle scouts are coming to put a fence along Freeway Music and then on the south side of the farmers market.
"That will be a physical barricade, physically impossible to get in unless they violate the ordinance," he said.
"I've instructed the town attorney to prosecute that individual to the full extent of the law," Franklin said. "If the barricade doesn't work and Richland County can't assist us in enforcing it, then we'll do a security force of our own."
"We've been far too lenient and far too patient and now it's time to enforce the law," he said. "And we plan to do that."