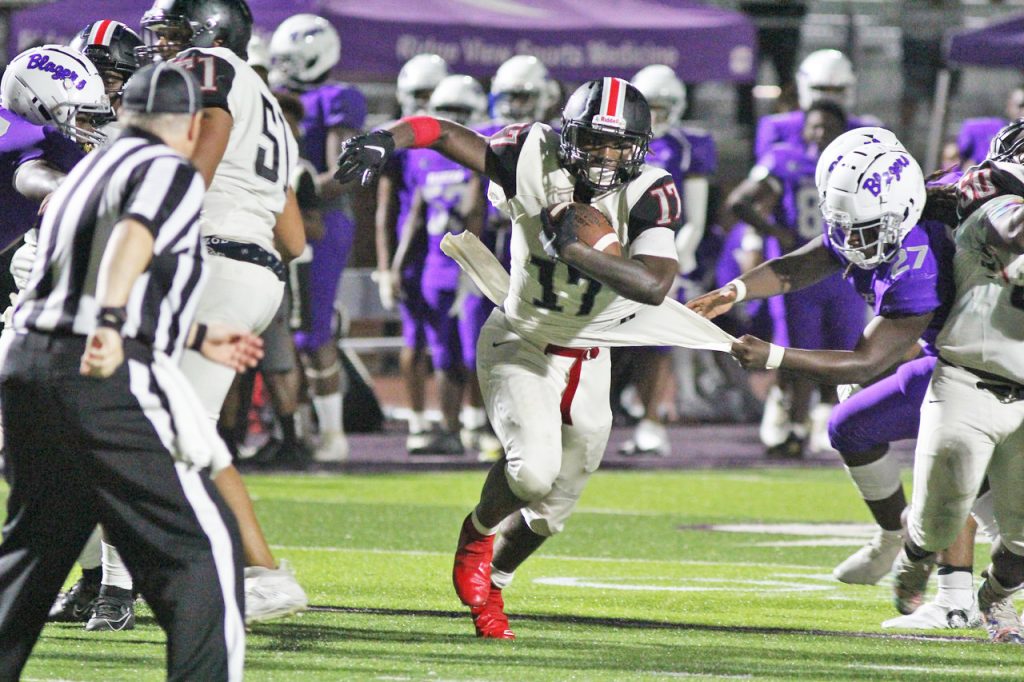 COLUMBIA – A crowd stampede early in the second half that reacted to a fight marred the opening of Ridge View's new stadium behind the school and delayed the season opening game between the Blazers and Westwood Friday night.
When play resumed, Ridge View went on to defeat the Redhawks 40-20 in a game that ended abruptly when the officials, keeping time on the field because of a malfunctioning clock, "called the game" with 6:54 remaining.
"We blew some coverages, we missed some things on defense," Westwood head coach Matt Quinn said. "We gave them points in the first half. Second half, we played a lot better, fixed our defense."
In the second half—after play resumed following the crowd incident—the Blazers and the Redhawks went toe-to-toe, exchanging scores twice. Westwood even overcame a late interception and stopped Ridge View close to the goal line. Blazers kicker Javian Butler missed the 28-yard field goal attempt, which was the last scoring effort in the game.
"That's what we expected from the get-go, but we made some mistakes in the first half," Quinn said. "If we would've played the way we did in the second half for the whole game, things would be different. It's a high-scoring ballgame and it's a good matchup."
Ridge View quarterback Andre Washington stayed consistent throughout the game. He was 13-for-18 in passing for 168 yards and four touchdowns with one interception. Washington also had 78 yards on three carries, including a 49-yard touchdown run.
"Andre has worked really hard and he's a great kid," first-year Ridge View head coach Derek Howard said. "He does the best he can every day to get a little better. Today was a great start for him. He took advantage of what was there, he didn't try and play outside of his system."
It didn't take long for Ridge View to christen its new stadium with the first score. One minute, 22 seconds to be exact.
On the Blazers' third play from scrimmage at midfield, Washington faked a handoff to Josh Holmes and bolted past Westwood defenders on his left side. From there he dashed toward the end zone untouched to complete a 49-yard touchdown run.
Ridge View closed out the first quarter with an eight-yard Washington-to-Tyree Byrd TD connection with 32 seconds left.
Two minutes into the second quarter, Washington struck big when he lofted a 60-yard touchdown pass to Zion Agnew to make it 19-0 Blazers.
Westwood found some running room midway through the second quarter. The Redhawks drove 68 yards on nine plays and closed it out with a 13-yard Julian Milligan touchdown run.
Ridge View took the momentum back two minutes later when Marcus Kelly capped a quick 61-yard drive with a nine-yard TD run.
Shortly after second-half action kicked off, a fistfight on the north end of the home grandstand triggered a crowd stampede from the north to the gate on the south end. Commentators from WACH-FOX 57 said on the air that they heard gunshots, but the Richland County Sheriff's Department later confirmed that there were no gunshots or guns in the incident.
Richland District Two spokesperson Libby Roof tweeted that "individuals involved in the fight have been removed from the scene" and tagged the RCSD, Richland Two Superintendent Baron Davis in it.
A smaller stampede occurred on the access drive behind the pressbox, as crowds of people standing in the parking lot at the north end of the school surged through the narrow area between the school and the pressbox.
The game was suspended for about 30 minutes. Quinn moved the Westwood team to the visitors' locker room, while the Ridge View team remained behind the south end zone. Referees, District Two security, and RCSD deputies were on the field throughout.
"It's a scary moment," Quinn said. "You didn't know what was going on, my main priority is keeping my kids safe, so I got my kids out of there. That throws the flow of the game off, that takes the kids and sits them down in a tiny locker room, that hurts your momentum and hurts the way you're playing, but at the end of the day I'm gonna keep my kids safe."
When play resumed, Ridge View built on its 26-6 halftime lead, but Westwood was able to put together several good drives and score twice. Four personal foul-unsportsmanlike penalties were called in the fourth quarter, two per team.
"Overall I'm proud of our kids. Our kids walk the walk, they do the right thing. Some of those personal fouls were baited and I'm OK with that, because if I'm getting choked, I'm going to fight back too."
Westwood – 0-6-8-6 — 20
Ridge View – 13-13-14-0 — 40
First Quarter
R – Andre Washington 49 run (kick failed) 10:38
R – Tyree Byrd 11 pass from Washington (Javian Butler kick) :32
Second Quarter
R – Zion Agnew 60 pass from Washington (kick failed) 10:02
W – Julian Milligan 13 run (kick failed) 6:13
R – Marcus Kelly 9 run (Butler kick) 3:57
Third Quarter
R – Chase Smith 25 pass from Washington (Brown kick) 9:21
W – Camren Brown 16 run (Noah Jennings pass from Brown) 6:48
R – Smith 13 pass from Washington (Brown kick) 5:00
Fourth Quarter
W – Jennings 13 pass from Brown (run failed) 11:48
                                            WHS              RVHS
First Downs                       14                   19
Rushes-Yards 32-155 20-191
Passing Yards 67 168
Att-Com-Int                        19-9-1          18-13-1
Fumbles-Lost 0-0 1-0
Penalties-Yards                 8-102            8-82
Punts-Avg.                           4-27.5           1-42.0          
INDIVIDUAL STATISTICS
RUSHING: Westwood – Camren Brown 13-78, Julian Milligan 15-60, Lavel Ramsey 3-14, Jaylen McDuffie 1-3. Ridge View – Josh Holmes 5-40, Andre Washington 2-67, Michael Heller 2-8, Marcus Kelly 4-47.
PASSING: Westwood – Camren Brown 8-14-1, Elijah Burgess 1-5-0. Ridge View – Andre Washington 8-11-0.
RECEIVING: Westwood – Julian Milligan 1-2, Jaylen McDuffie 1-1, Noah Jennings 5-27, Jayden Harrison 1-7, Zyere Lee 1-2. Ridge View – Zion Agnew 5-87, Michael Heller 1-5, Tyree Byrd 2-24, Chris Lawson 2-52, Chase Smith 3-44.