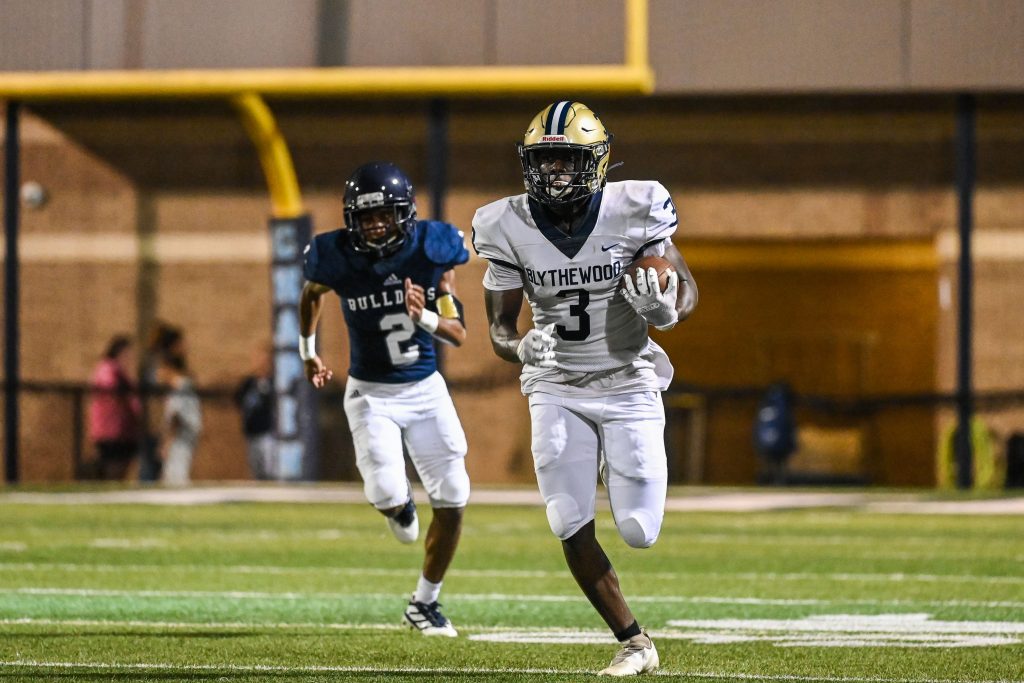 BLYTHEWOOD – Besides getting his team as much work in film, weight room, and practice field as possible this fall, Blythewood head football coach Jason Seidel's main contention will be to get a youthful Bengals team fit for its season opener against Fairfield Central Monday night.
As the Covid era persists, Seidel told the Blythewood Chamber of Commerce at its monthly meeting earlier this month that the big challenge was getting more than 150 young kids ready for the varsity, junior-varsity, and the new B-team units in the program this fall.
"We are young," the fourth-year Blythewood coach said. "This'll be the youngest team in my 20 years of coaching. We've got one returning starter on defense and three returners on offense."
Blythewood, 3-3 overall and 2-3 Region 4-5A in 2020, lost nearly all of its starters to graduation. Among those who moved on were 13 players who signed full or partial scholarships to play football for a range of collegiate programs. Among the losses were twins Josh and Jordan Burrell. Josh Burrell, a wide receiver, signed with Florida State. His brother Jordan signed to play for Army.
Of those returning to the team, just four had started games on any Friday night last year. Knowing that, and seeing the mass amount of kids interested in the program, Seidel said Blythewood has added a B-team football team to put as many kids in helmets as possible each week. And among those looking to start on the varsity squad, they will find a simplified playbook and regimentation to get the players used to the weekly routines.
"We've really gone back to basics with our team," Seidel said. "Starting from the little things. We have a leadership council within our team and it was their idea to treat every little thing like it's a game-type situation. (On the day of a recent scrimmage,) We came into our positional meetings, we did everything we'd do on a Friday night, so the younger kids can get into a routine as to what it's gonna be on a Friday night."
Outside linebacker Myles Cotton is the sole returning defensive starter. Cotton, a 3-year starter and 2-year team captain, has 195 tackles on the year and is within 75 tackles of setting the school record for tackles in a career.
On defense, running back Desmond Boatwright returns. Recently committed to Georgia State, Boatwright will be a big force in the Bengals backfield.
"He's special. I can't shut him down in practice," Seidel said. "He's one of those in practice who is always running. He's always trying to run kids over."
The other two offensive starters anchor the front line. Eli Benson is a three-year starter, two-year captain starting at center. Caleb Ledley left guard who is also a three-year starter, two-year captain.
The rest of the offensive starters will have to take shape as the season goes by, Seidel said.
"After that it gets really play-by-play who we're throwing in right now."
Leading the offense will be sophomore Harrison Collins, who was a defensive end on the JV squad before being called up and asked to be ready to play under center when the Bengals suffered several injuries at the position. Now a solid 6-3, 210, Seidel knows he has a lot to learn but likes his tenacity and work ethic.
"The first day of practice last year he said I'm gonna play quarterback, and I'm laughing at him. His first ball comes out looking like a helicopter," Seidel said. "When Jordan Burrell broke his foot, however, Blythewood needed to have a capable athlete at backup."
"I think we threw him in Gaffney and said go-have-fun, and their big stud that was going to Georgia laid him out. Welcome to the varsity," Seidel said. "But you talk about a leader. He's in our leadership council, voted in by the kids, and he's on the (JV) baseball team. He's a special kid and he's learning the process, but in two more years we're going to be talking about him in both football and baseball."
Jake Parker, who played behind Noah Cooper who is now playing at Brown, returns and takes the starting slot. Behind Parker is Josh Gary, whose twin brother Jacob Gary will start as a safety.
Cotton, the only returning defensive starter, returns to anchor the linebacking corps. He will play behind an entirely new defensive line that had started on the JV squad last year.
"They were pretty special" at the JV level, Seidel said. "Now we've got a chance to play with these guys, and they're big. They're 6-4, 6-3, 6-2, 6-2, each about 240 pounds. They are raw, but the effort is there, we just gotta coach them up. They're gonna be special and we're going to have them for two more years."
The linebackers and the entire defensive back unit will be all new as well.
"That's scary as a coach because guys are going to take chances back there," Seidel said about the secondary. They're young, but we've got some great ones who come in and do the work, they do the film, they do the lifts, they do whatever they can."
The young Bengals will have to contend with a brutal schedule. Blythewood opens against Fairfield Central Monday night, then plays at crosstown rival Westwood, hosts a strong Brookland-Cayce team, travels to Sumter, hosts Conway, then travels to Bluffton to play May River to conclude the nonregion slate.
They open region play with road games at Northwestern and Rock Hill, then close it out with home games against Spring Valley and Ridge View.